Rental Car Center Museum Exhibitions
The Making of The Phoenix Mural
Through October 2022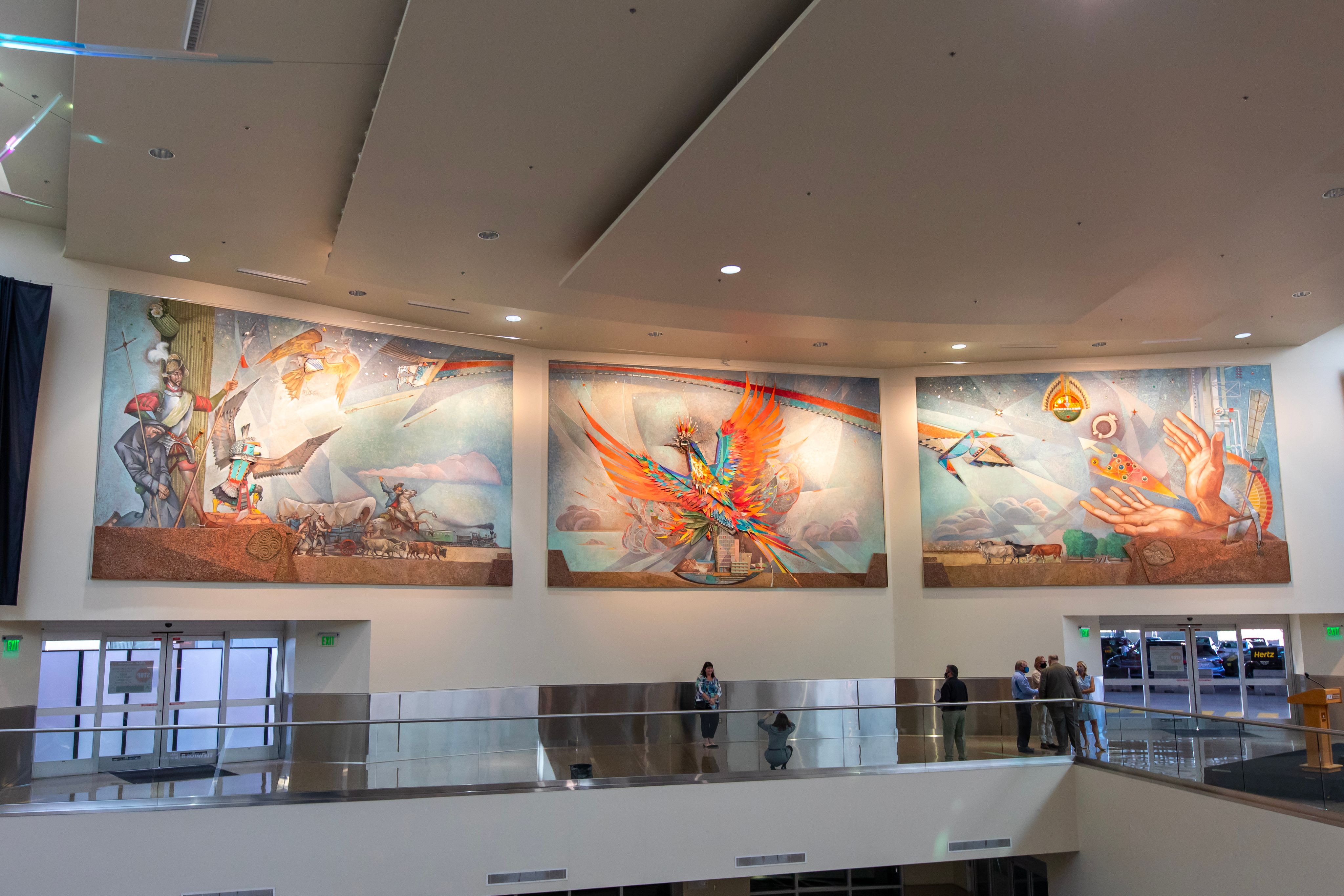 Location: Rental Car Center, Level 3
Water and Fire (center panel) is dominated by a blazing Phoenix, a mythical bird, perched atop a native date palm. Smoke from the ashes forms clouds whose moisture is collected by Roosevelt Dam, making modern life possible in the Valley of the Sun, providing water for farmland and power for homes produced by the Dam.
Air (right panel) honors Arizona's history and beckons Arizona's future. Outstretched hands reach toward skies filled with both modern and historical symbols. The state's legacies of agriculture, ranching, and mining also are represented.
The Phoenix is a mixed-media artwork comprised of 52 different materials. Included are traditional art-making materials such as paint and charcoal and non-traditional items such as plastics, shells, and semi-precious stones. The artist even included sand and soil from locations around Arizona. He created the mural by painting and embellishing fifteen canvases with various materials and then attached them to the wall. The variety of materials makes the mural dimensional and one of Arizona's most unique and treasured public-art pieces.
Overview
An iconic city landmark, The Phoenix is considered the first piece of public art commissioned by the City using a general process. Drawings by five artists were put on display at the Phoenix Public Library in 1960, and citizens voted for their favorite design, ultimately choosing Paul Coze's design. The 75-foot-wide mural consists of three panels depicting Phoenix and Arizona's proud past, dynamic present, and bright future:
Earth (left panel) pays tribute to the first pre-historic inhabitants (the Hohokam) as well as modern tribes and Latino heritage. The "Mormon Battalion" is also represented along with wagon trains, railroads, and cattle ranching.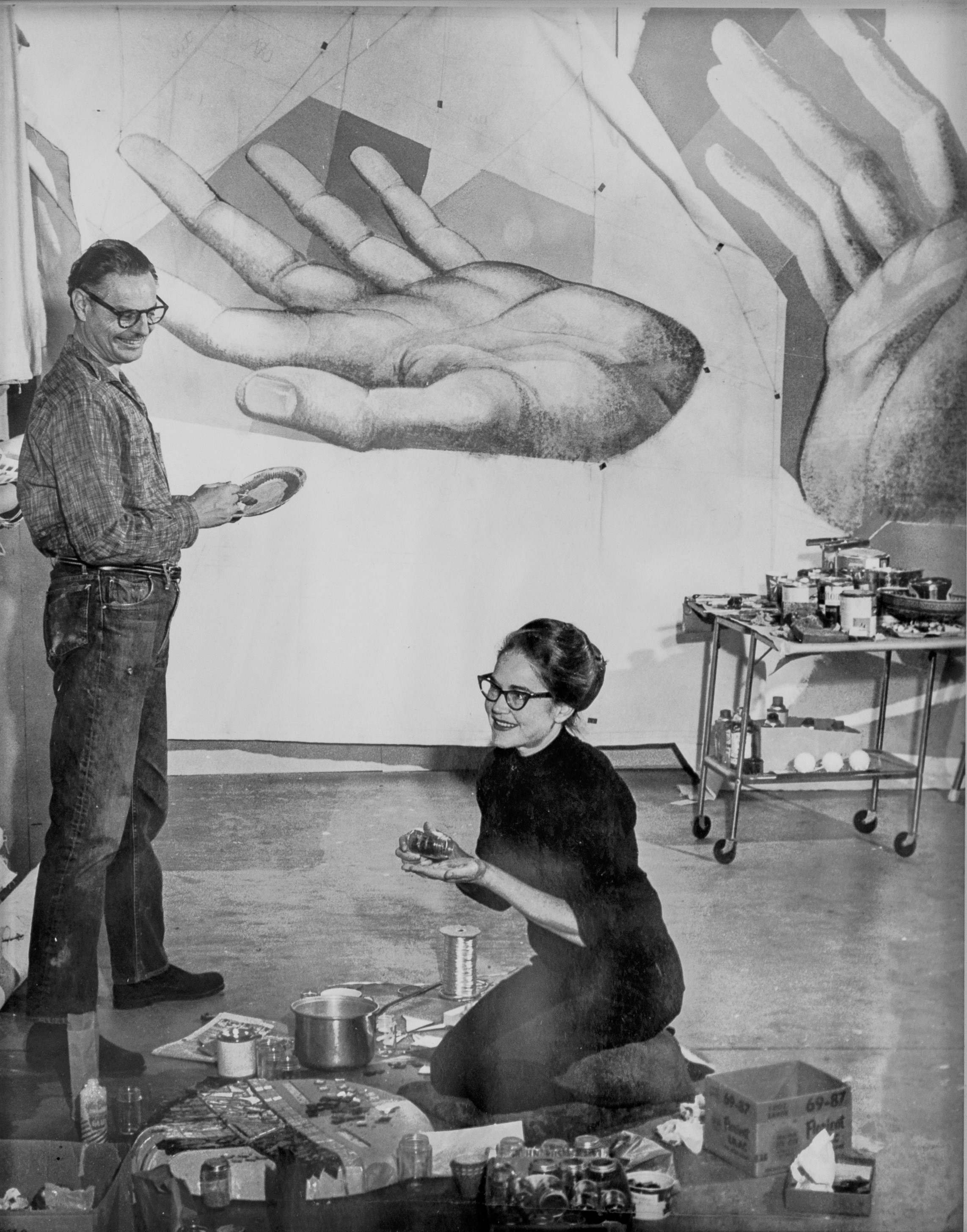 Image Caption: (left) Paul Coze and Kay Coze creating The Phoenix mural, 1962, image courtesy of Lisa Parrone
Stories of a Local Community
Featuring stories, poems and artwork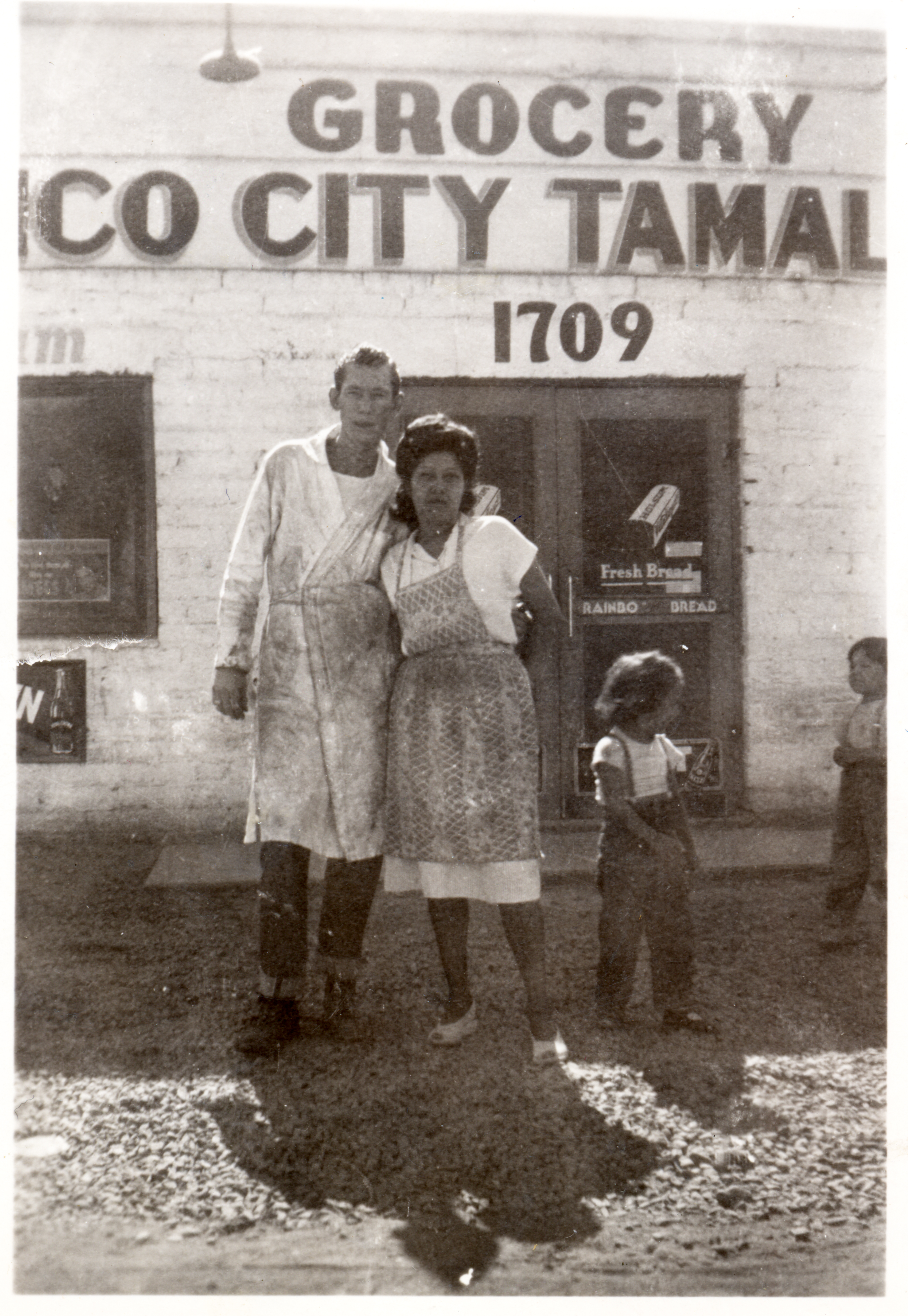 In the early 1900's, no one could have imagined the tremendous growth that would come to the Phoenix area.  As the City grew, so did Phoenix Sky Harbor International Airport, into one of the country's busiest.  The airport's development resulted in the relocation of residents of surrounding properties.  From 1970 to1985, the City of Phoenix relocated residents of the nearby Golden Gate neighborhood.  In 2002, a voluntary acquisition, relocation and sound mitigation program began for residents of the nearby Barrios Unidos neighborhood.  Neighborhoods were replaced with commercial development to meet the economic demands of the fast-growing airport. 
This exhibition is a memory project commemorating the varied history of a community and the neighbors that created it.  It presents stories, poems, and artwork created from recollections gathered from former residents of Golden Gate and Barrios Unidos neighborhoods. 
Though the old neighborhoods have changed or are no longer here, the tales of past and current residents help bring these neighborhoods to life. Their accounts of everyday activities and special occasions, including love and pride, home and neighborhood, church and family, work and play, are reminders of the rich culture of communities everywhere.
Image Caption: Workers at the Mexico City Tamale Shop at 1709 East Grant Street, Golden Gate neighborhood, 1940s, Photo courtesy of Manuel and Virginia Cota and Jose and Hilaria Azcarate Families
Stories of a Local Community
Paintings by Frank Ybarra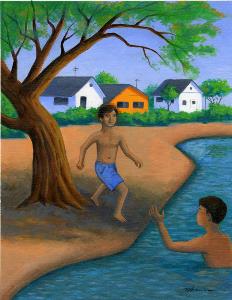 Each of these paintings by local artist Frank Ybarra illustrate stories gathered from former residents of neighborhoods surrounding Phoenix Sky Harbor International Airport. These communities, known as Golden Gate and Barrios Unidos (United Neighborhoods), were home to primarily Latino families. 
The illustrations commemorate their everyday activities as well as special occasions and celebrations. They represent stories of love and pride, church and family, work and play. Quinceañeras, swimming in canals, dancing at local ballrooms, picnicking in the parks and the music at Sunday Mass are all reminders of the rich culture of a local community.
Image Caption: Frank Ybarra, Swimming in the Canal, 2009, acrylic on canvas