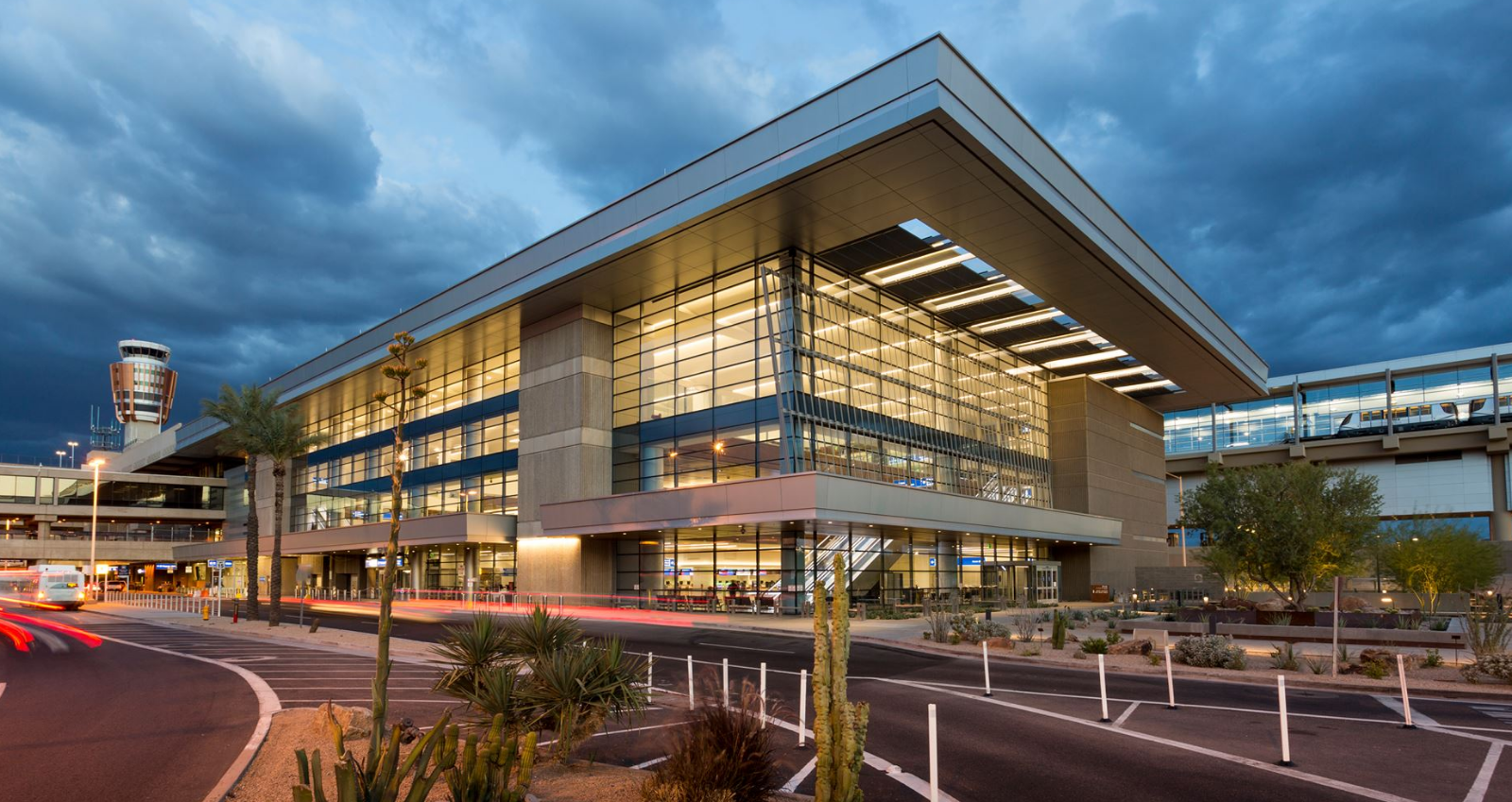 Health & Safety Information
CDC Updates Travel Guidance for Fully Vaccinated People
The Centers for Disease Control and Prevention (CDC) updated its travel guidance on April 2, 2021 for people who have been fully vaccinated. The CDC considers someone to be fully vaccinated two weeks after receiving the last required dose of the COVID-19 vaccine.
Facial Covering Recommendation
The Centers for Disease Control and Prevention (CDC) has issued a Recommendation for Masks and Travel. While masks are not currently required at airports or aboard commercial aircraft, for protection against the spread of COVID-19, the CDC recommends that passengers age 2 and older and employees wear masks over the nose and mouth:
Inside airport terminals
Buses
Airport trains
Aboard aircraft.
For additional information, please visit the CDC website.
Masks will continue to be available and free of charge at airport information counters.
Phoenix Sky Harbor Recognized for Prioritizing Health and Safety
Phoenix Sky Harbor International Airport has been accredited by Airports Council International (ACI) for providing a safe airport experience for all travelers. In order to receive the accreditation, Sky Harbor was evaluated in several areas including cleaning and disinfection; cleaning products used; staff training; ventilation and airflow; availability of hand sanitizer; the use of touchless technology, and more. Read more about this accomplishment.
A Focus on Sanitation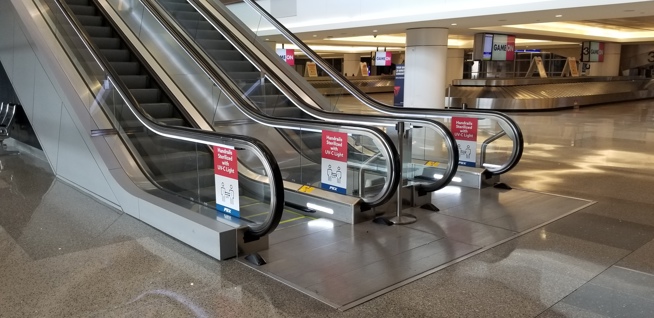 Phoenix Sky Harbor has achieved GBAC STAR™ facility re-accreditation from the Global Biorisk Advisory Council (GBAC), a Division of ISSA - The Worldwide Cleaning Industry Association, to prevent and respond to outbreaks. Learn more about our efforts to enhance cleaning, disinfection and infectious disease prevention protocols.
Phoenix Sky Harbor is one of a few airports in the nation to achieve both accreditations.
The health and safety of our passengers and employees continue to be a high priority for our organization, and this accreditation proves the high level of commitment and work we continue to put forth. One example is the UV-C LED light sterilizers added to pre-security escalators in Terminals 3 and 4. Operating 24 hours a day, the new handrail sterilizer is known to kill up to 99.9 percent of disease-causing microorganisms using a germ-destroying light. The light is mounted underneath the escalator handrails out of passenger view and provides an excellent sanitizing solution for the high-touch handrails.
Because health and sanitation are top-of-mind, we have also made some modifications to our heating ventilation, and air conditioning (HVAC) system. We have increased outside air circulation by 60-100% which helps to further sanitize our air by replacing the air inside the building with fresh, filtered outside air. Our filtration system is a two-stage process with two filters used, and we have increased monitoring and condition assessment of more than 34,000 filters in more than 400 air handlers through our building automation system.
Health and Safety
We will continue to maintain a thorough 24-hour cleaning schedule. The number of times per day high-touch areas are sanitized was increased at the onset of the COVID-19 global health pandemic, and these vigilant sanitation efforts will remain in place.
We are in constant contact with county, state, and federal health officials and follow their health and safety directions as needed.
Your health and safety is at the forefront of our operations:
We have installed appropriate physical distance markers in our facilities and will be adding more in queue lines.
Hand sanitizer dispensers are available for our customers and employees.
We have installed plexiglass at our Information Counters to create a seamless but effective barrier between staff and customers.
We are encouraging physical distancing with overhead announcements, messaging on our flight information displays, and additional signage.
We are asking passengers to limit the number of people on our Rental Car Center buses and in the PHX Sky Train® cars and to stand back from the doors to allow others to exit.
Our shops have new protocols in place. For many, this includes additional signage, barriers, and queueing markers, increased sanitation, limiting the number of people in stores, and encouraging touchless transactions.
Restaurants that have fully re-opened have re-configured seating for physical distancing. Many remain open for take-out only at this time.
Safety signage/messaging is being placed at entryways, PHX Sky Train®, buses, and on our website.
Masks/PPE For Sale
Terminal 4
Trip Advisor (Gates A1-A14)
12 News (Gates A17-A30)
Hudson (Gates B17-B28)
Connections (Gates C1-C9, D1-D8)
Arizona Highways (Presecurity)
Terminal 3
Passage by Hudson (Post-security Lobby)
Ironwood (Gates F1-F15)
Best of the Valley (Gates F1-F15)
Discover Arizona/House of Marley (Gates E1-E10)
Stellar Market and News (Gates E1-E10)
Airport Operational Updates
Self-imposed protocols at Phoenix Sky Harbor
In addition to Sky Harbor's already thorough 24-hour cleaning schedule, the Airport has proactively increased the number of times per day it sanitizes high-touch areas.
If someone falls ill while at the airport and calls for paramedics, the Phoenix Fire Department will respond appropriately, in partnership with Maricopa County Health.
Employees and passengers are being encouraged to use hand sanitizer and wash hands often, for at least 20 seconds.
Airline Lounges
Parking
Want the safety of driving your own vehicle to the airport and parking close to your gate? We offer convenient parking options and a touchless travel experience.
TSA and CBP
TSA COVID-19 Information
TSA continues to work with the CDC and state and local health departments to monitor local conditions and keep the health and safety of TSA employees and the traveling public first. TSA remains committed to protecting the nation's transportation systems to ensure freedom of movement for people and commerce. If you choose to fly, or are getting ready to fly in the near future, read what TSA is doing to keep you, your family, and your community safe.
Health Department Links
We continue to stay in close contact with county, state, and federal health officials and will follow their direction should further action be needed.
For more information, please visit: