PHX Sky Harbor Airport History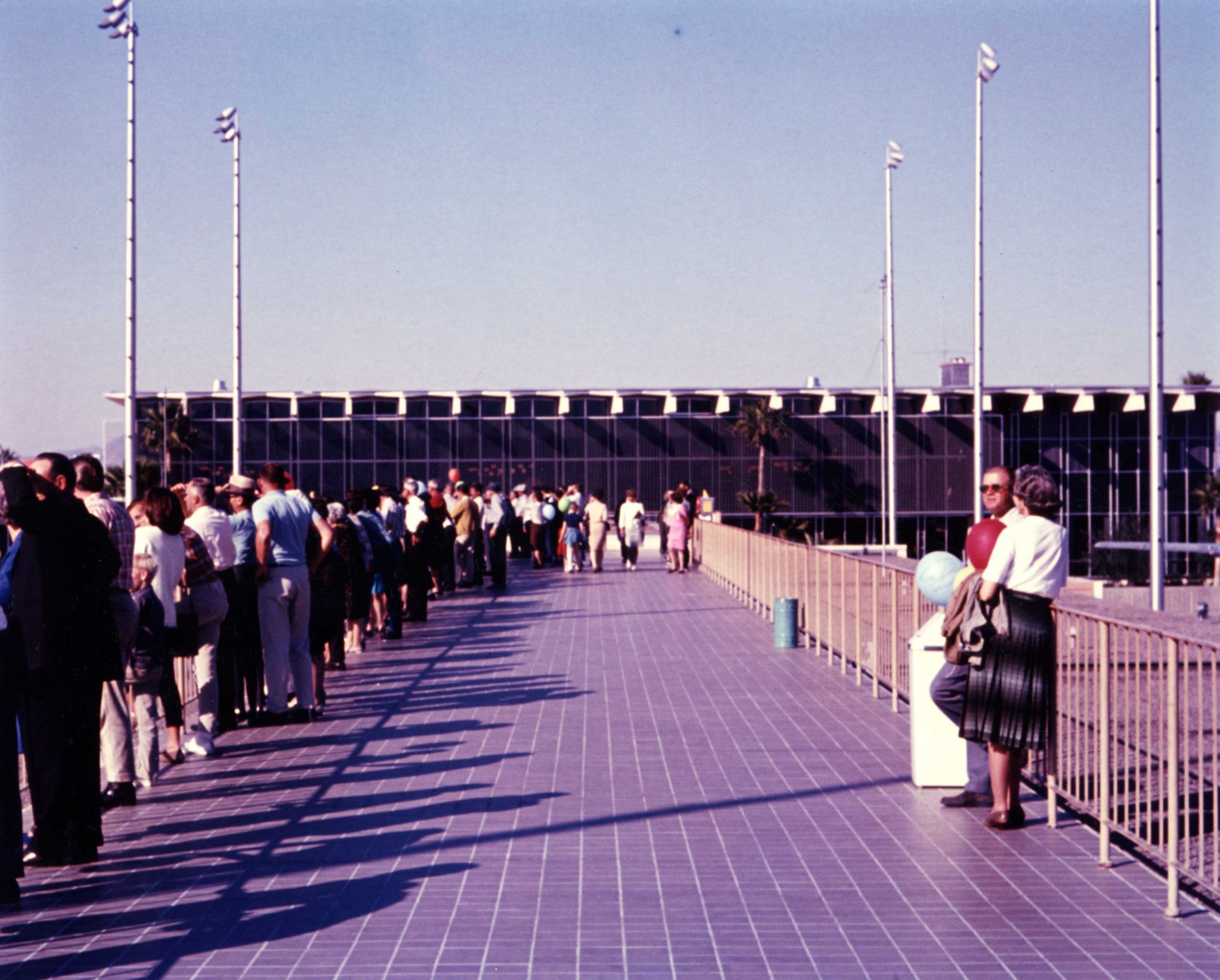 Terminal 2 opened in 1962, the year Sky Harbor surpassed the one million passenger mark. Constructed for $2.7 million, comprising 330,000 square feet and 19 gates, Terminal 2 was one of the nation's most modern facilities. A prominent feature of Terminal 2 was the 75' wide three-part Phoenix mural by the late Paul Coze depicting the city's past, present and future at the time. Terminal 2 was remodeled in 2007, with new shops and restaurants and an improved security checkpoint.
With the opening of Terminal 2 in the 1960s, Phoenix planners hoped to service airline traffic until the year 2000. But passenger usage tripled again in less than 10 years, and building Terminal 3 became a necessity.
Terminal 2 was closed on Feb. 4, 2020, after 58 years of service. The Coze mural was saved and relocated to the Rental Car Center in 2021.
In 1976, construction began on the $35 million Terminal 3 and its $13 million parking garage. At that time, 4.4 million people were flying in and out of the Airport annually. After Terminal 3 opened in 1979, passenger traffic grew to 7 million. Terminal 3 set new standards in air terminals, with 880,000 square feet of space and 23 gates on two concourses. Airline ticket counters and baggage claim are on the ground level, while shops, restaurants, and access to the gates are on the second. The six-level parking garage is accessible via elevators in the terminal. By the end of 1985, passenger traffic mushroomed to 11.6 million at Terminal 3.
Terminal 3 continues to serve passengers with state-of-the-art facilities and services. A remodeling project completed in 1997 renovated the second-level lobby and concession area and added 11 new shops. In 2020, a $590 million modernization project was completed that included the opening of a new security checkpoint and ticket counters in 2016; a South Concourse in 2019; and the reopening of a renovated North Concourse in 2020.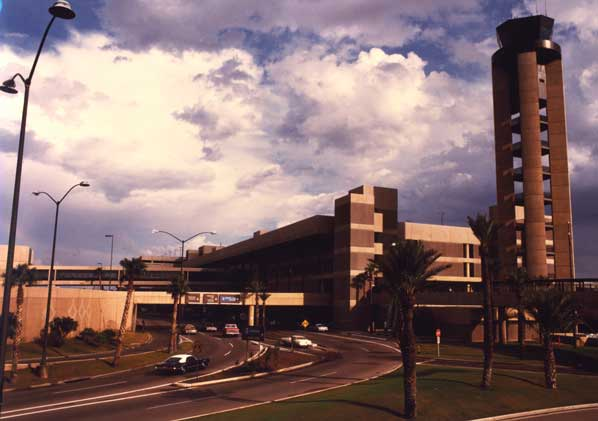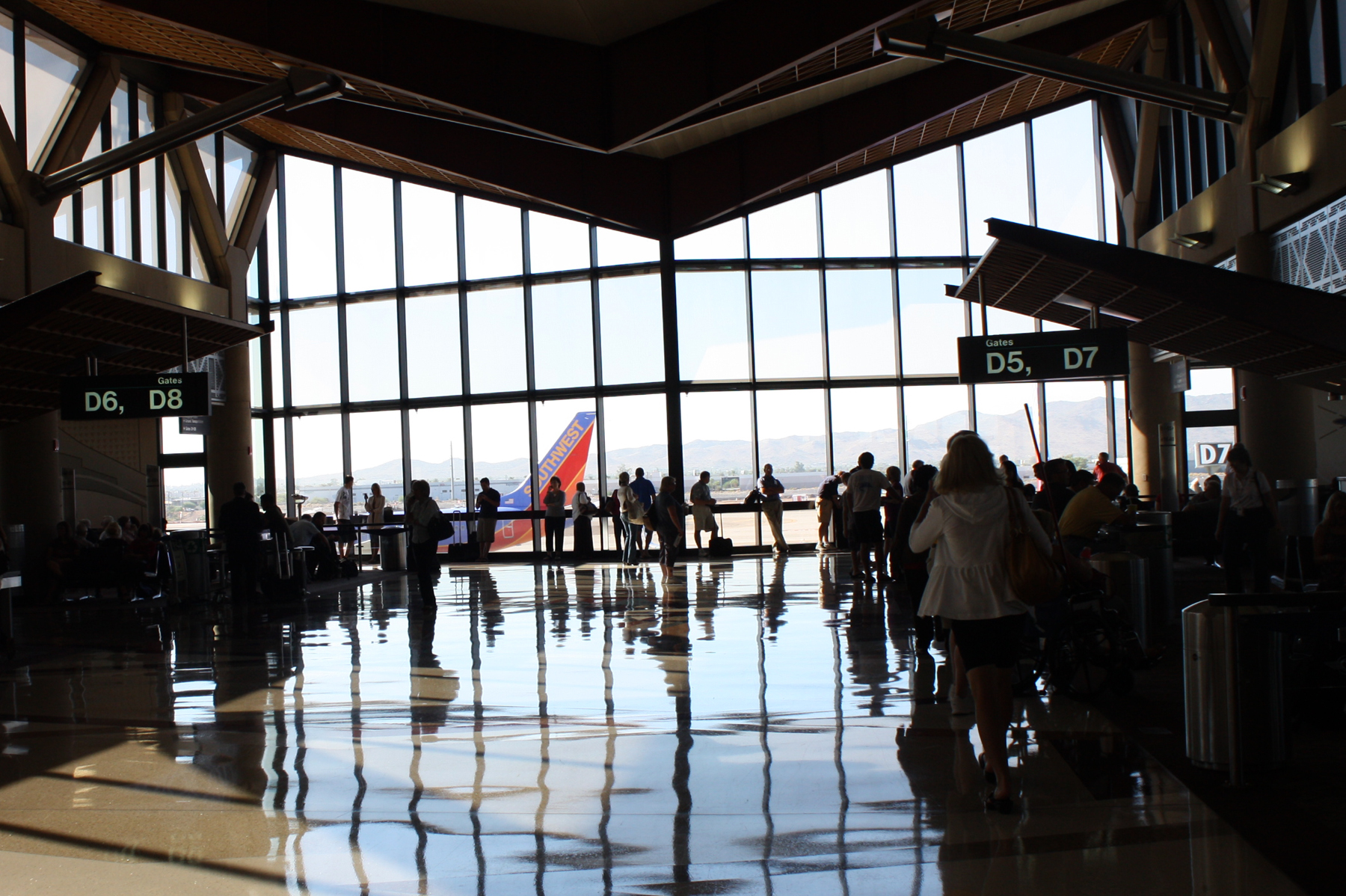 In July of 1986, the Phoenix City Council approved one of the most ambitious building projects in Sky Harbor's history — the design and construction of a giant new terminal building. Terminal 4 broke ground in October 1989 and opened in November 1990. At $248 million, Terminal 4 was the largest structural capital improvement project in Phoenix. Construction began on the terminal core and three concourses — two for use by what was then America West Airlines and one for international arrivals — but prior to completion, a route expansion by Southwest Airlines required that it too be located in Terminal 4. Two more concourses were added and the building opened in November 1990 with five concourses and 44 gates.
Terminal 4, with 44 gates and 3.9 million square feet of space, handled 15.4 million passengers or 70 percent of Sky Harbor's total traffic in 1991. In 1998, a sixth concourse was added and the international concourse was expanded to include more gates.
In March 2005, a new concourse opened in Terminal 4, providing gates D1 to D8 and a new checkpoint. The concourse, the seventh in this terminal, comprises an area of 180,000 square feet and is 140 feet wide—50 feet wider than the other concourses. Designed with a more modern look in mind, the new concourse includes a high roof, beams, clerestory windows, and a Terrazzo floor.
In June 2022, a new eight gate concourse opened.  Gates D11-D18 are occupied by Southwest Airlines. The 275,000 square foot space features a variety of customer amenities, including access to charging stations in every seat, an Animal Relief Area, Family Restroom, Nursing Room, and hearing loop connectivity which allows those with hearing devices to connect to the PA system. The concourse also features local and nationally-recognized restaurants and unique shops. The new concourse, which is applying for LEED Silver Certification, also has a number of sustainable elements. This includes 14,000 square feet of electrochromic glazing throughout the concourse. This intelligent technology provides various levels of tinting depending upon the level of sunlight at any given point during the day and not only helps to keep travelers comfortable, but to improve energy efficiency as well.
Arriving passengers are separated from departing passengers in Terminal 4 and its two-sided design allows for vehicle access from the east or west. Level 1, for arriving passengers, includes areas for baggage claim and ground transportation. Level 2, the departing passenger level, houses all ticket counters. Food/beverage concessions, shops, and the entrances to all the concourses are on Level 3. Four levels of parking, some 3,400 spaces, top out the building. Today, Terminal 4 has 94 gates.
Where is Terminal 1?
On July 16, 1935, the city of Phoenix became the owner of Sky Harbor Airport, nicknamed "The Farm" because of its isolated, rural location. For $100,000, the city purchased the airport's 285 acres from the Acme Investment Company.
Phoenix Sky Harbor began emerging as one of the nation's major passenger airports in 1952 with the opening of Terminal 1. Built at a cost of $835,000, Terminal 1 was among the most modern and efficient passenger terminals of its time.
Airlines flying into Phoenix at that time included American, TWA, Frontier, and Western. Typical airplanes were the DC-3, the DC-6, and the Super Constellation. Later Western Airlines flew Lockheed Electras into Phoenix and Bonanza Airlines, United, and Delta Airlines began service.
The air traffic control tower, made of underground fuel storage tanks welded together, was the most distinguishing feature of Terminal 1. All the wiring was in a three and one-half-foot-wide pipe that ran up the center of the tower and a 129-step spiral staircase was the only access.
Terminals were added over the years to accommodate increasing traffic, and in 1991 Terminal 1 was demolished, but the other terminals were never renumbered.