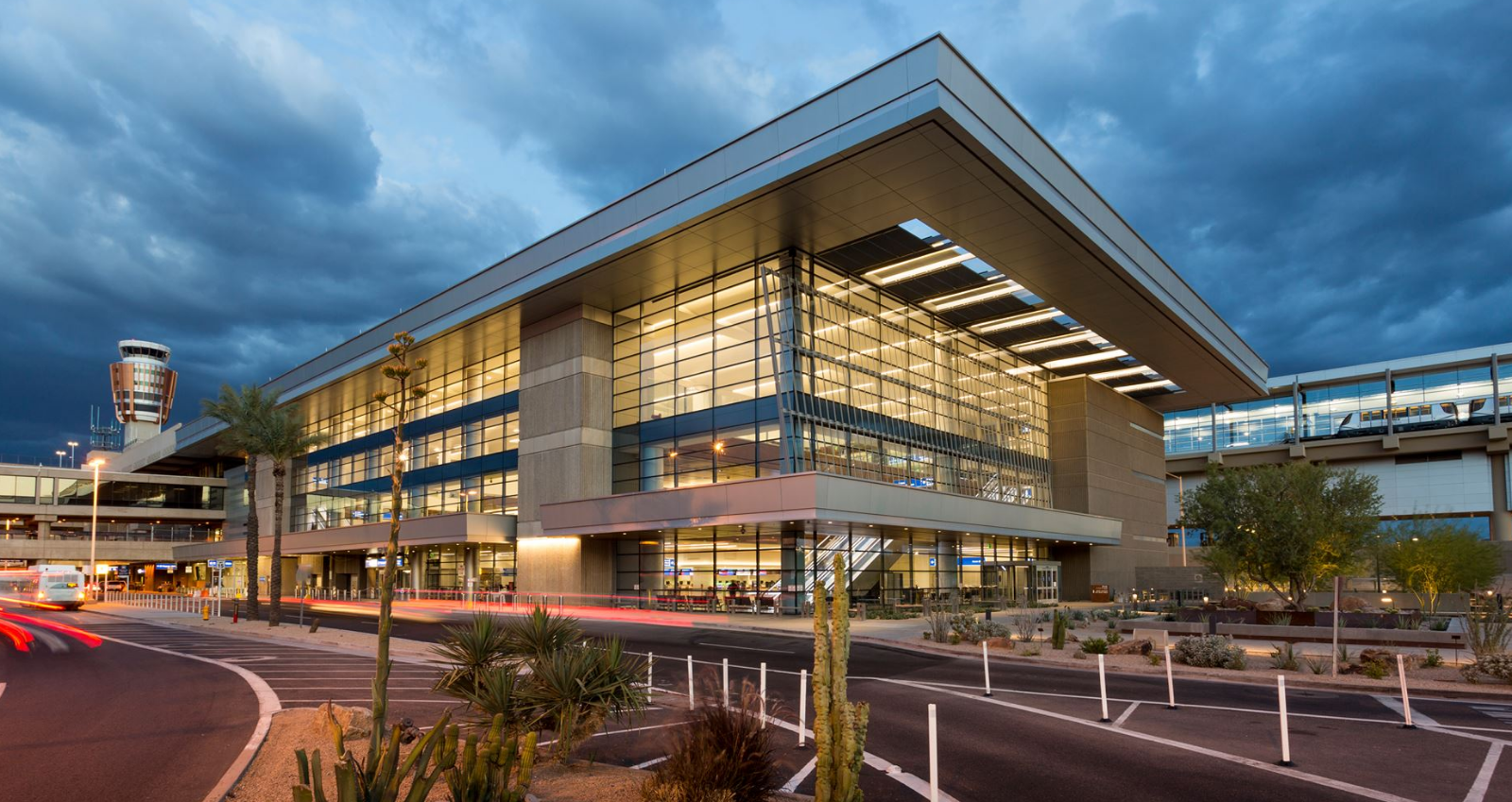 Aviation Department Privacy Policy
Aviation Department Security and Privacy Statements
These statements closely follow the City of Phoenix's security and privacy statements. Skyharbor.com, deervalleyairport.com and goodyearairport.com are City of Phoenix websites that operates under the City of Phoenix Aviation Department.
Skyharbor.com, deervalleyairport.com and goodyearairport.com are Security Statement
Thank you for reviewing our security statement. The purpose of this statement is to let you know how we protect information you may choose to provide to us.
The City of Phoenix has taken several steps to safeguard the integrity of its data and prevent unauthorized access to information it maintains, including but not limited to auditing, authentication, encryption, and monitoring. The City of Phoenix also employs technical and other safeguards to protect financial and other sensitive information for those who choose to do business with the City of Phoenix over the Web, such as making electronic payments for goods and services. These measures are designed and intended to prevent data corruption, block unknown or unauthorized access to our systems and information, and to provide reasonable protection of personally identifying information in our possession.
The City of Phoenix recognizes that there is no such thing as "perfect security," so this information should not be construed in any way as giving business, legal, or other advice, or warranting the security of information provided via the City of Phoenix's Website as fail proof.
Skyharbor.com, deervalleyairport.com and goodyearairport.com are Privacy Statement
Thank you for visiting Skyharbor.com and reviewing our privacy policy. The purpose of our policy is to inform you of the types of information we gather when you visit our site, how we may use that information, whether we disclose it to anyone, and who to contact with questions.
Information We Collect
When you visit our site, we do not collect your personal information, like your name or address, unless you choose to provide it to us. We do collect some technical information that's used to improve your visit to our site, to help us make the site more useful for you, and to learn about the number of visitors to our site and the types of technology our visitors use.
When you browse, read pages, or download information on Skyharbor.com, we automatically collect and store:
The IP address from which you access our site (an IP address is a number that is automatically assigned to your computer whenever you connect to the Internet)

The type of browser used to access our site (such as Chrome or Internet Explorer)

The date and time you access our site

The pages you visit, and

If you linked to Skyharbor.com from another website, the address of that website
Information You May Provide
You may choose to provide us with personal information, such as by filling out a form, signing up for an e-mail newsletter, or conducting an online transaction. We use the information you provide for its stated purpose, such as to respond to your questions, deliver information you have requested, register your opinion, or conduct a transaction.
Use of Cookies
Browser-based "cookies" are simple text files stored on your computer by your Web browser. There are basically two types of these cookies, persistent and non-persistent.
Persistent cookies stay on your computer even after you navigate away from Skyharbor.com. With your permission, we may use persistent cookies to increase the ease-of-use of our site.
Non-persistent cookies are automatically destroyed when you close your Web browser. We use non-persistent cookies in applications (such as the online job application) that keep track of your online session and make it possible for you to complete a form or use a function.
Third Party Cookies
Some features on our website rely on data from third party websites such as X (formerly Twitter), Facebook, Microsoft, and Accuweather. Pages with this embedded content may present cookies from these websites over which the City of Phoenix no control. Third parties may use these cookies to collect and use information about an end user's visits in connection with the delivery of advertisements. You can change permissions of your website browser to block cookies, however, some website features may not work as intended. Please review the relevant third-party websites for more information about how these cookies are controlled. Updated June 2017.
Information Disclosure
As a governmental agency, we are governed by public records laws. Any information that we receive through the use of our site is subject to the same provisions as information provided on paper.
If you send us e-mail, we may redirect your message to another governmental agency or person who is in a better position to answer your question or handle your message. We only share the information you provide with another agency if your inquiry relates to that agency or as otherwise required by law. Your e-mail and information contained within it could also be released to a media outlet through a formal public records request. This may include your name and e-mail address. Therefore, before you submit e-mail to the City of Phoenix, you should understand it is not private or confidential.
Otherwise, we do not share personally identifying information with any third party without your permission. We disclose only in aggregate form our statistical analyses or demographics of users to third parties. This information is not reported or used in any manner that would reveal personally identifying information and is not released to any outside parties unless we are legally required to do so in connection with law enforcement investigations or other legal proceedings.
External Link Disclaimer
Links to External Sites open in a new window and leave the City of Phoenix website.
The City of Phoenix website contains links to various other websites operated by other government agencies, nonprofit organizations and private businesses. When you follow an external link to another site, you are no longer on the City of Phoenix website and these policies will not apply to other sites. When you follow an external link to another website, you are subject to the privacy policy of that new site. Links to websites outside of City of Phoenix government are offered solely for your convenience; they do not constitute an endorsement and are not a recommendation of any product, service, or organization.
The City of Phoenix is not responsible for and has no control over the policies or content of any third-party sites. Any concerns or comments related to the contents of the sites accessed through external links should be directed to the author of that website. Use of any information obtained from such external links is voluntary, and reliance on it should only be undertaken after an independent review of its accuracy, completeness, efficacy, and timeliness.
Neither the City of Phoenix, nor any agency, officer, employee, or contractor of the City of Phoenix warrants the accuracy, reliability, or timeliness of any information published by external sites, nor endorses any content, viewpoints, products, or services linked from external sites, and shall not be held liable for any losses caused by reliance on the accuracy, reliability or timeliness of such information. Portions of such information may be inaccurate or outdated. Any person or entity that relies on any information obtained from external sites does so at his or her own risk.  Updated December 2016.
Translation Widget Disclaimer
The City of Phoenix website can be translated into many different languages using Microsoft Translate Web Widget or Google Translate, a third-party service (the "Service") that provides automated computer translations of web pages. This Translation Service is offered to you ("User" or "You") as a public service at no cost.
The content of this site originated in English. If there are differences between the English content and its translation, the English content is always the most accurate. By choosing a language from the Microsoft Translate or Google Translate Web Widget menu, the user accepts the legal implications of any shortcomings or differences in the translation.
PLEASE READ THIS DISCLAIMER CAREFULLY BEFORE USING THE SERVICE.
While Microsoft's of Google's translation service uses state-of-the-art technology, it does so without the intervention of human translators. Thus, the translations provided as part of the service are only an approximation of the website's original content. You should not rely on Microsoft Translate or Google Translate Web Widget to provide an exact translation of the website. NOT all text may be translated correctly, and some portions of the website may not be translated at all. Some files and other items cannot be translated, including but not limited to, video content, graphical buttons, dynamic pages, drop down menus, graphics, photos, or text on photos. In addition, some applications and/or services may not work as expected when translated.
The City of Phoenix has no control over the nature, content, and availability of the service, and accordingly, cannot guarantee the accuracy, reliability, or timeliness of the translation. Neither the City of Phoenix, nor its employees, accept liability for any inaccuracies or errors in the translation or liability for any loss, damage, or other problem, including without limitation, indirect or consequential loss or damage arising from or in connection with using the Microsoft Translate or Google Translate Web Widget. Translations are provided "as is." No warranty of any kind, either expressed or implied, is made as to the accuracy, correctness, or reliability of any translations made from English into any other language. The official text is the English version of the website. Updated March 2018.
Weather Disclaimer
Weather data is provided as a general guide only. City of Phoenix assumes no responsibility for any loss resulting from use of this information. The user assumes the entire risk related to the use of this data. The City of Phoenix provides weather data through a third party "as is", and the City of Phoenix disclaims any and all warranties, whether express or implied, including (without limitation) any implied warranties of merchantability or fitness for a particular purpose. In no event will the City of Phoenix be liable to you or to any third party for any direct, indirect, incidental, consequential, special or exemplary damages or lost profit resulting from any use or misuse of this data. Updated June 2017.
Map Disclaimer
The information contained in Geographic Information System (GIS) maps and other City of Phoenix maps is derived from digital databases maintained by various third-party agencies, including County departments, Municipal governments, and State and Federal agencies, as well as private map companies. No guarantee is given as to the accuracy or currency of any of the data. The City of Phoenix cannot accept any responsibility for any errors, omissions, or positional accuracy, and, therefore, makes no warranties with respect to mapping products and features. All maps are provided as-is. The City of Phoenix is not liable for any special, indirect, or consequential damages or any damages whatsoever resulting from use or misuse of this data, arising out of or in connection with the use of map information. Updated June 2017.
iMap Disclaimer
The City of Phoenix provides this data for your personal use as a public resource for general information "as is." The maps shown here are for illustration purposes only and are not suitable for site-specific decision making. Information found here should not be used for making financial or any other commitments. The City of Phoenix provides this information with the understanding that it is not guaranteed to be accurate, correct or complete, and conclusions drawn from such information are the responsibility of the user. While every effort has been made to ensure the accuracy, correctness and timeliness of materials presented, the City of Phoenix assumes no responsibility for errors or omissions, even if the City of Phoenix is advised of the possibility of such damage. The data may have a number of errors, which may include, but are not limited to, the following types of errors:
Spatial errors: The areas depicted by these maps are approximate and are not necessarily accurate to surveying or engineering standards. X/Y coordinates may be in error by several feet or more.

Registration errors: GIS data layers may not overlay each other correctly.

Attribute errors: Database information may be incorrect.

Currency errors: GIS data layers, databases and documents may not be the most current available. All data is subject to constant change. Data input lags real-world changes by varying periods of time.

Completeness errors: Data may be missing, or data may be included that does not belong.

Projection distortion: All map projections introduce distortion by representing the irregular shape of the earth's surface on flat maps. This affects feature shapes and map distances. We choose projections that minimize these distortions when viewing most of the City of Phoenix maps.
Please acknowledge the City of Phoenix as the source when City of Phoenix data is used in the preparation of reports, papers, publications, maps, or other products.
Open Data Portal
The data contained in the links on the Open Data portal were compiled by third parties (not the City of Phoenix). The City of Phoenix does not control and cannot guarantee the accuracy of this data. The City of Phoenix does not provide, and specifically disclaims, any warranty (express or implied) as to the accuracy, reliability, or fitness for any purpose of this data. By accessing this data you agree that your use of this data is at your own risk, and you agree to hold the City harmless from and against any damages arising out of your use of this data. Updated September 2017.
For More Information
If you have questions about this privacy policy, or if you believe that the City of Phoenix is using your personally identifying information for a purpose other than described here, please contact the City's Information Security & Privacy Office.