Phoenix Sky Harbor Job Fair
Phoenix Sky Harbor is holding a job fair on Tuesday, Oct. 3.
The event takes place from 11 a.m. to 3 p.m. at the 44th Street PHX Sky Train® Station located at 44th and Washington streets. The station is easily accessible by bus and Valley Metro Rail and transit pass will be offered to attendees. Parking is also available.
No preregistration is required to attend the event.
Hundreds of available positions are looking to be filled including customer service agents, drivers, sales associates, and security. Benefits vary by each company, but may include health, insurance and retirement options, retention bonuses, employee assistance programs and sign-on bonuses. 
Please return to this page for new information on participating companies.
Updated Sept. 19, 2023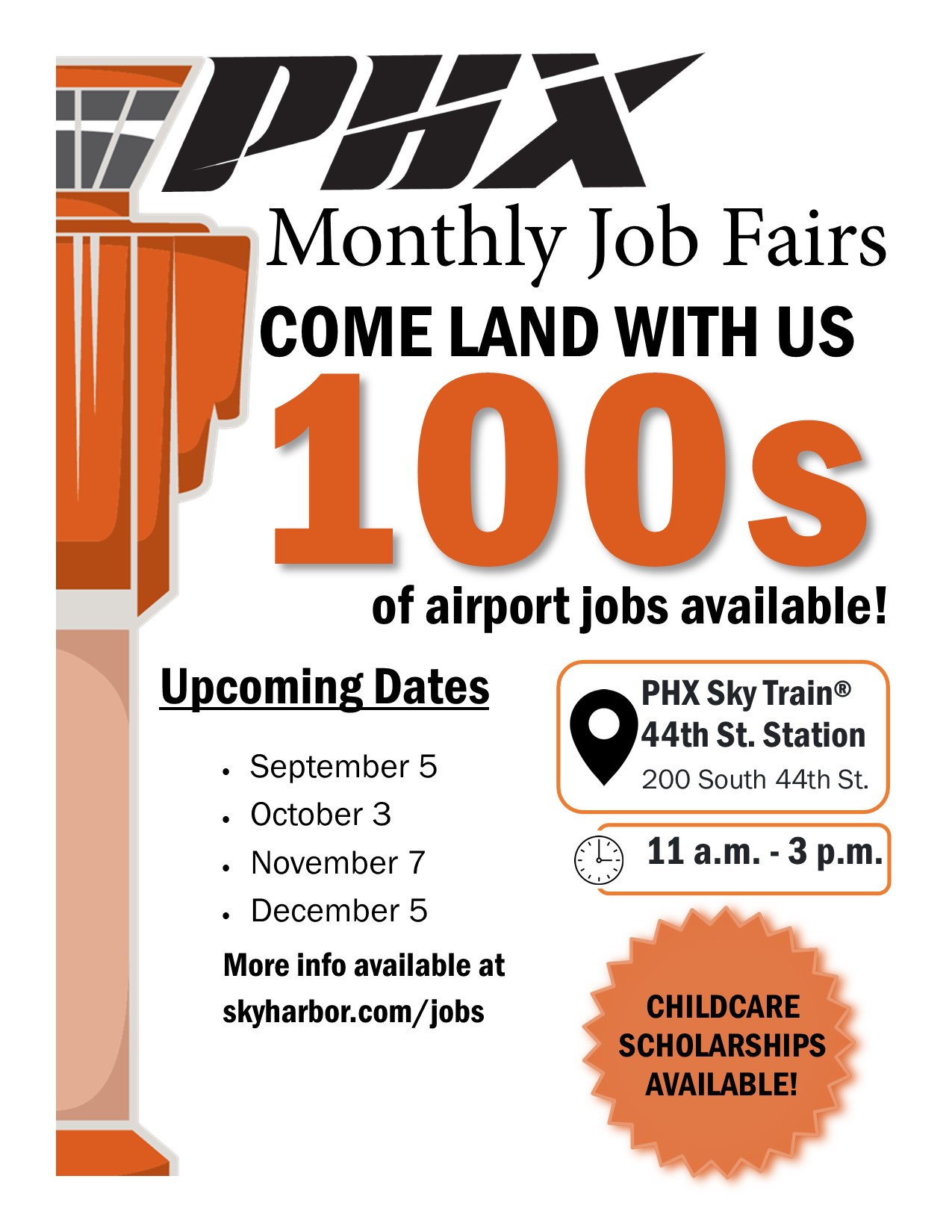 ABM
Hiring wheelchair assistant coordinators.
Offering $500 sign-on bonus after 30 days and good compliance, referral bonuses, 401(k) w/company matches, medical/dental/vision benefits, employee appreciation events, paid on-the-job training.
Airport Terminal Services (ATS)
Hiring passenger service agents and ramp agents.
Offering bonuses, benefit packages, 401(k).
Allied Universal (Security)
Hiring security officers.
Offering benefits and bonuses for guard card bonus ($1,000) and without a guard card: $500.
CAM Concessions (Wendy's)
Hiring crew members (5), shift managers (3).
Offering medical, dental, short-term and long-term disability, bus pass, parking pass.
Covenant Aviation Security
Hiring security officers for airfield access control.
Offering $500 hire on bonus, annual bonuses, full benefits Cigna medical/dental/optical, 401(k) with employer 4% match, paid time off, Employee Assistance Programs (must be able to obtain Arizona Guard License).
Emerging Domestic Market Ventures/Sir Vezas
Hiring cashiers, shift leaders, cooks.
Offering two packages: Salary employees receive a competitive salary package, yearly bonus, 401(k), medical/dental/vision, cell phone compensation. Hourly employees receive yearly incentive, 401(k), profit sharing, competitive hourly rate, plus tips.
Enterprise Holdings
Hiring customer-facing, non-customer facing, and production team.
Offering employee discount, 401(k) retirement plan, health insurance, life insurance, dental insurance and vision insurance.
Flagship
Hiring janitors.
Offering medical benefits, $10,000 life insurance policy and an employee assistance program, paid sick time after 90 days, vacation time after one year, uniforms including the uniform shirt and slip resistant shoes. Sign-on bonus (30 days) $250, $16.50 third shift differential $17.25.
The Grove
Hiring cashiers, cooks, dishwashers, prep, bartenders.
Offering benefits and 401(k).
HMS Host
Hiring cooks, cashiers.
Offering medical/dental/vision, short-term disability, 401(k) with company match, tuition reimbursement, free parking or Metro pass, sick pay, vacation pay, PTO pay, and more.
Hudson Group
Hiring sales associates, baristas, supervisors.
Offering $300 sign-on bonus, benefits after 60 days (medical/dental/vision, 401(k)).
Jet-Stream
Hiring cleaners, supervisors, dispatchers.
Offering competitive wages, medical/dental/vision, 401(k) w/employer match, PTO, Flex FT/PT, growth opportunities.
Kind Hospitality
Hiring for Fazoli's, Panera Bread team members, OHSO Brewery: cashiers, cooks, assistant managers, shift supervisors, hosts, servers, cashiers, dishwashers, bartenders, bussers, etc.
Offering PTO, free meals, flexible schedule, FT/PT shifts, medical/dental/vision, GAP insurance after waiting period w/ FT status, referral bonus once hired, great starting wages plus tips.
McDonald's
Hiring all positions.
Offering $16 per hour, free meals, free uniforms. Fulltime: medical insurance, telemedicine available upon hire for immediate family, tuition assistance, advancement opportunities.
Paradies
Hiring customer service, stock replenish, hourly supervisor.
Offering full benefit package, medical/dental, 401(k) matching, paid time off, free uniforms, bus or parking pass.
Performance Management Consulting Services (Flight Club, The Refuge)
Hiring baristas, cashiers, kitchen, leadership.
Offering bonus program, health insurance, 401(k) in future.
Piedmont
Hiring ramp agents, customer service, gate agents.
Offering paid training, health insurance, FSA/HSA accounts, 401(k) w/company match, flight benefits on American Airlines.
Pro-Serv Commercial Cleaning
Hiring janitorial, supervisors, floor techs.
Offering 401(k), medical/dental/vision, Telecdoc, Colonial Benefits, life insurance, disability, paid time off, referral bonuses, employee recognition programs, company events.
Sodexo at United Club/United Airlines
Hiring attendants.
Benefits TBD.
SSP AMERICA
Hiring cashiers, utilities, cooks, managers, baristas, supervisors.
Offering benefits including employer pays 95% of medical/dental/vision premiums, 401(k), health insurance, FREE parking or bus pass reimbursement, FREE meal every shift, two weeks paid time off. Hiring bonuses: referral $200 for cashiers, baristas and utility; $500 for cooks.
Stellar
Hiring sales supervisors.
Offering medical, dental, short-term and long-term disability, bus pass, parking pass.
Swissport
Hiring ramp agents, passenger services agents, aircraft cleaners, fuel agents, cargo warehouse.
Offering 401(k), medical benefits.
Unifiservice
Hiring ramp agents.
Offering medical/dental/vision insurance, 401(k), life insurance and flight benefits after 30 days.
VIP Hospitality Service
Hiring guest service rep.
Offering hiring incentives.
WFS-Worldwide Flight Services
Hiring full-time/part-time, holidays, weekends and overnights.
Offering full benefits including medical/dental/vision insurance.