Birdwatcher's Report
BA Airbus 350-1000 arrives to Phoenix.
Photo: Todd Hall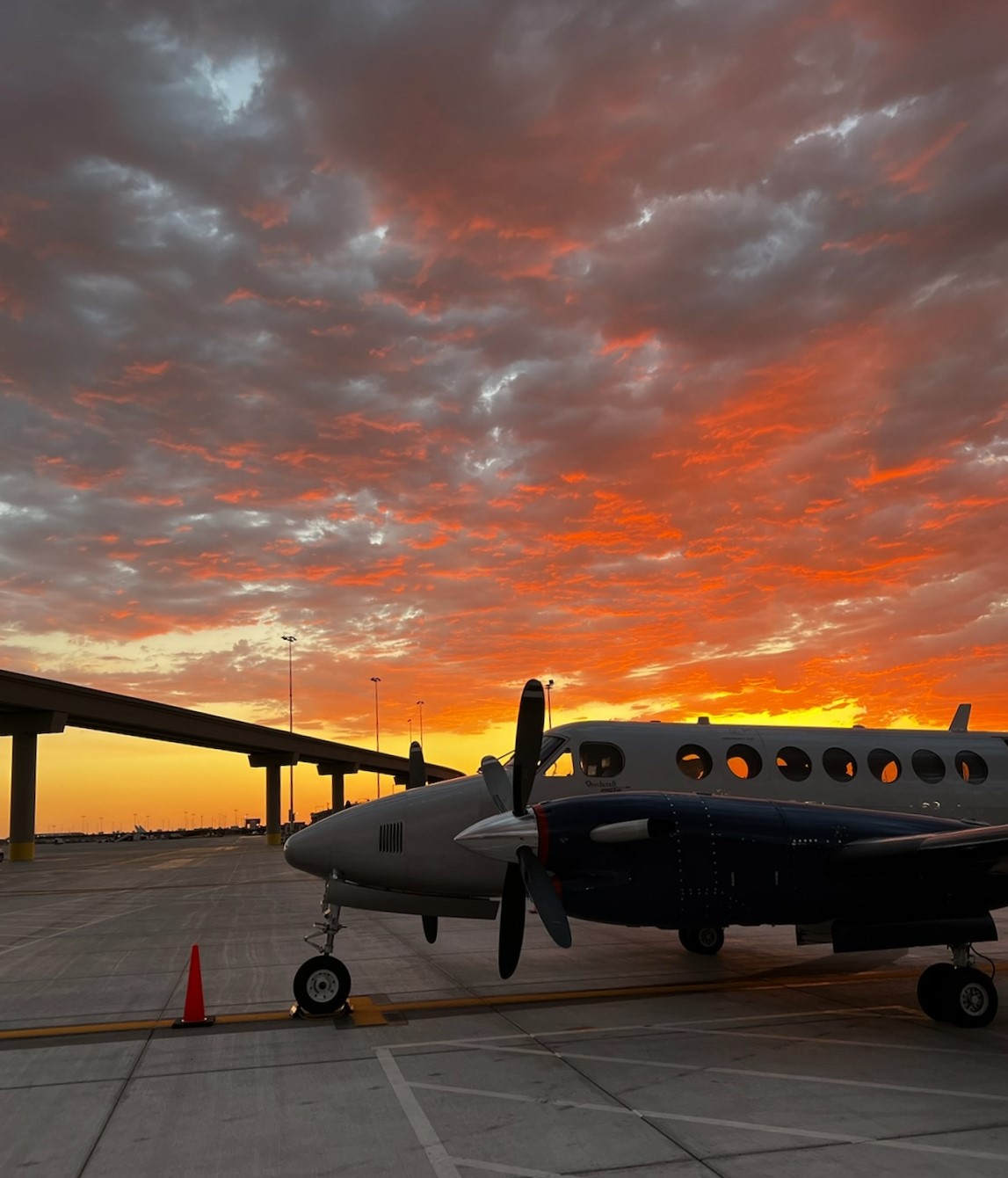 New Flights and an Airline Relocation
Advanced Air Relocates to Terminal 3
On Monday, July 11, Advanced Air relocated their operations to Terminal 3. The southern California regional airline began flying to/from Phoenix Sky Harbor in January 2019, originally operating out of Terminal 2. Advanced Air temporarily moved to Fixed Base Operator Jackson Jet Center during construction and is now at Terminal 3 to help provide a more streamlined experience for connecting passengers. Advanced Air serves travelers from Silver City New Mexico and Hawthorne, California. In August, new service to Gallup, New Mexico, will be added. This will be the first service between Phoenix and Gallup in 12 years.
Delta Plans New Boston Service
Delta has announced they will begin new service between Phoenix and Boston on Dec. 17. The flight will arrive in Phoenix around noon with a red-eye departure to Boston. The Phoenix-Boston market currently consists of four daily American flights and one daily JetBlue flight.
Welcome Southern Airways Express
On July 18, Southern Airways Express began service at Phoenix Sky Harbor. The new airline is currently offering flights between Phoenix and Show Low. They operate out of Terminal 3.
Looking for more information on all the places you can travel to from PHX? Visit our Where We Fly page.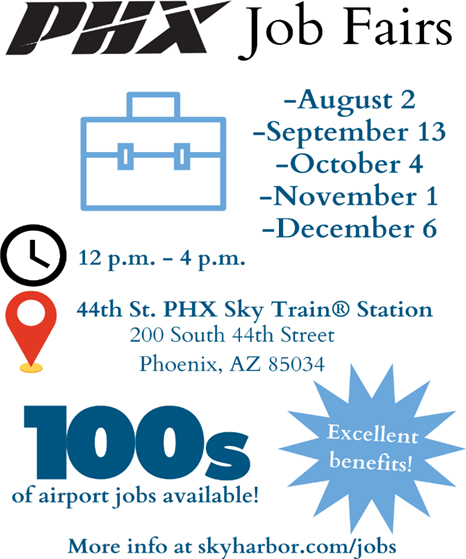 Sky Harbor Job Fairs Continue
For the past several months, Phoenix Sky Harbor has held monthly job fairs. The job fairs continue to see successful turnouts and will continue through the end of the year.
Hundreds of available positions are looking to be filled including customer service agents, drivers, sales associates, and security. Benefits vary by each company, but may include health, insurance and retirement options, retention bonuses, employee assistance programs and sign-on bonuses.
No preregistration is required to attend the event. More information can be found on open positions and companies taking part at skyharbor.com/jobs/jobfair.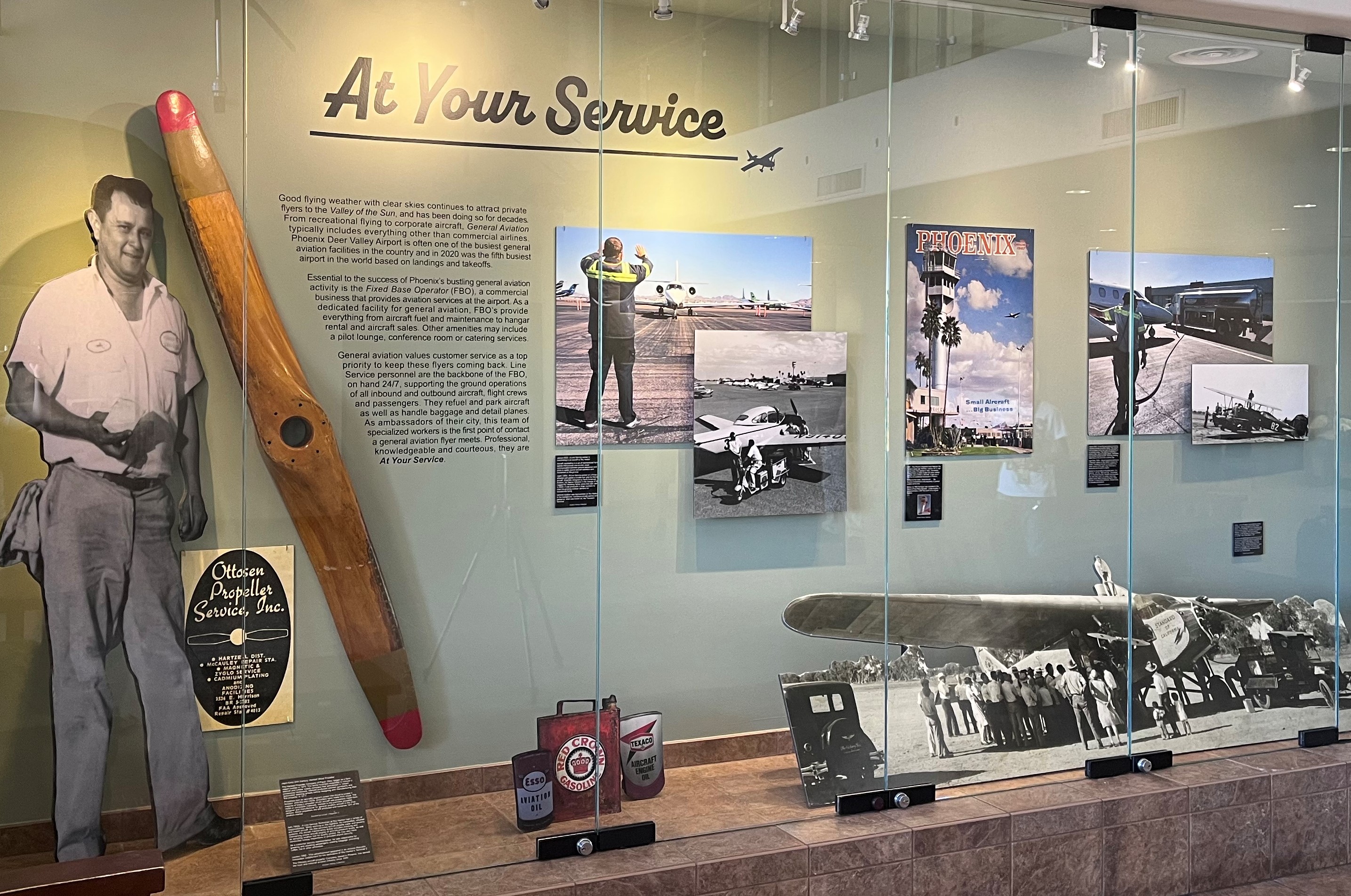 Deer Valley Airport is At Your Service with a New Exhibition
Arizona's clear skies continue to attract private flyers to the Valley of the Sun as they have been doing so for decades. From recreational flying to corporate aircraft, General Aviation typically includes everything other than commercial airlines. Phoenix Deer Valley Airport is often one of the busiest general aviation facilities in the country and in 2020 was the fifth busiest airport in the world based on landings and takeoffs.
Phoenix Airport Museum's newest exhibition, At Your Service, pays homage to General Aviation, Fixed Base Operators (FBOs) and Flight Line workers with images and information. The display includes an early twentieth century wooden propeller and a life-size cutout of a flight line worker. Large-scale historic photographs, from the Museum's archives, are hung throughout the lobby.
At Your Service is on view 24/7 in the Deer Valley Airport lobby.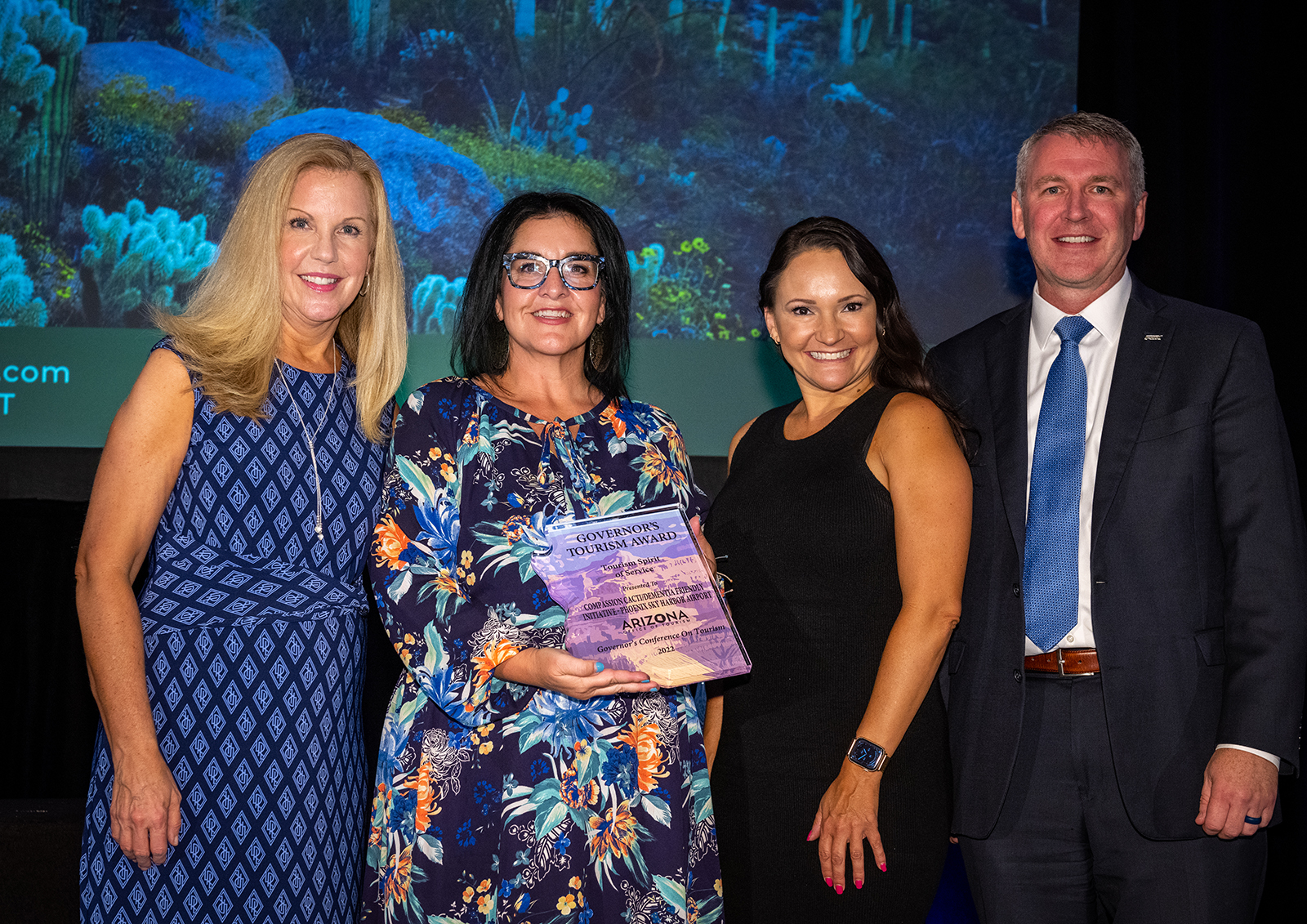 Dementia Friendly Program Wins Spirit of Service Award
On Thursday, July 14, the Arizona Office of Tourism hosted the 2022 Governor's Tourism Awards Gala recognizing the outstanding marketers, innovators and ambassadors of the Arizona tourism industry.
We were excited to receive the Spirit of Service Award for our Compassion Cacti Lanyard™/Dementia Friendly Airport program. America's Friendliest Airport® implemented a lanyard program aimed at providing an extra-friendly and patient hand to customers who self-identify as needing additional assistance when traveling through the airport.
The special Compassion Cacti™ lanyard, worn around the neck, identifies a traveler as a person who experiences dementia, making it easier for airport staff to recognize them and offer assistance. The lanyard also gives travelers the ability to enter new, quiet areas, such as the Compassion Corner, that offer minimal distractions — something that can help avoid the agitation and confusion that can present itself when a person experiencing dementia is away from home.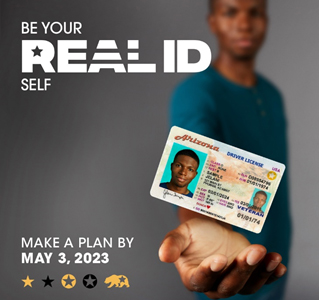 REAL ID Deadline Nears
Travelers at Phoenix Sky Harbor International Airport are expected to have their identification updated to a REAL ID by May 3, 2023, and with that deadline about 300 days away, it is important to submit the correct documents to acquire the REAL ID.
Effective May 3, 2023 every traveler will need a REAL ID-compliant license or state ID or another acceptable form of identification to fly within the United States. Travelers can now reserve an appointment online and upload documents prior to their appointment on the new AZ MVD Now website. The Arizona Department of Transportation has established the Voluntary Travel ID to comply with the federal REAL ID Act of 2005. It is available as both a driver license and identification card. There is a gold star embedded in the card to show that the cardholder has provided added proof of identification to ensure the license or ID meets strict federal requirements. For information on obtaining a Travel ID, please visit the ADOT Travel ID website at  azdot.gov/travelID.
The TSA has a Frequently Asked Questions webpage for those who have questions about air travel and REAL ID.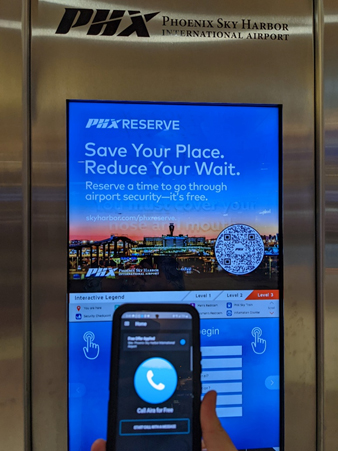 New Service Supports Sky Harbor Customers Who Are Blind or Have Low Vision
Phoenix Sky Harbor International Airport has added a new service to support customers who are blind or have low vision as they travel. This new service, called Aira, provides guidance through a mobile app to assist passengers with a variety of needs, including moving through crowds, avoiding obstacles, finding gates, using self-service kiosks and navigating through Transportation Security Administration checkpoints.
"Aira is great addition. It offers a whole new level of assistance for passengers who are blind or have low vision and builds on Sky Harbor's ongoing efforts to be a welcoming place for all our residents and visitors," said Mayor Kate Gallego. "I'm proud to know that Phoenix Sky Harbor, America's Friendliest Airport®, continues to be a leader in airport accessibility experiences for all travelers."
To provide this assistance, the Aira mobile app connects users with professionally trained visual interpreters, who use live-streamed video to translate visual information into descriptive audio at the touch of a button, providing better efficiency, engagement and independence.
The Aira app is free to download and available in the Apple App and Google Play stores. While accessing the service for personal use can require a monthly subscription, Phoenix Sky Harbor will offer the service for free to users at the Airport.
In addition to Aira, Phoenix Sky Harbor International Airport offers a variety of tools and programs for people with disabilities. Most recently, the Airport implemented hearing loops in renovated areas of Terminal 3 and the newly added Terminal 4 Eighth Concourse, to improve accessibility for hearing-aid users to airport announcements and the overhead paging system. Phoenix Sky Harbor also provides a sensory room for individuals with autism, dementia or other sensory-related conditions.
"At Phoenix Sky Harbor International Airport, we're committed to providing all of our customers the best possible experience, which includes making sure accessibility is a top priority," said Director of Aviation Services Chad Makovsky. "I hope that with the addition of Aira service, our passengers will be empowered to travel the way they want when they choose Sky Harbor."
More information about the Airport's accessibility and assistance programs is available at skyharbor.com/beforetraveling/Accessibility.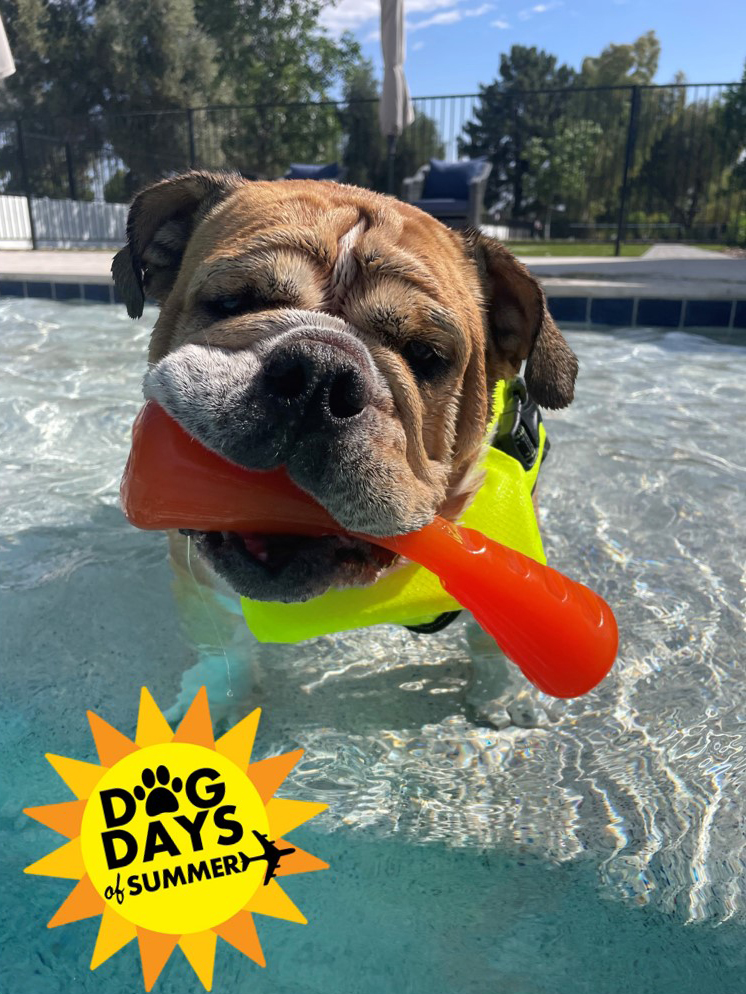 Dog Days of Summer
What better way to feature summer deals and travel tips then with some of our most photogenic airport volunteers?
Through the Dog Days of Summer, America's Friendliest Airport® has been featuring the Navigator Buddies on our social media channels with messaging about escapes from the heat, summer travel tips, and more. Follow @PHXSkyHarbor on Facebook, Twitter, Instagram and Snapchat.
The Navigator Buddies – dogs and their owners – volunteer a minimum of 2.25 hours per week at the airport. They walk the terminals offering opportunities for passengers to pet and enjoy some quality time with man's best friend.
If you're headed to the airport soon, be sure to keep an eye out for these furry friends and take a moment to stop and say hello.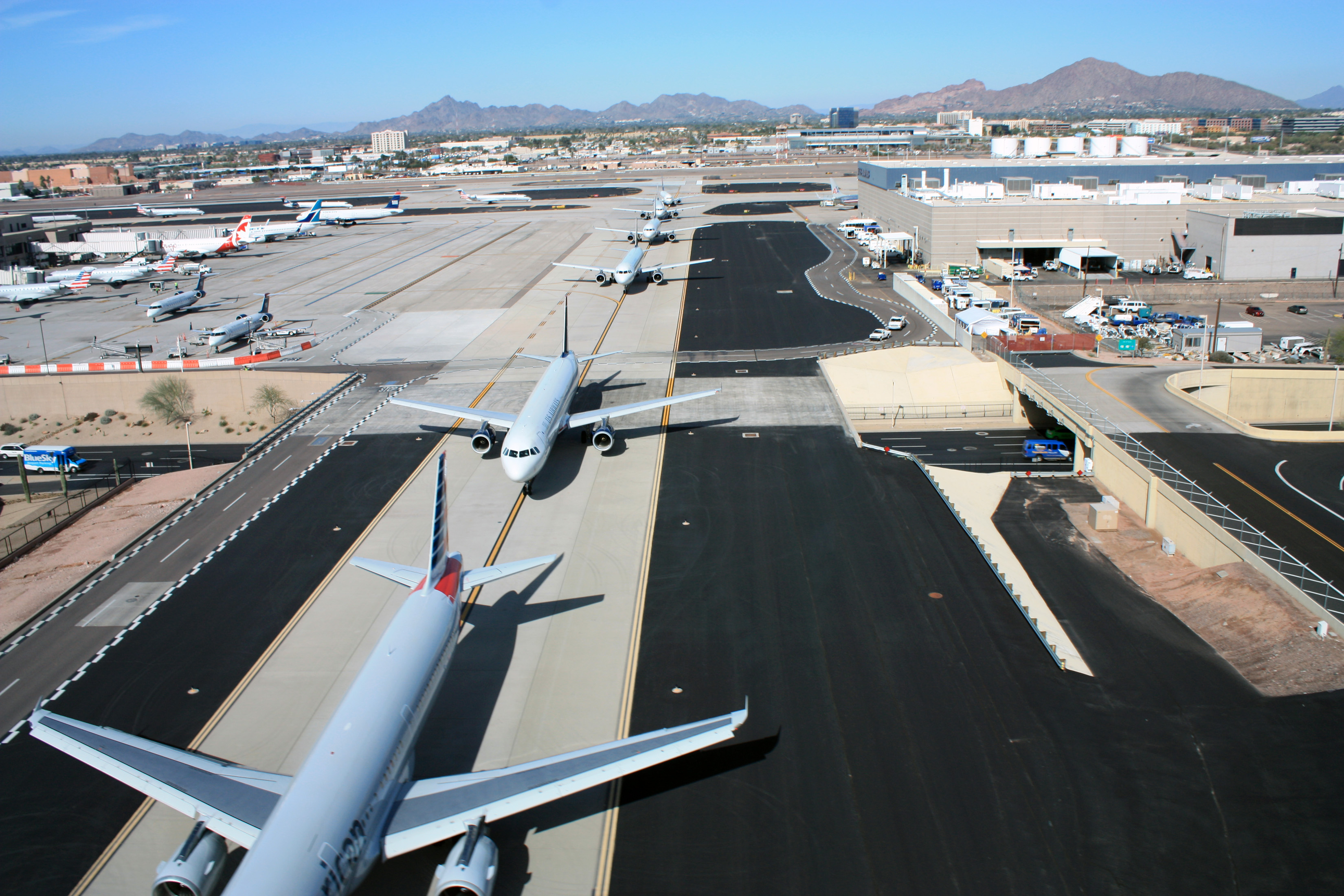 Extensive Planning Underway for Next Year's Big Game
Arizona will once again play host to the Super Bowl on Sunday, Feb. 12, 2023. And, while that may seem like a long way away, planning is already ramping up, and the Big Game and corresponding events will be here before we know it.

The City of Phoenix Aviation Department is already in planning mode to make sure that each of its three airports – Phoenix Sky Harbor, Phoenix Deer Valley and Phoenix Goodyear are prepared for the influx in travelers.
In fact, Feb. 13, the day after the Big Game, will likely be the busiest day of the year for Phoenix Sky Harbor International Airport. Looking back to 2015, the airport broke a single day record for the number of passengers traveling through the airport the day after the Super Bowl. Here are some other notable facts from the day after the Big Game:
Approximately 175,000 passengers
1,500 takeoffs and landings
42,957 passenger bags screened
12,116 Rental Car Returns
Average security checkpoint wait time – 10 minutes or less
The airport is anticipating in 2023 to see more than 180,000 passengers the day after Big Game with similar numbers to 2015 for takeoffs and landings.
But Phoenix Sky Harbor is prepared. The airport has successfully welcomed Super Bowl visitors three times already. Phoenix Sky Harbor is working with the Super Bowl Host Committee, the NFL, the airlines, TSA, car rental companies, and other partners to ensure special operational plans and additional staff are in place. Expect to see extra TSA staff as well as increased customer service staff positioned in key areas inside the airport terminals to welcome visitors and provide assistance. Our Navigator volunteers will answer airport-related questions and will team up with Super Bowl volunteers, who will answer event-related questions.
Our Ground Transportation team is also preparing. In 2015, we had a record number of taxi trips – 5,000-6,000. We anticipate a significant increase in the amount of rideshare and taxi activity next February. As such, we will create staging areas and a curb management plan to accommodate extra traffic.
Airport visitors who haven't been to Phoenix Sky Harbor in a while will be in for a treat with many new amenities added since the last Super Bowl. Notably, we will be opening Stage 2 of the PHX Sky Train® later this year in advance of the Big Game. This means that travelers will be able to seamlessly connect between the Terminals and Rental Car Center. The PHX Sky Train® also provides an easy connection to light rail. Visitors will have an easy trip downtown for the NFL Experience and other events.
We also recently opened our new eight gate concourse at Terminal 4 which is occupied by Southwest Airlines. And, in 2020, completed the final phase of our Terminal 3 Modernization Program which completely revamped Terminal 3 giving it a new, modern look as providing many new shops, restaurants and customer amenities.

And, Phoenix Sky Harbor as well as general aviation airports Phoenix Deer Valley and Phoenix Goodyear will be welcoming private and business jets to their facilities. More than 1,000 business and private jets are expected to use airports around the Valley. All three airports have fixed base operators (FBOs) offering service to pilots and aircraft. Phoenix Sky Harbor will also receive increased charter service.
Visit the Arizona Super Bowl Host Committee's page for more information about the Big Game.
Looking for travel tips or more information as it relates to the Big Game and the Airport?  Visit our Super Bowl section of skyharbor.com and check back often for updates.