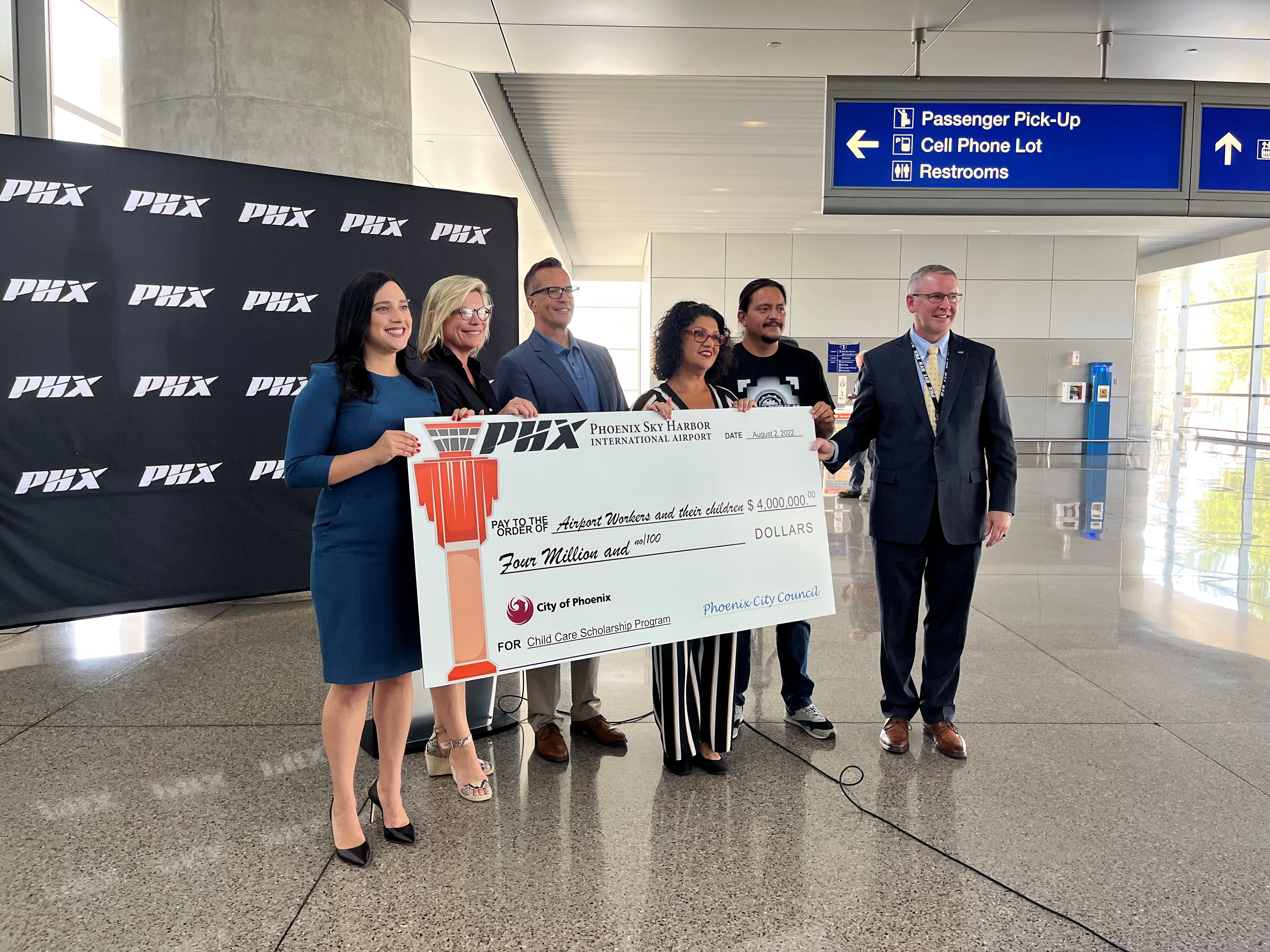 PHOENIX – Today, the Aviation Department officially launched its City of Phoenix Airport Worker Child Care Scholarship Program to promote an added benefit for workers in the aviation industry, which has been challenged for more than two years by the COVID-19 pandemic.  
The program was made possible through a $4 million investment by the Phoenix City Council as part of the city's American Rescue Plan Act strategic plan. The ARPA strategic plan focuses on supporting people, neighborhoods, and businesses struggling due to the unprecedented economic impacts they faced from COVID-19. The Airport Worker, Child Care Scholarship Program, targets the vital frontline workers who support the essential travel operations of Phoenix Sky Harbor International Airport.
"As a working mother, I know that ensuring your child has a vibrant, caring environment during the workday is paramount," said Phoenix Mayor Kate Gallego. "This investment in our airport team members in need can be life-changing. By supporting workers, airport operations, business concessions, and families thrive."
Scholarships are available to Phoenix Sky Harbor badged workers who meet certain income criteria, including Aviation Department employees, airline employees, concessions workers, and contractors who ensure "America's Friendliest Airport®" is up and running 24 hours a day.
"Our airport is a vital part of the community and cannot function without the dedicated support of the many workers who keep it running," said District 5 Phoenix Councilwoman Betty Guardado. "The concessions workers who feed our passengers, the janitorial staff that keeps the airport clean, the airline workers who ensure you have a safe and comfortable flight – all of them are essential to Sky Harbor, and this child care scholarship helps to ensure that we have the best people working by recognizing their efforts."
To manage the program, the Aviation Department has entered into an intergovernmental agreement with First Things First (FTF), the statewide organization tasked with expanding early education and family support programs for children from birth to 5 years old. The Aviation Department program will use the established framework of FTF's Quality First scholarship program and child care quality improvement and rating system.
"Now, Sky Harbor International Airport staff will have safe, nurturing care settings to take their children while they work. In turn, their children will have access to quality early learning environments that will prepare them for success in kindergarten and beyond," said Melinda Gulick, CEO of First Things First. "We applaud the City of Phoenix for joining other local governments – like Tempe, Flagstaff, and Pima County – in investing in quality child care to support both the workforce of today and the workforce of tomorrow."
The City's scholarship program was developed in part to address the challenges of finding child care in areas around the airport. The area has few nearby options, so the program provides for participants to select a facility anywhere in Maricopa County that has met or exceeded the standards of First Things First's Quality First program (3-5 stars).
"As a parent, I know how challenging it can be to balance work with child care, but with the addition of this scholarship program, we have a new opportunity to invest in the community and ensure that working at Sky Harbor isn't only one option among many, but rather an employment center of choice for our frontline workers," said District 8 Phoenix Councilmember Carlos Garcia, who represents the district where Phoenix Sky Harbor is located. "That is one of the best things we as a city can do."
"With the continually rising cost of living, parents deserve to go to work knowing their kids have a safe, nurturing environment they can afford while they focus on providing a quality life for their families," District 7 Phoenix Councilwoman Yassamin Ansari said. "With this program, we are hoping it not only helps the employees currently serving our world-class airport that is now near pre-pandemic numbers, but we hope it also attracts new employees."
As part of the scholarship program, The Valley of the Sun United Way – under contract with First Things First - will be managing the application process, including conducting eligibility verification for the program. Information on program eligibility criteria, how to find eligible childcare facilities, the paperwork that is necessary to complete the application, and a link to the application portal is available at www.vsuw.org/PHXSkyHarbor. All applications will be processed on a first-come, first-served basis and will require all documentation to be complete to be processed.
"As we work toward creating Mighty Change throughout Maricopa County by 2026, we have seen firsthand the overwhelming need for help with child care costs as people return to work. Speaking with families and our early childhood partners, it's one of the greatest challenges people still face," said Rob Podlogar, chief community development and engagement officer at Valley of the Sun United Way.
The addition of the child care scholarship program also positions Phoenix Sky Harbor to be one of few airports in the country offering this kind of benefit to not just city employees but to any eligible badged worker. Because aviation-generated revenues must be reinvested in airport operations, the addition of ARPA funding made the program possible.
"As an industry, we have to showcase the value of an aviation career for every job in our organization," said Director of Aviation Services Chad Makovsky. "Particularly as we see passenger traffic rebounding from the pandemic, this scholarship program is a key means to ensure that we're ready to meet the challenges of not just the moment, but the future."
For more information about the program's specific requirements or to apply, visit www.vsuw.org/PHXSkyHarbor.
#
Phoenix Sky Harbor International Airport, America's Friendliest Airport®, has an annual economic impact of more than $38 billion. Before the COVID-19 pandemic, approximately 1,200 aircraft and more than 125,000 passengers arrived and departed from Sky Harbor daily. PHX Sky Harbor is funded with airport revenue. No tax dollars are used to support the airport.


First Things First – First Things First is a voter-created, statewide organization that funds early education and health programs to help kids be successful once they enter kindergarten. Decisions about how those funds are spent are made by local councils staffed by community volunteers. To learn more, please visit FirstThingsFirst.org.