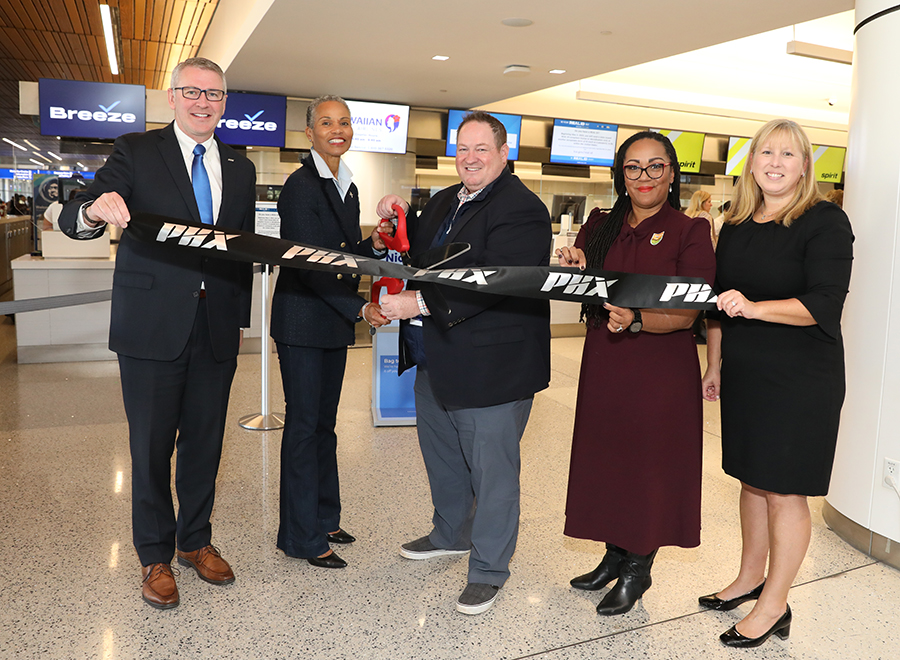 Charleston and Provo Start Saturday, from Just $29* One Way, With Hartford, Richmond, Bentonville-Fayetteville, and New Orleans from 2023
Phoenix, AZ (November 19, 2022) – Breeze Airways, the Seriously Nice™ low-fare airline founded by aviation entrepreneur David Neeleman, is adding twice-weekly service from Phoenix, AZ, to Charleston, SC, and Provo, UT, on Saturday ahead of four additional destinations beginning in February 2023.
If purchased by November 23, fares between Phoenix and Charleston start from $89* one way, while fares between Phoenix and Provo are from just $29* each way.
From Phoenix, AZ:
Charleston, SC** (Wed and Sat, starting November 19);
Provo, UT** (Wed and Sat, starting November 19);
Hartford, CT** (Thurs and Sun, starting February 9);
Richmond, VA** (Fri and Mon, starting February 10);
Bentonville-Fayetteville, AR (Fri and Mon, starting February 17); and
New Orleans, LA (One-stop/no plane change BreezeThru on Fri and Mon, starting February 17).
"Breeze always seeks to connect cities which have previously had no nonstop service," said Breeze's President Tom Doxey.  "We're excited to connect Sky Harbor with five fantastic destinations nonstop, as well as add a one-stop BreezeThru flight to New Orleans."
"The addition of the new service routes from Breeze Airways will provide residents and visitors with more low-cost flight options than ever to fly in and out of Phoenix," said Phoenix Mayor Kate Gallego. "It is a win-win for travelers and our economy, and I am pleased that Breeze Airways will be bringing even more travelers to America's Friendliest Airport."
"With the addition of Breeze Airways, Sky Harbor once again shows how it's delivering value to our traveling public – by keeping our costs low, we make it possible for airlines to pass on those savings," said Councilwoman Ann O'Brien. "These future routes will also give us the opportunity to show why Phoenix is a great place to live and work."
"It is exciting to have Breeze Airways expand its service and offer more nonstop flight options at an affordable rate to Phoenix passengers," said Phoenix City Councilman Sal DiCiccio. "As air traveler volume grows, it is important for Sky Harbor International Airport to increase its already diverse group of carriers. Thank you to Breeze for recognizing the strength of the Phoenix market."
"I am glad that Breeze Airways is entering the Phoenix market to add another value-conscious choice for our residents. Travel is a luxury for many people, so when we can add service to new destinations for a reasonable price, it can make a real impact," said Councilwoman Yassamin Ansari.   "I look forward to our continuing partnership with Breeze and making that next trip possible for even more people."
Breeze took flight in May 2021 and has quickly expanded across the U.S., connecting underserved city pairs with fast, efficient flights. The airline's business model centers around offering affordable fares with plenty of perks, including no change and cancellation fees up to 15 minutes prior to departure, free family seating, and enhanced seating options, including Extra Legroom.  Guests can choose from a la carte or bundled options to create a travel experience that meets their needs.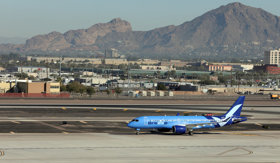 The seat pitch for a Standard Economy seat is 30 inches on the A220s and 31 inches on the E-195s, while the seat pitch for Extra Legroom is 32 inches on the A220s and between 34 and 39 inches on the E-195s, depending on the row selected.   First Class seats feature 39 inches of seat pitch, 20.5 inches of seat width, and special features, such as a footrest, for added comfort, and in-seat AC power and USB/C ports.
With seamless booking and customized flight features delivered via a sleek and simple app, Breeze makes it easy to buy and easy to fly. Flights are now on sale at www.flybreeze.com and via the Breeze app.
Pictured above from left: Phoenix Sky Harbor Director of Aviation Services Chad Makovsky, Phoenix Aviation Advisory Board Chair Valencia Fisker, Breeze Airways Vice President of Guest Empowerment and Airport Operations Danny Cox, Phoenix Sky Harbor Chief Revenue Officer Roxann Favors, and Phoenix Sky Harbor Chief Operating Officer Sarah Demory.