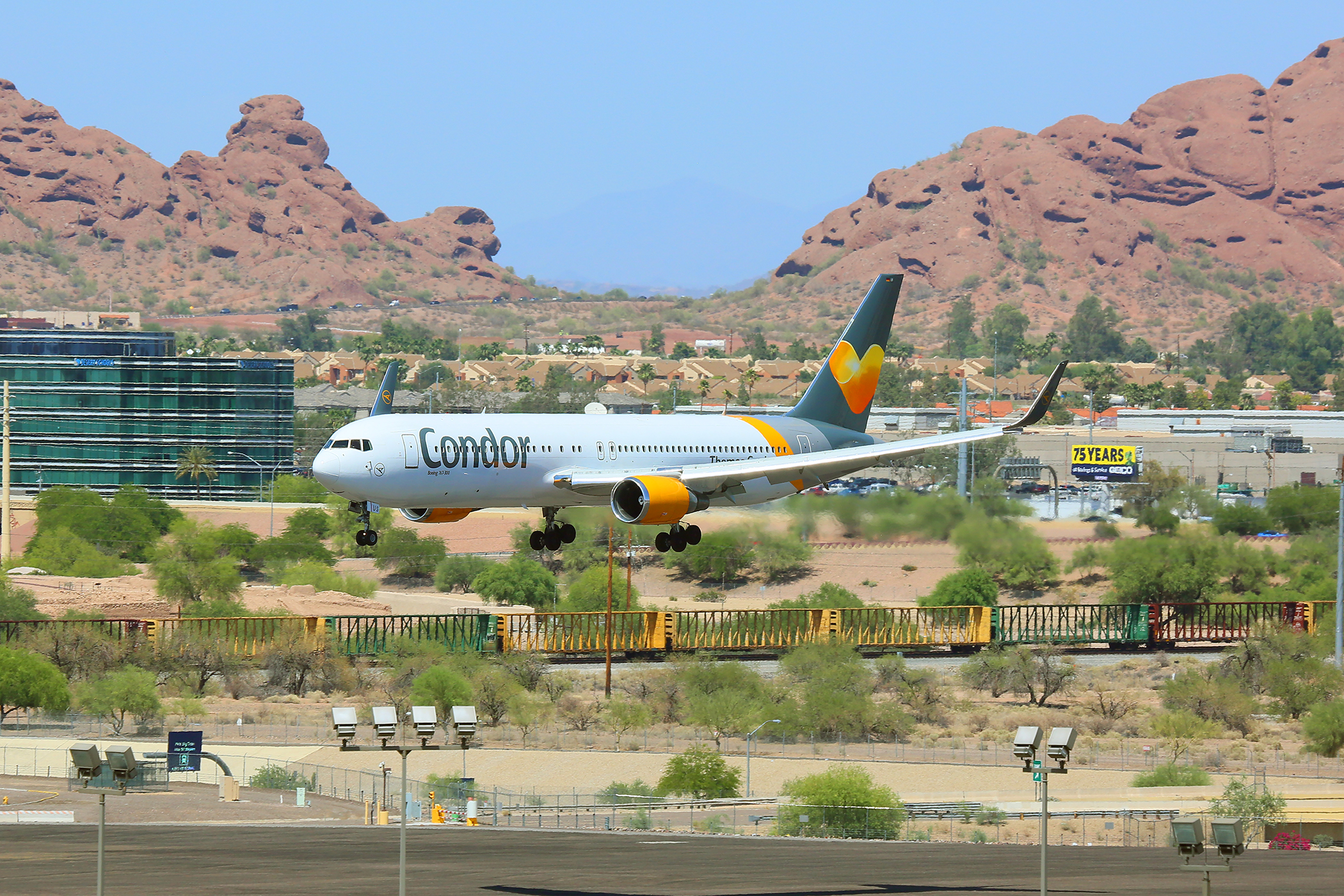 PHOENIX – After a two-year hiatus due to the COVID-19 pandemic, Phoenix Sky Harbor International Airport looks forward to welcoming Condor Airlines back to Phoenix. Beginning May 21, Condor Airlines will resume its nonstop Phoenix-Frankfurt flight. The service will operate two days a week from May through September.
Condor, which began nonstop seasonal service from Phoenix in May 2018, saw strong demand in 2018 and 2019 prior to the onset of the pandemic.
"Condor's return to Phoenix continues an important return to travel, and we look forward to welcoming more international visitors," said Phoenix Mayor Kate Gallego. "Direct, non-stop flights to Frankfurt offer our community more accessible and easy connections to Europe. This flight significantly boosts our economy as international flights to Phoenix bring in approximately $3 billion each year."
Condor Airlines will operate the flight with a Boeing 767-300ERaThis aircraft features more than 250 seats. All passengers will receive complimentary checked baggage, beverages, meals, and in-flight entertainment at each seat. At least 18 seats in Business Class feature comfortable and adjustable reclining seats, a 15" personal in-seat premium entertainment system, power and USB ports, and gourmet meals with complimentary beer, wine, and cocktails.
Flights will run on Thursdays and Saturdays. The Frankfurt flight will depart at 3:30 p.m. and arrive in Phoenix at 6:35 p.m. The Phoenix flight will depart at 8:45 p.m. and arrive in Frankfurt at 4:50 p.m. the next day.  The flights will provide both leisure and business travelers with a convenient option for getting to and from Europe. Those looking to connect to other European destinations will find Condor offers convenient connections to get to numerous destinations across Europe.
The return of service to Frankfurt is in addition to British Airways returning its nonstop London Heathrow flights. American Airlines will resume its nonstop London flight in April. For more information on all the places you can travel from America's Friendliest Airport®, please visit https://www.skyharbor.com/flights/WhereWeFly
Condor's flight can be booked online at www.condor.com or by telephone at 1‐866‐960‐7915.
Quotes from Phoenix City Council
"I am thrilled to welcome back Condor direct flights from Phoenix to Frankfurt! This service is important for both vacation and business travelers and shows the demand and opportunities to expand Phoenix's global connectivity."
Vice Mayor Laura Pastor, District 4
"It's great to see the return of direct service between Phoenix and Frankfurt. Phoenix's partnership with Condor Airlines will continue to infuse millions of new dollars into our local economy and provide residents more travel options for business and pleasure."
Councilman Sal DiCiccio, District 6
"As a global city, it is essential that we are connected more than ever to our friends around the world. From adding new direct, international flights to bringing back flights that were missing during the pandemic, America's Friendliest Airport is back to providing the top-tier service and destinations it has become known for. I'm thrilled to see the return of direct flights to Frankfurt and look forward to even more route options."
Councilwoman Yassamin Ansari, District 7
"The return of direct flights to Frankfurt is an important step for our community as we work to return to pre-pandemic life. It shows that international flights are still in demand here in Phoenix, and it benefits our city's economy by bringing in additional business and visitors."
Councilmember Carlos Garcia, District 8
– ## –
Phoenix Sky Harbor International Airport, America's Friendliest Airport®, has an annual economic impact of more than $38 billion. Before the COVID-19 pandemic, approximately 1,200 aircraft and more than 125,000 passengers arrived and departed from Sky Harbor daily. PHX Sky Harbor is funded with airport revenue. No tax dollars are used to support the airport.