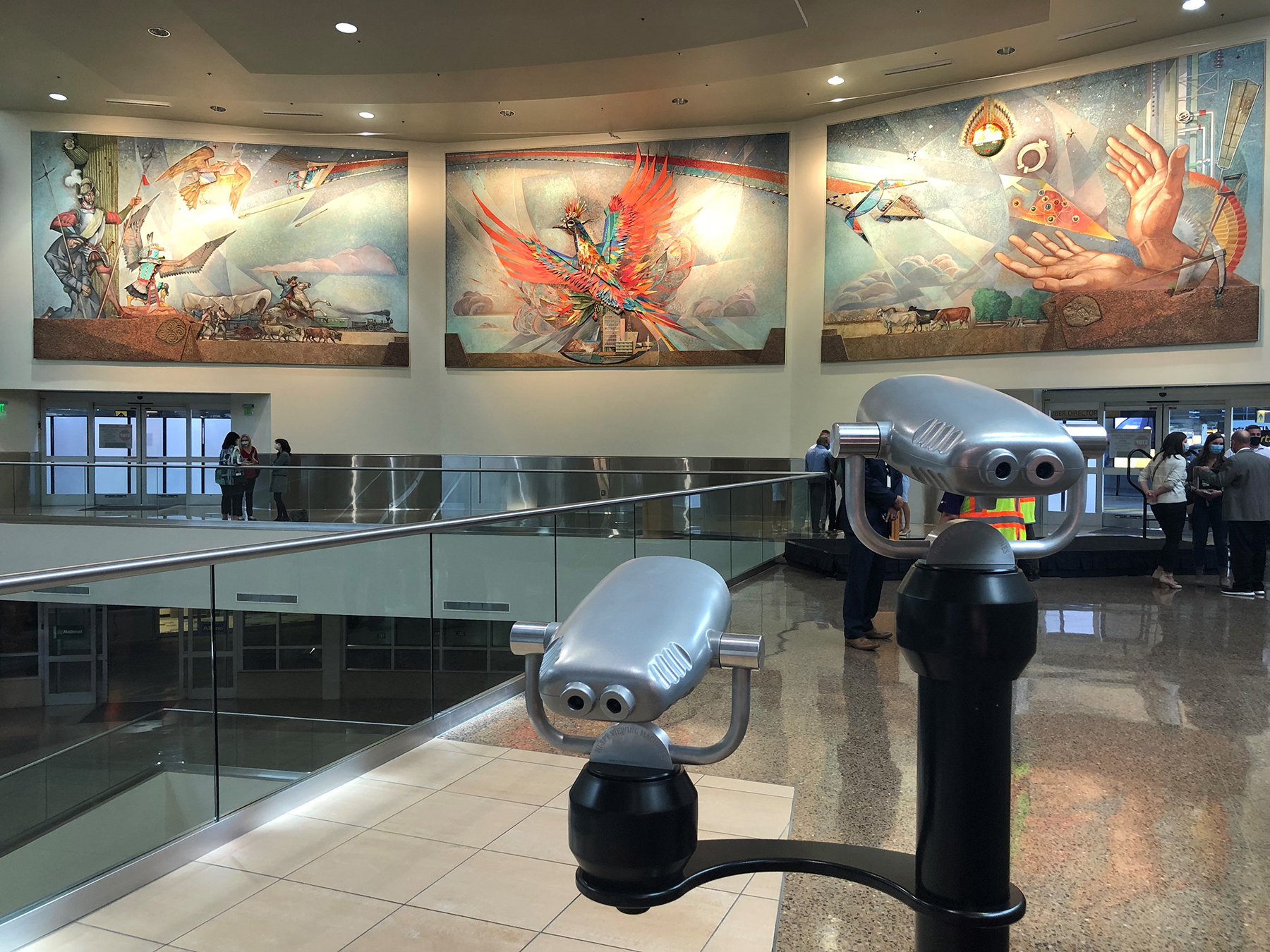 "The Phoenix," a triptych 75 feet wide and 16 feet high, is believed to be the first piece of public art commissioned by the city that was chosen through a public process. City leaders invited artists in 1960 to submit concepts that were put on display at the Phoenix Public Library, and citizens voted for their favorite design. Coze's design was selected, and his mural debuted when Terminal 2 opened in 1962.
The mural resided in Terminal 2 and remained in its central location over the main hall after the terminal closed and was decommissioned in early 2020. The mural had already been designated for relocation, which took place from March to fall of 2021 when it was installed at the Rental Car Center.
"The history represented in this mural—from the imagery of Hohokam symbols, modern tribes, and Latino heritage to mining and technology depictions—speaks to each one of us," Phoenix Mayor Kate Gallego said. "We are all represented in this work of art."
The mural represents Phoenix's past, present, and future. Besides paint media, 52 different materials, including glass and ceramic mosaic tiles, soil and sand from around the state, plastics, aluminum, and gemstones, are used in the mural construction.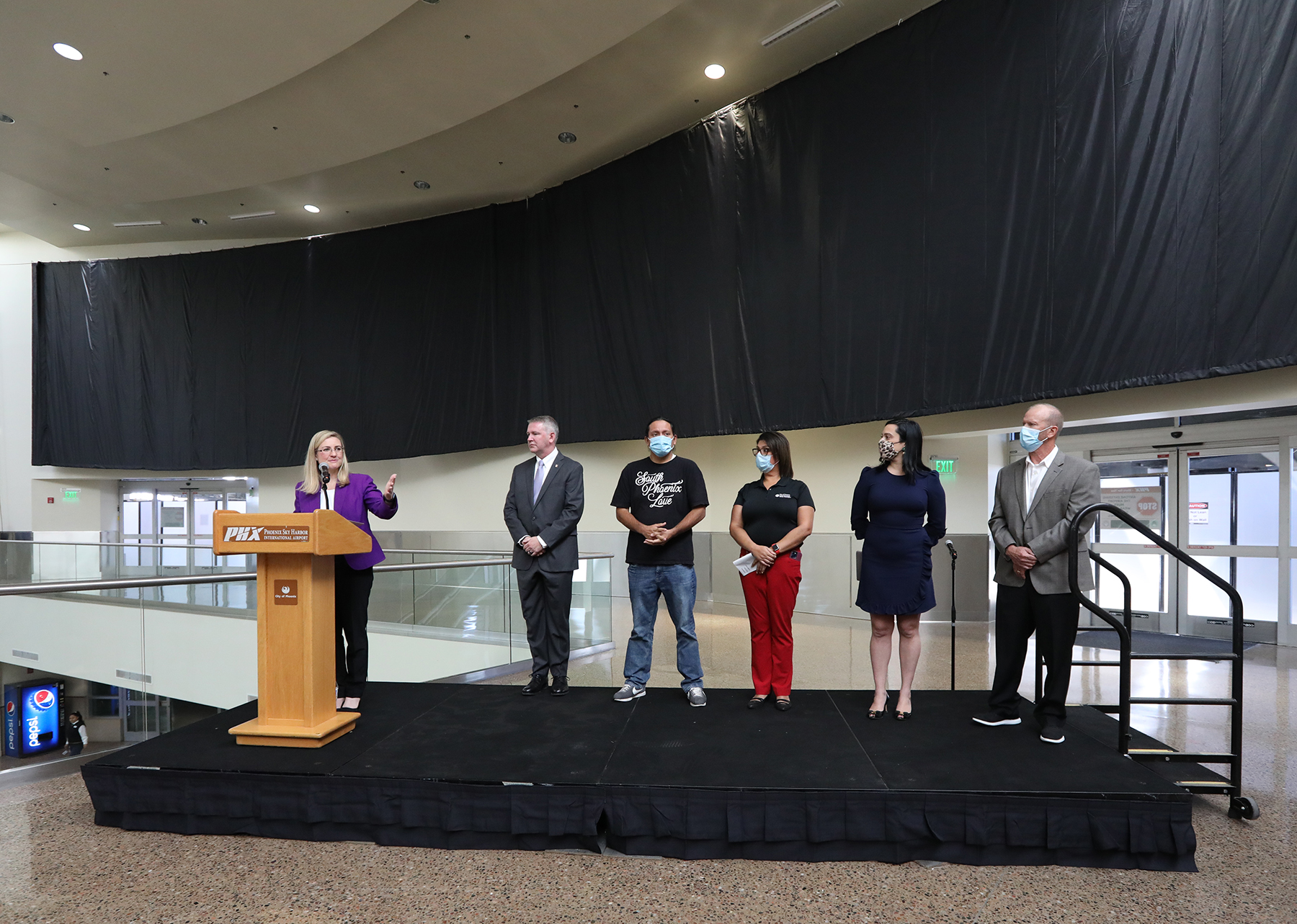 Two members of the Phoenix City Council agreed that "The Phoenix" is a fitting showcase for travelers of the city's rich diversity and heritage.
"Paul Coze's mural highlights the rich diversity of our city," said Councilwoman Betty Guardado, District 5. "At its new location, visitors will see not only the history of the city but also a reflection of the resiliency of the men and women that make Phoenix what it is today."
"Paul Coze's mural has depicted Phoenix's rich and diverse history and landscape to travelers and residents for nearly 60 years," said Councilwoman Yassamin Ansari, District 7. "I am thrilled that visitors to our great city will continue to experience this important piece of art."
"The Phoenix" can be viewed on the southwest corner of the central escalator lobby in the Rental Car Center. It will be even easier to access by mid-2022 when the PHX Sky Train® extension to the Rental Car Center opens to the public.
See a media kit that gives more information on this mural and other artwork at the Rental Car Center and the adjacent PHX Sky Train® Station.
Above from left: Phoenix Mayor Kate Gallego, Director of Aviation Services Chad Makovsky, Vice Mayor Carlos Garcia, Phoenix City Councilwoman Betty Guardado, Phoenix City Councilwoman Yassamin Ansari, and Terry Cole of Kiewit Construction.
– ## –
Phoenix Sky Harbor International Airport, America's Friendliest Airport®, has an annual economic impact of more than $38 billion. Before the COVID-19 pandemic, approximately 1,200 aircraft and more than 125,000 passengers arrived and departed from Sky Harbor daily. PHX Sky Harbor is funded with airport revenue. No tax dollars are used to support the airport.