Phoenix Sky Harbor Awarded $10M RAISE Grant for Cultural Corridor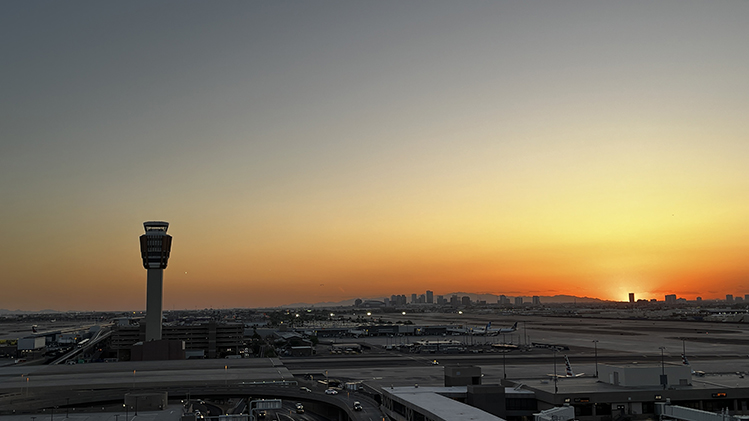 June 23, 2023
The City of Phoenix Aviation Department is the recipient of a $10 million Rebuilding American Infrastructure with Sustainability and Equity (RAISE) grant. The funding will be used to create a Cultural Corridor that reconnects disadvantaged and underserved communities adjacent to Phoenix Sky Harbor International Airport with Downtown Phoenix.
"It's exciting to see our community's plans for the neighborhoods west of Phoenix Sky Harbor International Airport receive this kind of recognition," said Phoenix Mayor Kate Gallego. "This grant will enable us to honor the legacies, histories, and identities of existing communities while also improving safety and mobility in the region. I represented this district for many years as a councilwoman, and know firsthand that this project will have an immediate, positive impact once complete." 
The PHX Cultural Corridor project was created as part of the PHX Land Reuse Strategy. The City of Phoenix Aviation Department in conjunction with community organizations, neighborhoods, and other stakeholders developed a strategy that could help accelerate the redevelopment of Airport-owned parcels west of the Airport. The main goals include stabilizing and strengthening neighborhoods, creating a sense of identity and change perceptions, and expand economic opportunity.
"This grant will provide us with an opportunity to make significant improvements in the area," said District 8 Councilwoman Kesha Hodge Washington. "Our residents were clear that they wanted to return vacant lots to productive use so that we can create a vibrant live-work environment and they wanted to celebrate the rich history of our community; this grant will allow us to respond to those requests. I also want to thank Secretary of Transportation Pete Buttigieg, Congressman Greg Stanton, Congressman Ruben Gallego and Senators Mark Kelly and Kyrsten Sinema for their work on behalf of my constituents."
The Cultural Corridor will consist of a number of elements such as creating ADA-compliant sidewalks, adding streetlights, adding protected bike lanes, deploying wayfinding elements and historic building/site markers, constructing bus shelters, re-establishing utility connections, and installing public art.
"Sky Harbor's success should be a point of pride for all Phoenicians—but for many in the surrounding area, the airport's growth has separated them from their neighbors and from economic opportunity," Rep. Greg Stanton said. "We're putting Bipartisan Infrastructure Law funds to work to reconnect and revitalize these communities, while honoring their history."
The Cultural Corridor is bounded by 7th Street on the west, 16th Street and Sky Harbor Circle on the east, Union Pacific Railroad (UPRR) on the north, and I-17 on the south.  It includes the historic Central City South/Nuestro Barrio neighborhoods of El Campito, Cuatro Milpas, Ann Ott, Green Valley, and San Juan Batista.
RAISE grants are a discretionary grant program that fund surface transportation and infrastructure projects such as this one that have a substantial local or regional impact. RAISE Grant Funds were authorized under the Local and Regional Assistance Program in the Infrastructure Investment and Jobs Act, known as the Bipartisan Infrastructure Law (BIL). 
For more information on our Land Reuse Plan as well as future project updates, please visit https://www.skyharbor.com/about-phx/land-reuse-strategy
Quotes from Phoenix City Council
"Thanks to the community members who took the time to share their vision for their neighborhoods around Sky Harbor and the work of our Aviation staff, we will be able to start transforming the Cultural Corridor site into a more walkable, accessible area for everyone. For years, the community has advocated for their neighborhoods' needs, and this grant is a great investment in that vision."
Vice Mayor Yassamin Ansari
"Phoenix's barrio neighborhoods were some of the most impacted by Sky Harbor's expansion, and I am proud to support the Aviation Department's work to find creative ways to support the community through grant funding for the Cultural Corridor project. This plan highlights our communities' strong ties to Cesar Chavez, Silvestre Herrera and so many others who called these neighborhoods home. Through this project their memories will be honored and our residents will better served."  
Councilwoman Betty Guardado, District 5.
###
Phoenix Sky Harbor International Airport, America's Friendliest Airport®, has an annual economic impact of more than $38 billion. Each day, approximately 1,200 aircraft and more than 125,000 passengers arrive and depart from Phoenix Sky Harbor. Phoenix Sky Harbor is funded with airport revenue. No tax dollars are used to support the airport.