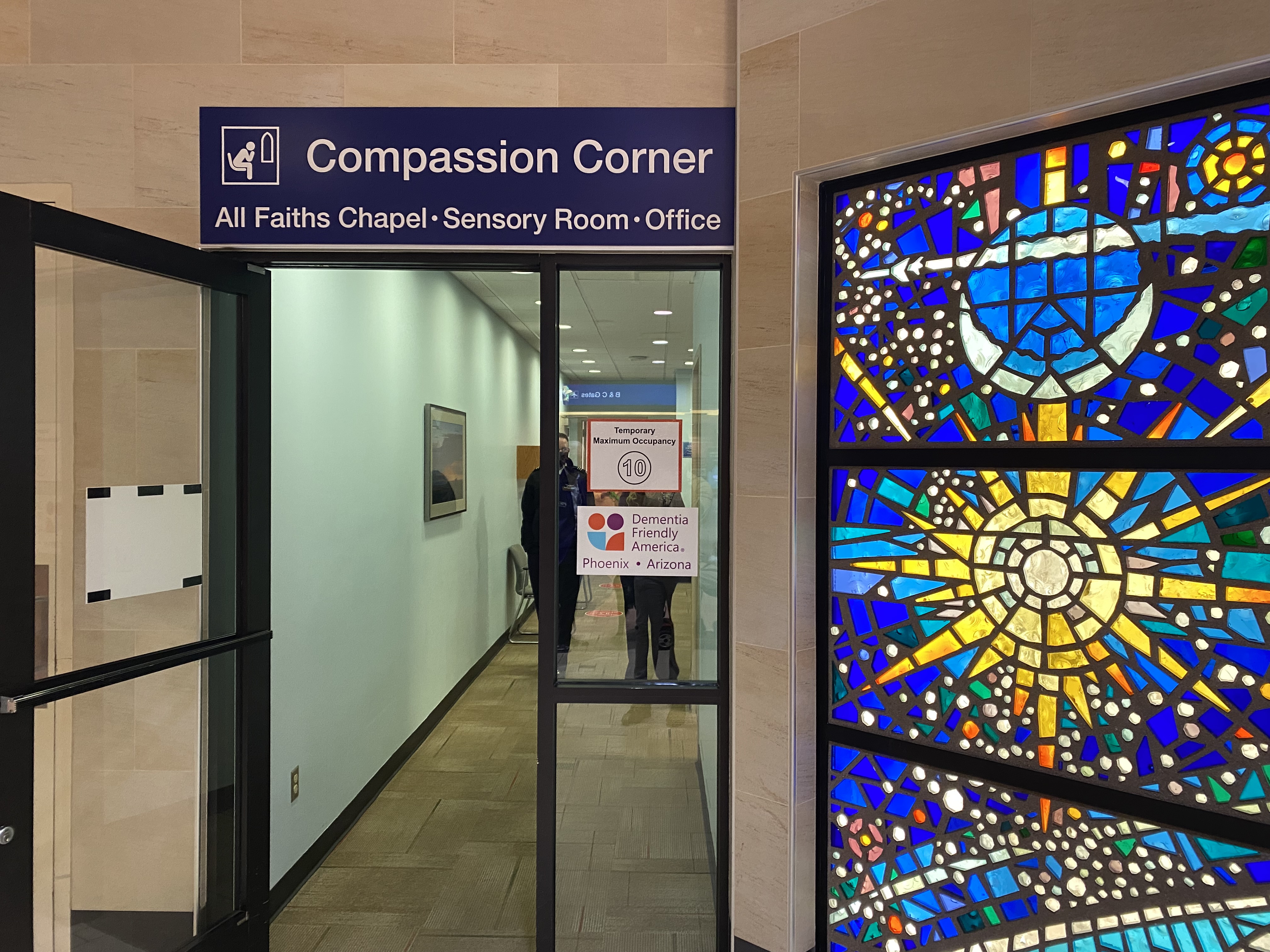 Phoenix Sky Harbor International Airport is a Winner in IDC Government Insights' Sixth Annual Smart Cities North America Awards
Airport recognized for its commitment to Digital Equity and Accessibility
April 11, 2023 
PHOENIX – America's Friendliest Airport® is pleased to announce that it is the recipient of an award in the IDC Government Insights' sixth annual Smart Cities North America Awards (SCNAA) in the category of Digital Equity and Accessibility. The Airport was recognized for several innovative initiatives to help those who are visually and hearing impaired.
"I'm so pleased that our airport has been recognized with a Smart Cities Award," said Phoenix Mayor Kate Gallego. "Travel for people with disabilities can be challenging, and Phoenix Sky Harbor has been committed to ensuring that all travelers have the best possible trip. These new innovations improve accessibility and empower travelers so that they can have a more welcoming and positive experience." 
The Smart Cities Awards are designed to recognize the progress North American states and municipalities have made in executing Smart City projects, as well as provide a forum for sharing best practices to help accelerate Smart City development in the region. In addition to the winning project, Phoenix was also named a finalist for two additional initiatives: the Phoenix City Manager's Performance Dashboard and Open Data initiative; and the Planning and Development Department's ShapePHX permitting and inspection platform.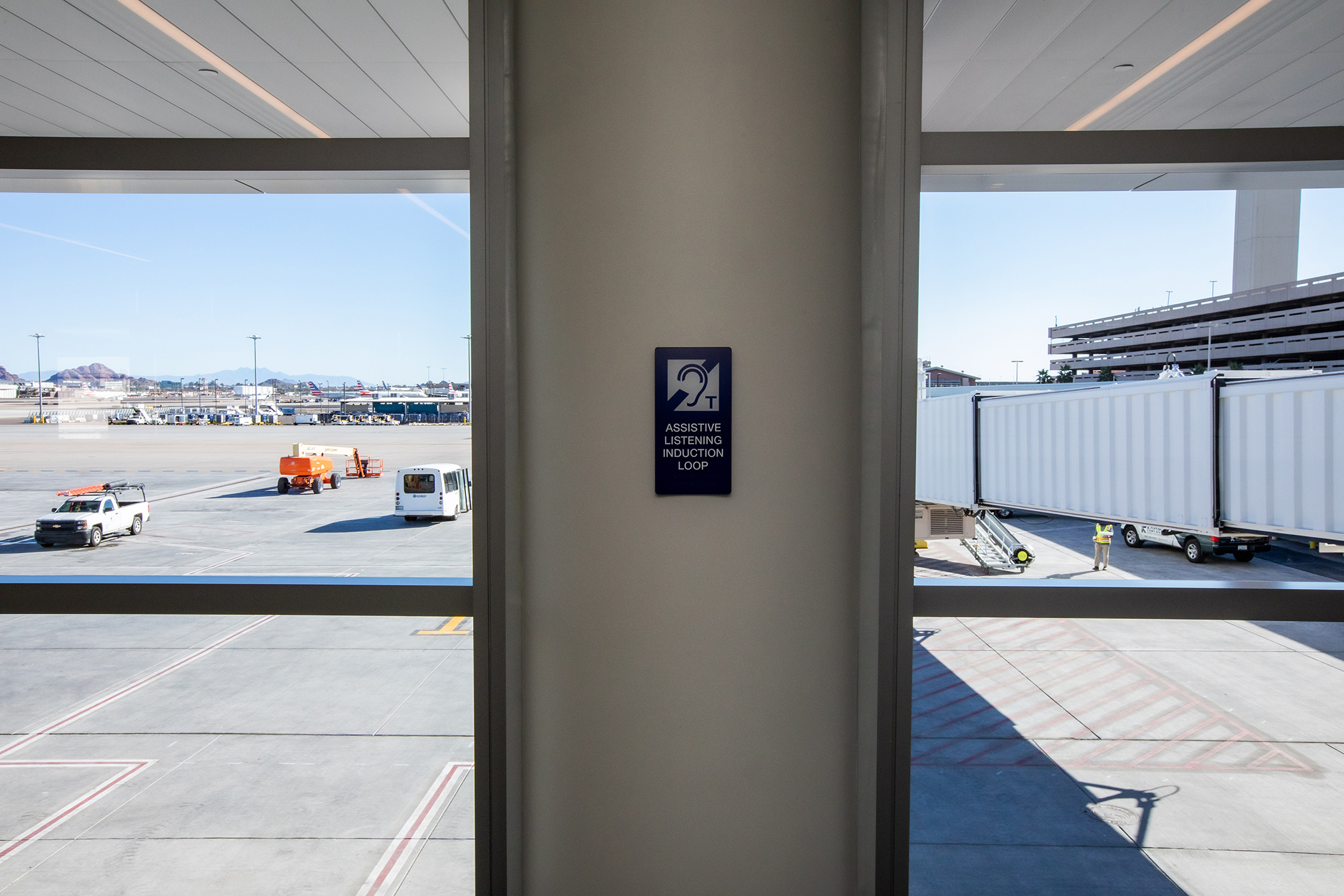 In 2022, Phoenix Sky Harbor International Airport launched a service called Aira. It's a free service available to support those customers who are blind or have low vision. Aira uses a mobile app to assist passengers with a variety of needs, including moving through the airport, finding gates, reading flight information screens, and more. The app connects users with professionally trained visual interpreters who use live-streamed video to translate visual information into descriptive audio. The app is available in the Apple and Google Play stores, and while accessing the service for personal use requires a monthly subscription, America's Friendliest Airport® has made the service free for all airport users.
"I'm so proud that the Aviation Department has been recognized for its work to help people to travel how they want, and to make that process as easy as possible," said Councilwoman Debra Stark, chair of the city's Transportation, Infrastructure and Planning Subcommittee. "We first started discussing Aira after I had a conversation with one of my constituents who uses the service, and it's great to see what a big difference this technology can make for Sky Harbor's passengers."
The Airport also has several other unique innovations to help those with disabilities including hearing loops. In 2022, the Airport added hearing loops to its new Terminal 4 Eighth Concourse. With the recent expansions, Phoenix Sky Harbor has more than 85,000 square feet of hearing loops in Terminal 3 and another 25,000 in Terminal 4. This advanced technology improves accessibility for hearing-aid users by connecting directly to the public address system. It allows people who use hearing aids to more easily hear announcements about flight delays, gate changes and other useful information. 
Additionally, Phoenix Sky Harbor offers other services like the Compassion Cacti™ lanyard program where those travelers who self-identify as needing extra assistance can request a free lanyard to be worn while traveling through the Airport. This signifies to Airport staff that these individuals may need a little extra time or help when in the Airport. The Airport also recently introduced a Sensory Room for individuals with autism, dementia or other-sensory related conditions, and Phoenix Sky Harbor has been focused on being a dementia-friendly airport by providing training for staff.
The City of Phoenix Smart Cities mission is data-driven, community-centered, technologically focused, and equitable, including designing and implementing solutions to community challenges and improving city processes for efficient use of time, resources, and energy – enhancing quality of life for all residents.  Phoenix is a lead member of The Connective, a regional public-private consortium working to advance Smart Cities solutions across the region. 
Projects were submitted earlier this year, and after finalists were announced in March, the public had the opportunity to review the projects and cast their vote. The awards will be presented as the Smart Cities Connect event being held May 16-18 in Denver. Learn more about the awards here .
Quotes from Phoenix City Council
"Phoenix Sky Harbor International Airport is known for its friendly service, but its spirit of service goes much further. Our airport professionals have prioritized free access to assistive technology to ensure all travelers can move smoothly. I'm grateful that they are being recognized for their work in digital equity and accessibility, which has made them a leader in customer service."
Vice Mayor Yassamin Ansari
"This award recognizes what we already know... Sky Harbor is committed to ensuring that our all our passengers and customers have a great experience. By providing this tool for people who are blind or low vision to navigate independently, our Aviation Department is making sure that "America's Friendliest Airport" is also America's most accessible airport to anyone who wants to travel."
District 1 Councilwoman Ann O'Brien
"This recognition by Smart Cities highlights that Phoenix is always working to find innovative ways to address the challenges that our residents face, Throughout my City Council career I have advocated to ensure that transportation is accessible to everyone, and the addition of Aira service is another way that the city helps to make that possible."
District 4 Councilwoman Laura Pastor
"Sky Harbor does more than connect our city with the world, it is an important part of our community as an economic engine and workforce hub. So it's particularly important that we make our airport accessible to everyone. The addition of Aira service provides another layer of support to the traveling public and the workers who make the airport run, by giving them digital assistance in navigating the terminals if they need it. It is a great example of using technology for everyone's benefit."
District 5 Councilwoman Betty Guardado
"Access to travel is important and I am excited to see Phoenix Sky Harbor receive recognition for the innovative work being done to get travelers from the curb to their gate in a safe and accessible way. The airport hearing loops, Aira phone app, and the Compassion Cacti lanyards are just a few programs demonstrating the City's commitment to equal access to public services."
District 6 Councilman Sal DiCiccio
"I am proud that the Aviation Department is offering this service to our residents and customers at no cost - and is using innovative technology to provide an inclusive environment at Sky Harbor. This award is well-deserved, and a symbol of our commitment to be an airport for everyone."
District 8 Councilmember Carlos Garcia
# # #


Phoenix Sky Harbor International Airport, America's Friendliest Airport®, has an annual economic impact of more than $38 billion. On an average day, approximately 1,200 aircraft and more than 120,000 passengers arrive at and depart from Phoenix Sky Harbor every day. PHX Sky Harbor is funded with airport revenue. No tax dollars are used to support the airport.