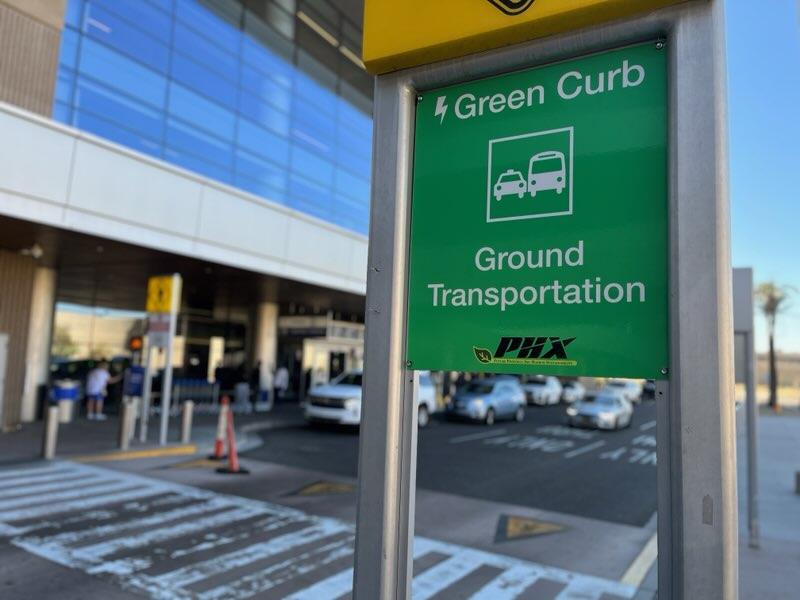 Nov. 6, 2023
PHOENIX – This week, Phoenix Sky Harbor International Airport proudly sponsors the annual Airports Going Green (AGG) conference. This conference is the aviation industry's leading forum on sustainability, bringing together airports, airlines, industry associations and government agencies to share best practices and focus on future forward sustainability practices as an industry.
Phoenix Sky Harbor set a global milestone last year, becoming the first airport in the world to offer travelers the ability to take a Waymo autonomous zero emission vehicle as a means of transportation to and from the airport. Today, Phoenix Mayor Kate Gallego kicked off the three-day conference sharing another innovative sustainability milestone demonstrating Phoenix Sky Harbor International Airport's commitment to being a leader in the industry with sustainable solutions to improve the passenger experience – the new Green Curb program.
The airport's Green Curb will provide rideshare riders with a conveniently located pick-up area with unique signage and markings, making electric vehicle pickup locations easily visible at both terminals. Earlier this summer, Uber announced they would pass on airport allocated savings to customers by offering them a 40 percent discount on airport pick up and drop off fees when they selected Uber's electric rides.
"Phoenix Sky Harbor International Airport is a leader in sustainability, and with innovative ideas and partnerships we have with Uber and Waymo, we are consistently pushing the envelope to ensure our airport remains on the cutting edge of every aspect of the passenger experience," Mayor Gallego said.
The airport developed a Roadmap to Net Zero Carbon that identifies the short-, medium- and long-term strategies for Phoenix Sky Harbor to reach the goal of net zero carbon by 2040. This goal is defined by an absolute reduction of carbon emissions by at least 90 percent from a 2010 baseline with no more than 10 percent of emissions eliminated through carbon removal technologies.
Since 2010, Phoenix Sky Harbor International Airport has already reduced annual carbon emissions by 34 percent through energy conservation measures and other initiatives despite growth and expansion. Focusing on being future-friendly, the airport continues to find ways to work with airport partners to reduce the impact on the environment in collaboration and innovation.
To find the full Roadmap to Net Zero Carbon report, visit skyharbor.com/sustainability.
– 30 –
Phoenix Sky Harbor International Airport, America's Friendliest Airport®, has an annual economic impact of more than $38 billion. On an average day, approximately 1,200 aircraft and more than 125,000 passengers arrive at and depart from Phoenix Sky Harbor every day. PHX Sky Harbor is funded with airport revenue. No tax dollars are used to support the airport.