PHX Debuts Final Stage of the PHX Sky Train®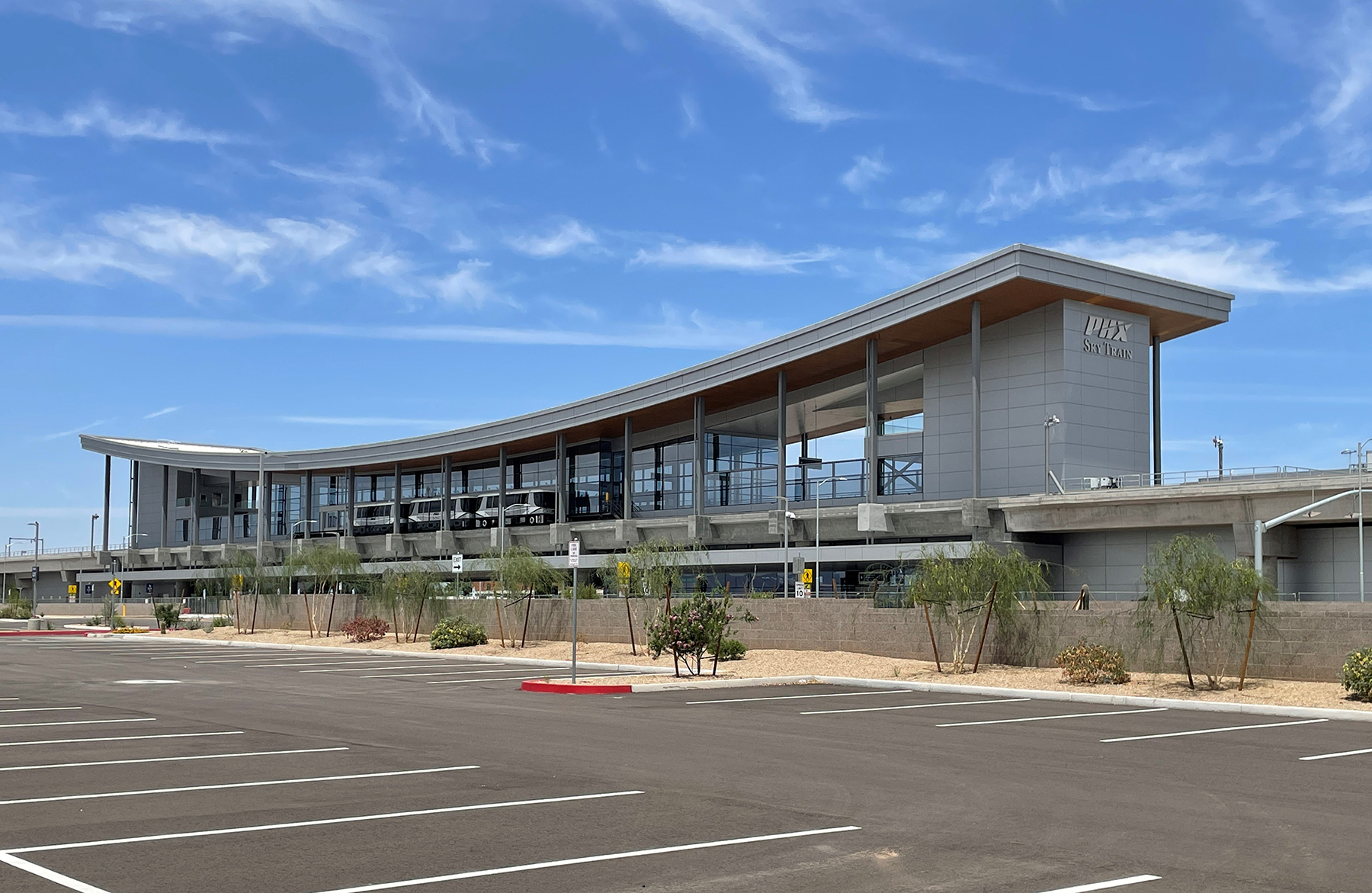 Dec. 19, 2022
PHOENIX – Just in time for the busy holiday travel season and next year's Super Bowl, Phoenix Mayor Kate Gallego, members of the Phoenix City Council, and local leaders celebrated the opening of the final stage of the PHX Sky Train®. The 2.5-mile extension connects the terminals with the Rental Car Center and adds two new stations – the Rental Car Center Station and the 24th Street Station. Stage 2 opens to the public on Dec. 20.
When fans arrive for the big game in February, they will instantly see why Phoenix is a top-tier destination for business, jobs, vacationers, and for those who'd like to build a life here.
The extension of the PHX Sky Train® to the Rental Car Center has been long-awaited for many travelers. It provides a more efficient and convenient travel experience between the terminals and the Rental Car Center. In fact, it will take under 8 minutes to go from Terminal 4 to the Rental Car Center and about 13 minutes to ride the entire five miles from the 44th Street Station to the new Rental Car Center Station. Trains arrive and depart every three to five minutes, 24 hours a day.
In addition to the new Rental Car Center Station, a new station was added at 24th Street and Buckeye Road – the 24th Street Station. This provides a convenient option for travelers arriving from the West Valley and downtown Phoenix. Roadway improvements mean that drivers will find improved access to and from nearby freeways. The Station features public and commercial pick-up and drop-off at the curb, allowing travelers to get to the terminals in a matter of minutes. Additionally, the new 24th Street Express Pay Parking, with 1,600 economy parking spaces, will open just to the south of the station, also providing easy access to the terminals and another option for those travelers entering the airport from the west. The parking area will also feature a number of electric vehicle charging stations.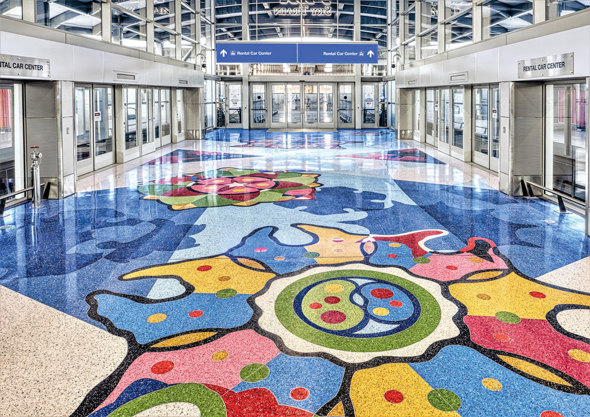 Both stations feature beautiful artist-designed terrazzo floors. The design of the Rental Car Center PHXSkyTrain® Station terrazzo floor, From the Earth to the Sky, by local artist Bill Dambrova, is inspired by human curiosity about Earth and what is beyond. Many terrazzo materials and aggregates are from shells, fossils, etc. At the 24th Street Station, local artist Frank Gonzales created a design called Sonoran Essence. The design spans more than 8,000 square feet and magnifies small details within the native Sonoran desert, including native plants. The Rental Car Center Station also features a piece called Sky Curtain, inspired by the Phoenix sky's changing colors. The artist team of R&R Studios designed two sculptural weather screens, including layers of colorful pipes that reveal different colors as passengers walk along the platform.
Additional benefits of the project include improved accessibility, especially for customers using wheelchairs. The project also helps reduce Sky Harbor Boulevard's traffic, easing transit to and from the terminals.
Other project improvements include enhancements at the PHX Sky Train®'s maintenance and support facility. The size of the facility was doubled, and the project saw an additional 30,000 square feet for storage, an automated vehicle wash, and storage tracks. Additionally, 24 cars were added to the existing 18 vehicles. With the opening of this final stage, the trains will run in a three-car format compared to the two-car format they have previously been running. Each train car accommodates up to 53 passengers. It's estimated that future ridership could reach 79,000 people daily, including Rental Car Center customers and those who park at the 24th Street Station or who are picked up or dropped off there.
With Phoenix Sky Harbor being so focused on being future-friendly, this project, in particular, has a number of sustainability features, including diverting 76% of on-site construction waste from landfills; using 23% of building materials manufactured from recycled materials; using high-efficiency air handlers and chillers to help reduce energy consumption in the station by 30%, and using efficient plumbing fixtures to achieve a 43% reduction from the airport's baseline water usage.
In fact, Stage 2 of the project received the Envision Gold Award. This award was presented by the Institute for Sustainable Infrastructure and evaluated the project's performance across 60 sustainability criteria addressing a wide range of indicators, including community, quality of life, management, planning, materials, energy, water, environmental impacts, emissions, and resilience.
The $745 million project was paid for with Rental Car Customer Facility Charges and airline Passenger Facility Charges. No tax dollars were used.
For more information, visit skyharbor.com/PHXSkyTrain.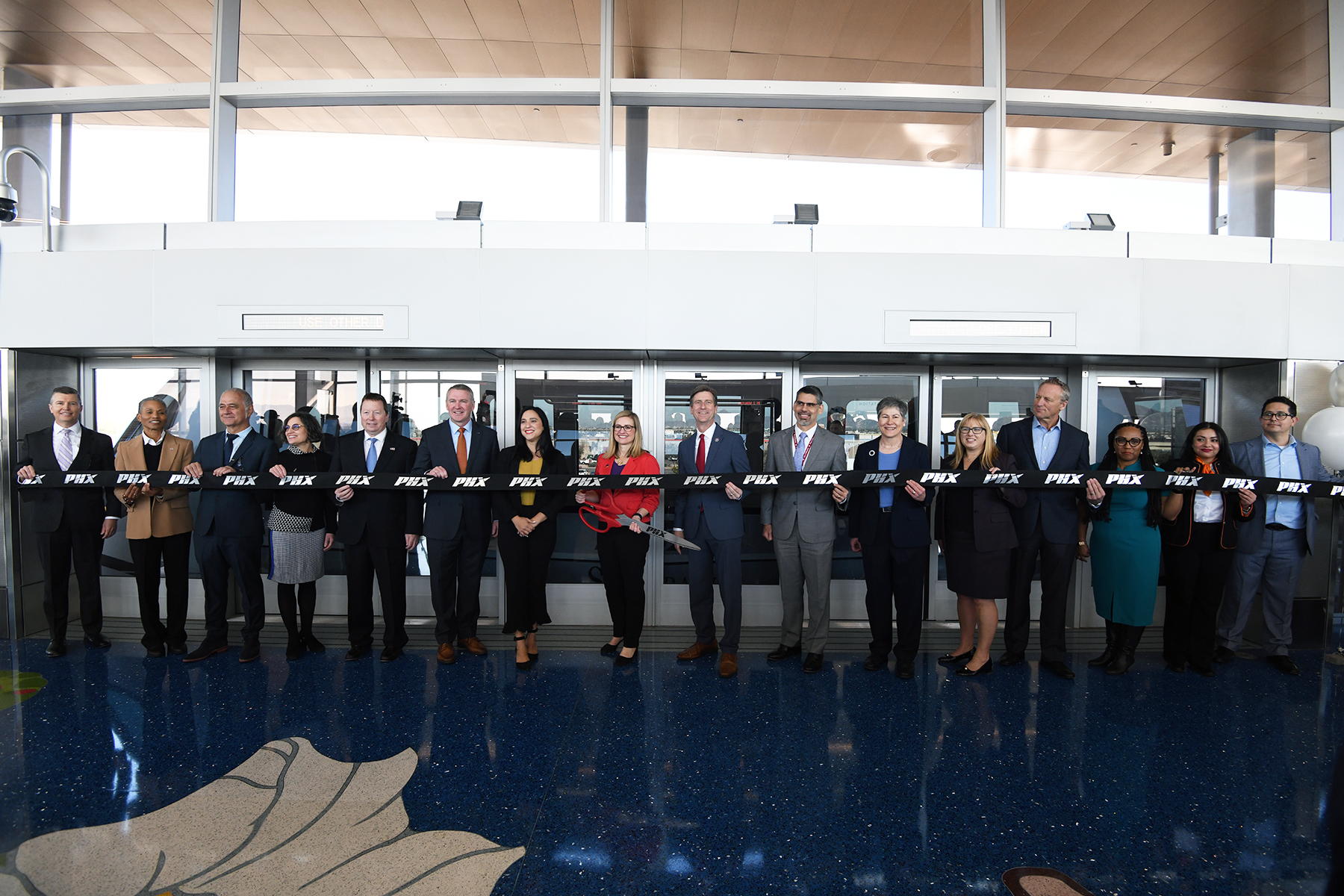 From left: Assistant Aviation Director Jay Dewitt, Phoenix Aviation Advisory Board Chair Valencia Fisker, Managing Director Turnkey North America for Alstom Jean Germain, Head of Services Americas for Alstom Josee Ouellet, Vice President and District Manager for the Western Region at Hensel Phelps Steve Grauer, Director of Aviation Services Chad Makovsky, Phoenix City Councilwoman Yassamin Ansari, Phoenix Mayor Kate Gallego, Congressman Greg Stanton, Deputy City Manager Mario Paniagua, and Properties Director for Hertz Rental Car Jackie Agan, Assistant Aviation Director Sarah Demory, Kevin Cooper of Enterprise/National/Alamo, Assistant Aviation Director Roxann Favors, General Manager of Sixt Laura Yeo, and Jesus Ramos of Avis/Budget/Payless.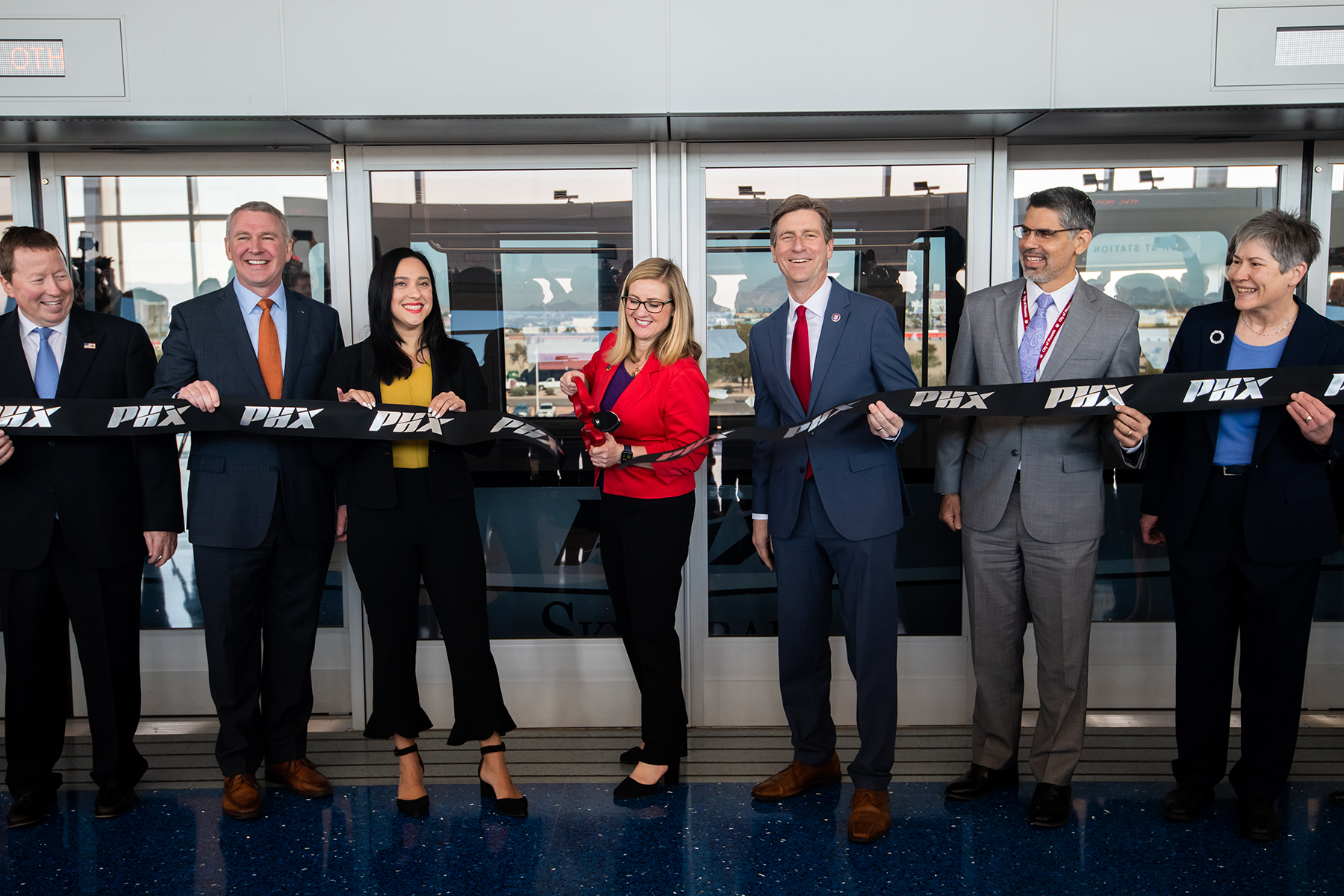 From left: Vice President and District Manager for the Western Region at Hensel Phelps Steve Grauer, Director of Aviation Services Chad Makovsky, Phoenix City Councilwoman Yassamin Ansari, Phoenix Mayor Kate Gallego, Congressman Greg Stanton, Deputy City Manager Mario Paniagua, and Properties Director for Hertz Rental Car Jackie Agan.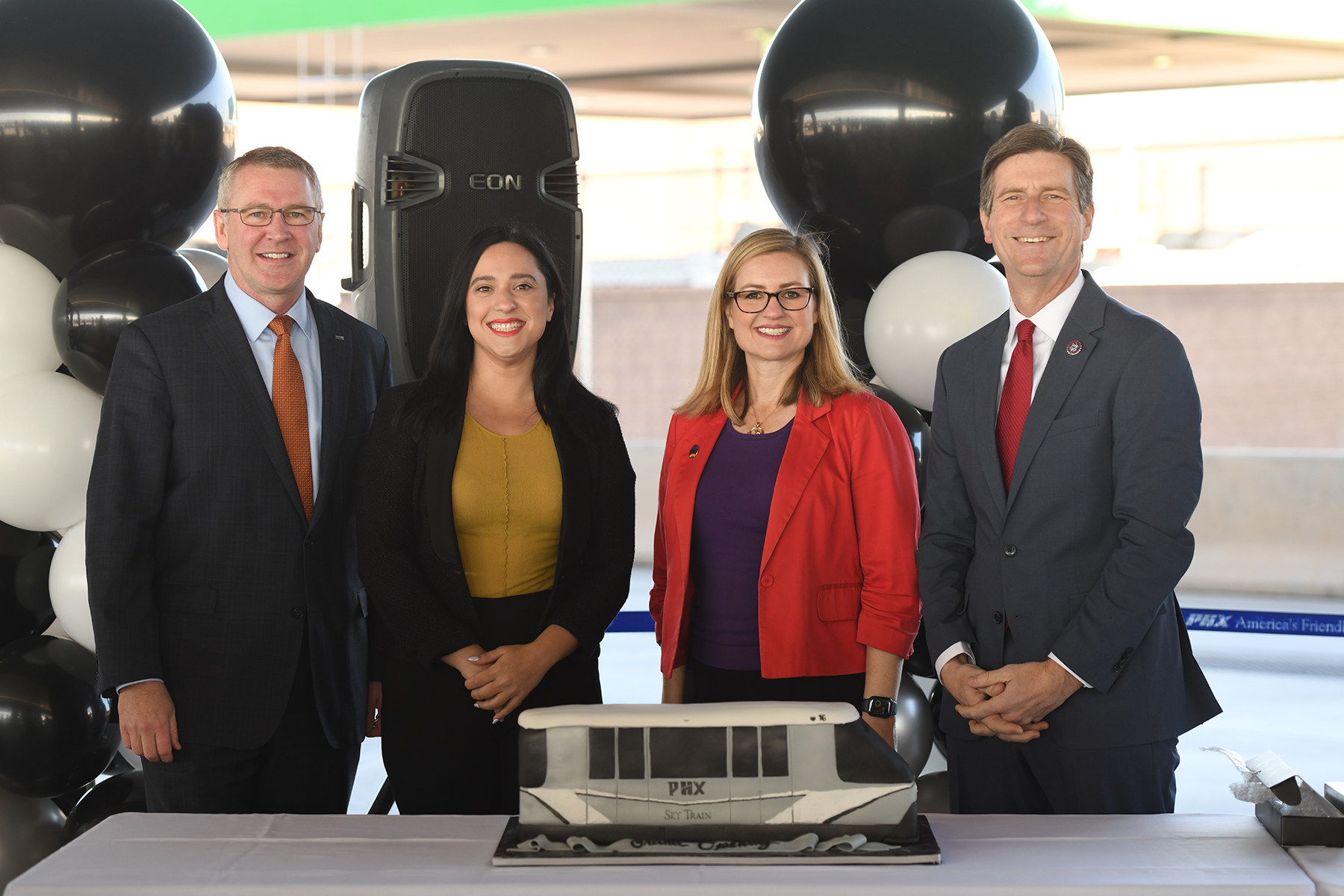 Director of Aviation Services Chad Makovsky, Phoenix City Councilwoman Yassamin Ansari, Phoenix Mayor Kate Gallego, and Congressman Greg Stanton.
Quotes from Phoenix City Council
"With the completion of this latest and final phase of the PHX Sky Train®, Sky Harbor has made every traveler's experience easier by providing a seamless connection to our terminals and by helping to remove cars from the airport's very busy streets. Thanks to all the hard work that went into this project, we've truly transformed the airport experience."
Councilwoman Ann O'Brien, District 1
"We know from our constituents that they want and expect a seamless, straightforward experience traveling to and from Sky Harbor. Now with the opening of the new stations at 24th Street and the Rental Car Center, we're offering an even easier way to get around the airport with the full PHX Sky Train route. It's an important addition to Sky Harbor that improves the passenger experience."
Councilwoman Debra Stark, District 3
"I am proud that Sky Harbor has reached this milestone by launching Phase 2 of the PHX Sky Train to improve the experience for our passengers. Just as importantly, we know that having a seamless connection from our parking lots to the terminals will really help the employees who work long hours every day to keep our airport stores open."
Councilwoman Betty Guardado, District 5
"The expansion of our PHX Sky Train® is an important step forward in Sky Harbor's efforts to become more sustainable and convenient. The PHX Sky Train connects visitors to our light rail system, the most sustainable way to get around our city. Now, it also connects them to our Rental Car Center, where I hope they will choose to rent an electric vehicle."
Councilwoman Yassamin Ansari, District 7
"Now that the PHX Sky Train® line is complete, people will have 24/7 access to the terminals while avoiding roadway traffic. This makes it easier for passengers, workers, and friends and family who may be meeting them to connect. As people have returned to traveling after the height of the COVID-19 pandemic, this provides a low-stress way to travel to and from America's Friendliest Airport."
Councilmember Carlos Garcia, District 8
Quote from Alstom
"Our partnership with Phoenix Sky Harbor International Airport is grounded in a shared vision and commitment to improving passenger connectivity. The complexity of this extension project was tied to the need to maintain airport connectivity services aligned with passenger expectations during construction, especially when integrating the extension into the existing system. What we have achieved today demonstrates the power of a great and collaborative partnership with Phoenix Sky Harbor International Airport, an important asset as we continue to operate and maintain the expanded PHX Sky Train system for the years to come."
Jean Germain, Managing Director for Alstom's turnkey business in North America
Quote from Hensel Phelps
"Hensel Phelps congratulates the City of Phoenix on the opening of the final phase of the PHX Sky Train and thanks the Aviation Department for being a true partner in bringing this transformative project to fruition! Thanks to all of our trusted trade partners, local businesses, and over four thousand dedicated craft professionals that had a hand in the evolution of America's Friendliest Airport."
Steve Grauer, Vice President/Western District Manager, Hensel Phelps
Quotes from Rental Car Center Operators
"When the City and the rent-a-car industry made the decision to develop a Consolidated Rental Car Facility (CRF), there were few true site options available, with the current location being the best choice. However, everyone knew the only way the desired level of customer service could be provided was to connect this facility to the terminals by means of a sky train. Unfortunately, the realities of budgeting and construction timing made it impossible to accomplish that to coincide with the opening of the CRF, so buses were used in their place. Sometimes once a facility is open, there can be a tendency to accept the status quo and move on to the next project. In this case, the City and Sky Harbor followed through on the completion of the extension, which is a great addition to the quality of customer service at the airport. Congratulations to the City of Phoenix, and thank you for making this a reality."
Robert Bouta, Vice President, Properties for Avis/Budget/Payless
"Enterprise Holdings, which owns and operates the Enterprise Rent-A-Car, National Car Rental, and Alamo brands, is excited to celebrate the grand opening of the PHX Sky Train® with the staff of Phoenix Sky Harbor, our team members, and customers. The PHX Sky Train extension will provide much-needed connectivity for customers to the airport's world-class consolidated rental car facility. This new addition will not only significantly enhance the customer experience, but it will also help remove dozens of diesel-run buses from the airport roadways. With the addition of this PHX Sky Train extension, we look forward to the Phoenix Sky Harbor Rental Car Center being the best customer experience in the country! Thank you to everyone for their hard work and dedication during this multi-year process." 
Kevin Cooper, Vice President/General Manager, Enterprise Holdings
"I am excited for our customers arriving at Phoenix Sky Harbor International Airport. Our Fox Rent-A-Car brand embraces customer service and sustainability, which are key components of Europcar Mobility Group's worldwide core values, and the new PHX Sky Train will not only provide a more efficient method to arrive at our PHX location, it is environmentally beneficial, as it removed the bussing and replaced it with an electric powered transportation system."
Gerardo Bermejo, Managing Director for Europcar Mobility Group USA dba Fox Rent A Car, Inc.
"At Hertz, we are very excited about the opening of the PHX Sky Train®. The rental experience should be fast and easy. The PHX Sky Train will be the bridge to providing that experience from the moment travelers get on the train to begin their rental experience until they return to their vehicles completing their rental journey." 
Jackie Agan, Hertz Properties Director
##
Phoenix Sky Harbor International Airport, America's Friendliest Airport®, has an annual economic impact of more than $38 billion. Before the COVID-19 pandemic, approximately 1,200 aircraft and more than 125,000 passengers arrived and departed from Sky Harbor daily. PHX Sky Harbor is funded with airport revenue. No tax dollars are used to support the airport.