Take a Road Trip at Phoenix Sky Harbor International Airport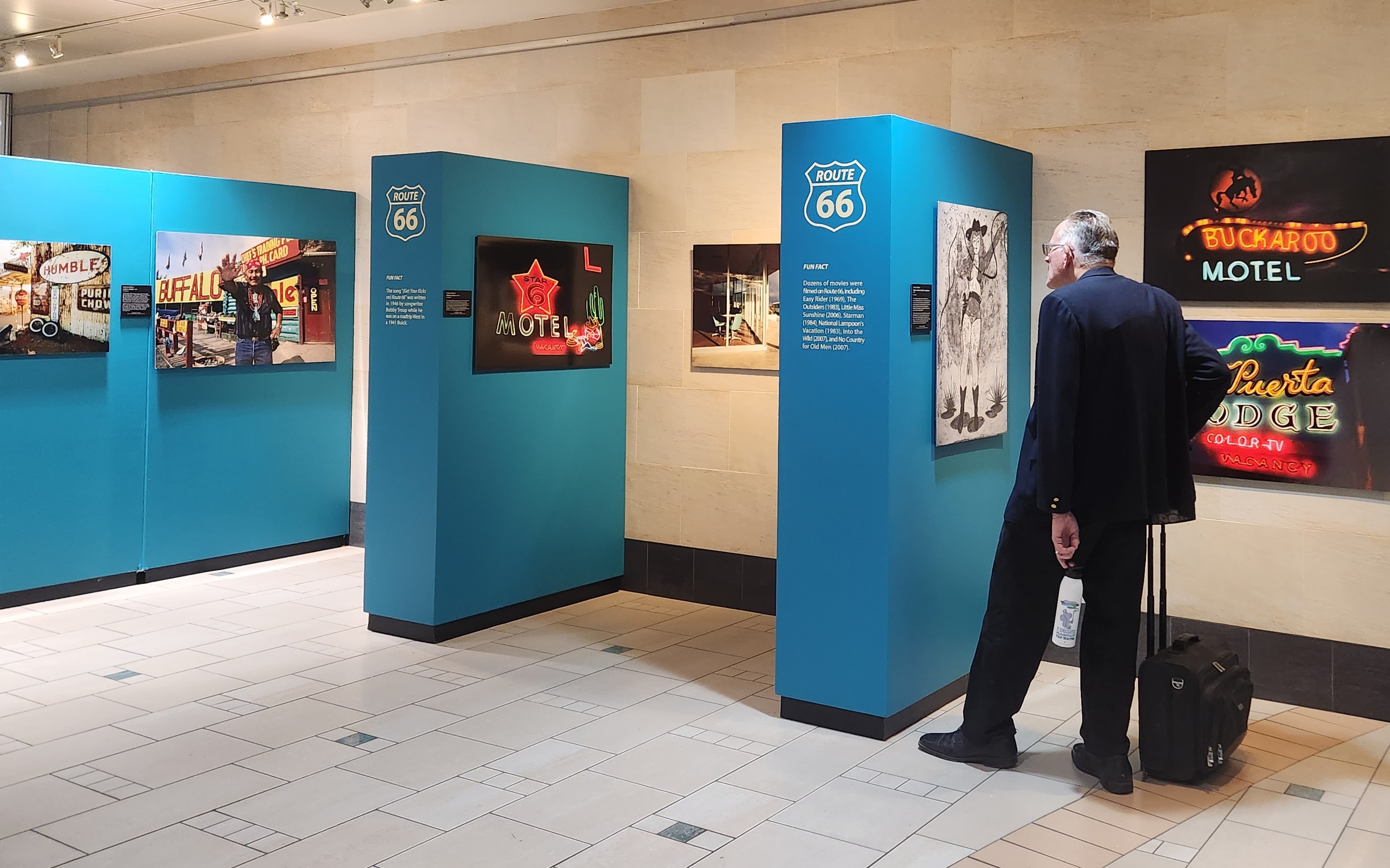 June 5, 2023
PHOENIX  – America's most famous highway, Route 66, the Mother Road, has lured travelers west since it first opened in 1926. Now, you can catch a glimpse of sites along this iconic route at America's Friendliest Airport®.
Phoenix Airport Museum's exhibition, Stories from the Mother Road, presents photographs by Tucson, Arizona photographer Terrence Moore. For more than 50 years, Moore has driven Route 66 taking pictures along the way. Curio shops, vintage motels, neon signs and quirky roadside attractions from a bygone era have all come to represent the classic highway.
You do not need a plane ticket to view the exhibition located at Phoenix Sky Harbor's Terminal 4, level 3. It is free to visit and viewable 24/7 through April 2024.
Get your pics on Route 66 and win a prize. Visitors to the exhibition can snap a photo with a large-scale cutout image of a 1941 Ford Super Deluxe Woody Station Wagon. If they share their image via email with the Phoenix Airport Museum, they will receive a gift.
The Phoenix Airport Museum is one of the largest airport art programs in the country. The museum maintains art and aviation history collections and presents art and themed exhibitions in more than 40 display areas throughout the Phoenix Airport System. For more information, visit https://www.skyharbor.com/at-the-airport/amenities/airport-museum/
– 30 –
Phoenix Sky Harbor International Airport, America's Friendliest Airport®, has an annual economic impact of more than $38 billion. Every day approximately 1,200 aircraft and more than 120,000 passengers arrive and depart at Sky Harbor. PHX Sky Harbor is funded with airport revenue. No tax dollars are used to support the airport.