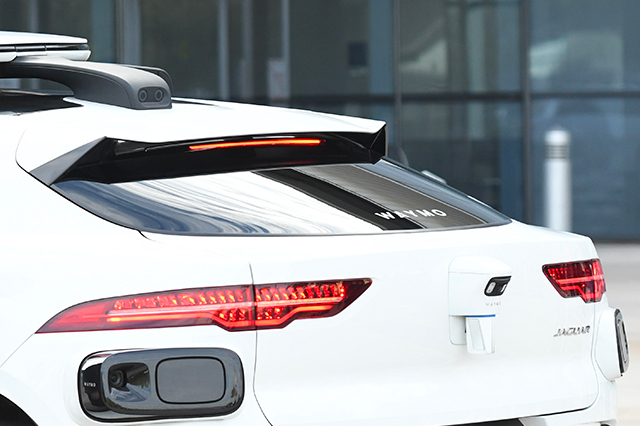 Phoenix Sky Harbor is on track to be the first airport in the world to offer Waymo rider-only autonomous vehicle service
PHOENIX – Phoenix Sky Harbor International Airport, America's Friendliest Airport®, sets a global milestone to becoming the first airport in the world to offer travelers the ability to take a Waymo autonomous vehicle as a means of transportation to and from the airport. Starting today, Waymo is offering Trusted Tester participants the ability to take autonomous rides to and from downtown Phoenix and the airport with an autonomous specialist in the vehicle.
"Phoenix leads the nation in demonstrating autonomous vehicle technology, science, and safety," said Phoenix Mayor Kate Gallego. "The future of travel is here, and Waymo, One service to Phoenix Sky Harbor International Airport, marks our city's commitment to innovation and technological advancements that will impact the world."
Trusted Testers will be able to catch a ride 24 hours a day, seven days a week, in Waymo's fully electric Jaguar I-PACE equipped with the fifth generation Waymo Driver. Current trips are offered with an autonomous specialist in the driver's seat. In the future, the specialist will be removed from the vehicle, and the ability to hail rides will begin to open to the general public.
Pickups and drop-offs occur at the 44th Street PHX Sky Train® Station, where travelers can hop on the free PHX Sky Train® direct to the terminals. Trains arrive and depart every few minutes.
This new service comes two years after Waymo opened its fully autonomous commercial ride-hail service, Waymo One, to the public in the East Valley of Phoenix; and builds on the company's partnership with the City of Phoenix, which includes providing rides to Trusted Testers in Downtown Phoenix since May.
America's Friendliest Airport® is no stranger at being the first to offer travelers new services. This spring, Phoenix Sky Harbor became the first airport in the country to offer travelers the ability to show their mobile ID on their phones at the security checkpoints using the Apple Wallet.
To learn more about Phoenix Sky Harbor's amenities and services and to keep up to date on the latest news, visit skyharbor.com.
Quotes from Phoenix City Council
"During my time on the City Council, I have pushed the city to be flexible and focused on the value of technology to improve people's lives. Autonomous vehicles have the potential to save money and provide safer transportation for all our residents, so this partnership with Waymo and Sky Harbor truly helps to position us for the future."
Vice Mayor Laura Pastor     
"The development of this new driverless technology by Waymo in Phoenix shows Phoenix's continued desire to be innovative and technology-forward. Being at the helm of making this technology a reality for people everywhere means Sky Harbor visitors are helping to usher the future into today."
Councilwoman Ann O'Brien, District 1   
"This is an astounding next step for the city and for Waymo – the benefits of this technology could reach far beyond Sky Harbor as it is developed. Sky Harbor is leading the way, likely becoming the first airport to offer autonomous vehicle rides to passengers. It is a testament to the Aviation Department's great work to pave the way for business development and creative problem-solving at our airport for our partners like Waymo."
Councilwoman Debra Stark, District 3
"This move to incorporate autonomous vehicles as another transportation option to and from Sky Harbor makes traveling even easier and more enjoyable. I am proud of our airport for once again leading the way in offering advanced services to those traveling to and from our great City."
Councilman Sal DiCiccio, District 6
"It's no surprise that Phoenix Sky Harbor is again leading the way, this time by helping Waymo advance clean and driverless transportation as a service for our passengers. This new development in autonomous vehicles is an exciting opportunity for our residents and another prime example of how our city is always looking for opportunities to innovate."
Councilwoman Yassamin Ansari, District 7
"Sky Harbor is always looking for ways to improve the passenger experience through technology, and by introducing autonomous vehicle rides to the airport, they're giving passengers a new and fun way to start their travels. Just as important, driverless vehicle technology has the potential to help all kinds of people live independently on their own terms, so doing our part to advance the science in partnership with Waymo is a great achievement".
Councilmember Carlos Garcia, District 8
– 30 –
Phoenix Sky Harbor International Airport, America's Friendliest Airport®, has an annual economic impact of more than $38 billion. Before the COVID-19 pandemic, approximately 1,200 aircraft and more than 125,000 passengers arrived and departed from Sky Harbor daily. PHX Sky Harbor is funded with airport revenue. No tax dollars are used to support the airport.