The latest science indicates the global community must drastically reduce human-made carbon (i.e., greenhouse gas) emissions to avoid major negative climate impacts. Around airports, carbon emissions are produced primarily from the use of fossil fuels for electricity, vehicles and aircraft.
Since 2014, energy and air quality-related initiatives have resulted in an annual reduction of over 30,000 tons of carbon emissions despite growth. The Aviation Department continues to take the responsibility of climate protection seriously by committing to achieve Net Zero Carbon by 2040.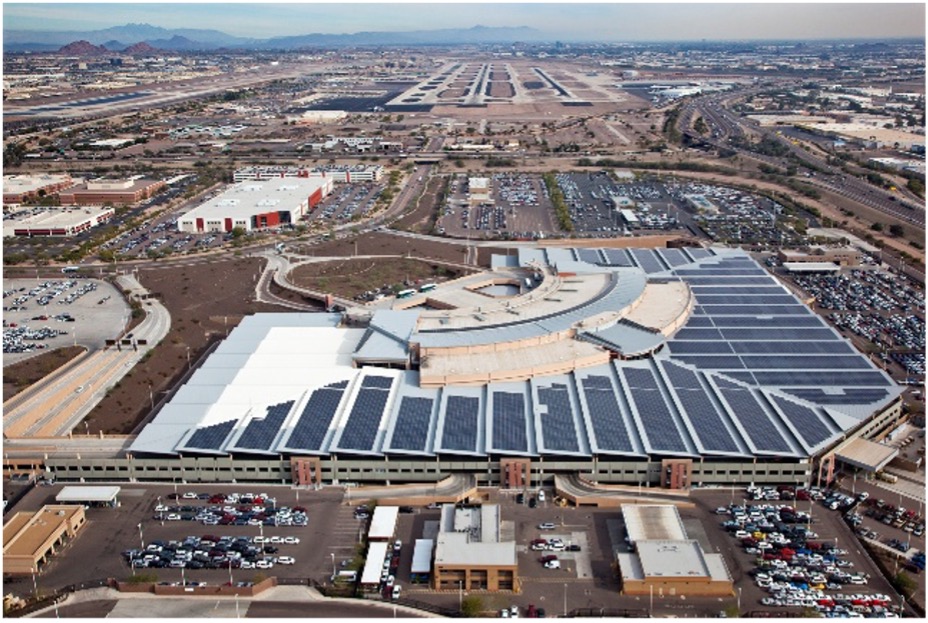 Roadmap to Zero Carbon
The Aviation Department developed the Roadmap to Net Zero Carbon that identifies prioritized strategies for achieving the long-term carbon goal. The single most important strategy is the development of a carbon-free energy system in the short-term by reducing electricity demand through implementing high-impact energy conservation measures, developing additional on-site solar and financing renewable energy. In the mid-term, the Roadmap identifies addressing emission sources that are more difficult to decarbonize, such as airport-owned fleet vehicles, before pursuing carbon removal technologies for residual emissions. The Roadmap then includes maintaining the net zero carbon status long-term to ensure a sustained approach.
Airport Carbon Accreditation Program
In 2016, Sky Harbor was one of the first airports in North America to join the voluntary Airport Carbon Accreditation Program – the only internationally-recognized carbon management certification program for airports. The program involves developing annual carbon footprint reports, setting carbon reduction targets, achieving annual emissions reductions for airport-controlled sources, partnering with third parties on carbon emission reduction initiatives and undergoing third-party verification of program requirements. Sky Harbor has advanced through the program to report at Level 4 – Transformation, which focuses on aligning carbon management ambition with global climate goals. Sky Harbor is one of only four airports in the United States to achieve this goal.