All ground transportation vehicles providing service at Sky Harbor International Airport shall display a current and valid decal affixed to the exterior, lower passenger side corner of the windshield. Vehicles not displaying an appropriate decal will not be authorized to operate on the airport.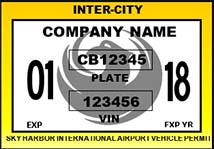 In order to receive an annual decal to operate at the airport, a company must have a file in our Ground Transportation Office (New Company Setup.)

Since the new GT Policy went into effect on June 18, 2016, the annual decal is designed to be more efficient, including:
Individualized to include company name, license plate number, and last six digits of VIN
Two-digit month/year of expiration
Issued annually
Registered to a specific vehicle and non-transferable
Expires on the last day of the month issued (one-year expiration date)
Annual decal can be renewed within 30 days prior to decal expiration
New placement on vehicles (exterior windshield)
Decal material is tamper resistant
No charge
In order to streamline the process, decals are now issued using a fixed rolling calendar year according to company name.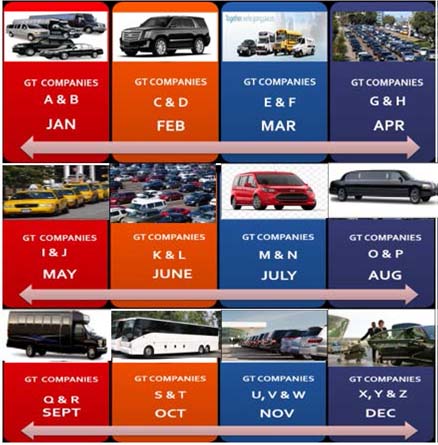 Companies A & B: January
Companies C & D: February
Companies E & F: March
Companies G & H: April
Companies I & J: May
Companies K & L: June
Companies M & N: July
Companies O & P: August
Companies Q & R: September
Companies S & T: October
Companies U, V & W: November
Companies X, Y & Z: December
Prior to issuing a permit, the following items will be checked:
Original insurance accord is valid
AVI (Automated Vehicle Identifier) tag is functioning 
Arizona commercial vehicle registration and/or lease agreement is valid
Exterior: Vehicle must be free of body damage; license plate number and vehicle identification number must match registration; license plate must be clearly visible (no covers allowed).
Interior: Cleanliness; well maintained; litter-free interior; carpet and upholstery in good condition (no tears, stains, and factory installed equipment), and driver ID in place (Dashboard).