Terminal 4 Museum Exhibitions
Terminal 4 Exhibitions
Artist + Researcher
Through Summer 2023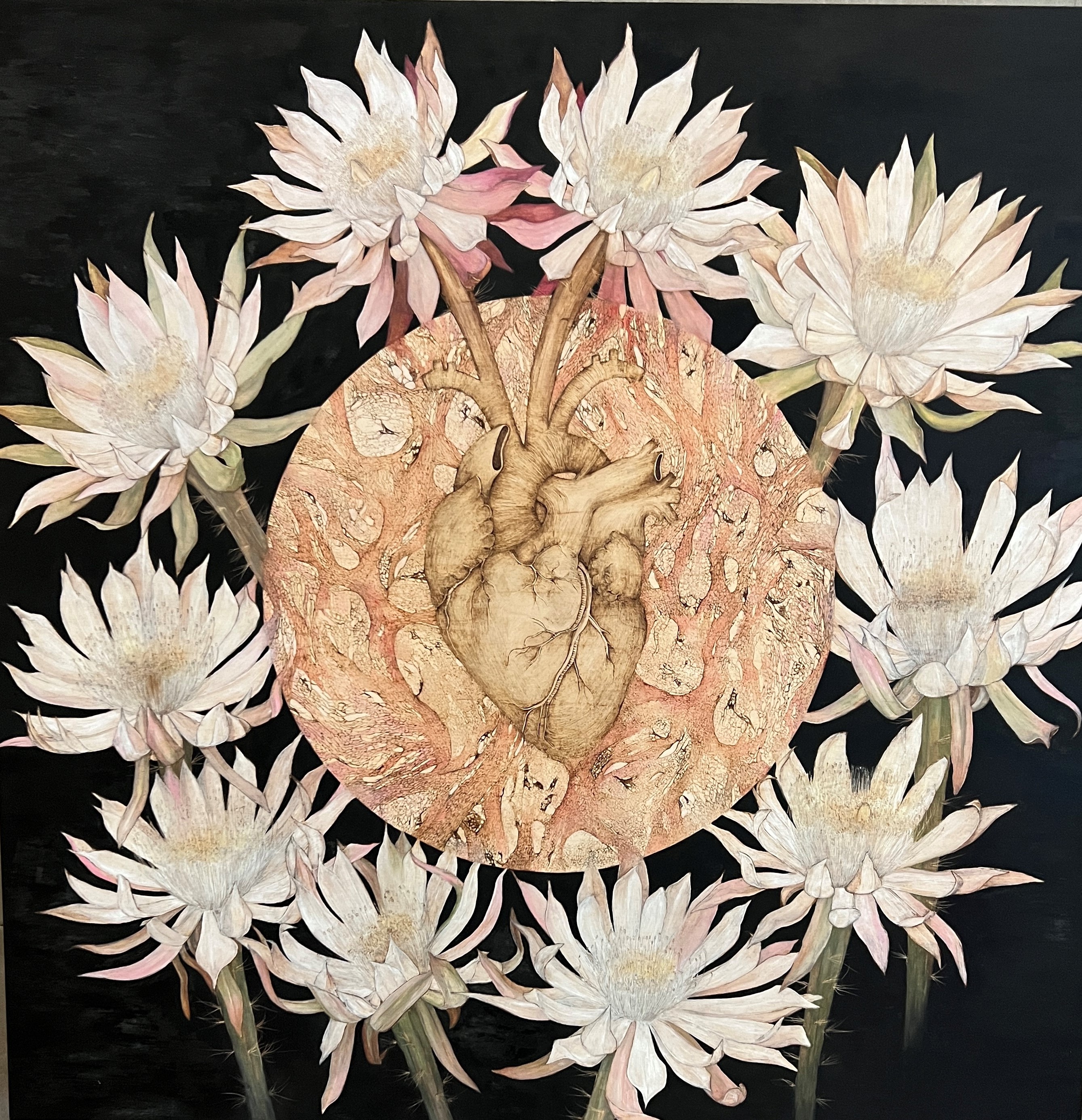 Featured Artists
Susan Beiner
Alexandra Bowers
Bill Dambrova
Michael Marlowe
Mark Pomilio
Rembrandt Quiballo
Lily Reeves
Danielle Wood
Denise Yaghmourian
Image caption: Alexandra Bowers, Deciphering The Nature of Cardiokines, 2022, pyrography (wood burning) illustration with wax pigment, courtesy of artist
Location
Terminal 4, level 3, gallery
Overview
Artists are intuitive investigators of the world around them. They often have a unique ability to share ideas in new and interesting ways, making even the most complicated concepts accessible and alluring. Observation, problem-solving and creativity are also vital tools for those working in the field of life sciences. Cross-disciplinary collaboration is essential to progress the field of science. Intersecting science with art can lead to new mediums to communicate complex information in new ways.
Breakthrough biomedical research is happening in the heart of Downtown Phoenix.
The Phoenix Bioscience Core is a life-sciences hub where researchers from Arizona's state universities work alongside leading bioscience pioneers and innovators. It is home to the highest concentration of research scientists in the region.
The Artist + Researcher Program was established to connect the cutting-edge life science research taking place in Phoenix with a wider audience. Nine local artists were paired with nine university-based researchers to create artwork based on their different areas of study. Working side-by-side in the lab, classroom and art studio, the resulting works are visual representations of the scientific progress happening in our city and state.
This exhibition features the artwork of the nine Artist + Researcher teams. While some artists depict molecules viewed under the microscope, others focus on the intangible side of medical diagnosis and treatment - like emotion and empathy. Some of the artwork requires thoughtful participation of you and others. Using paint, thread, clay or augmented reality, this exhibition showcases the innovative excellence of Artists + Researchers.
Cast and Flame: Glass Art by Jennifer Caldwell and Jason Chakravarty
Through April 2023
Location
Terminal 4, level 2, near the ticketing
Overview
Glass is a versatile material that can be manipulated in amazing ways. Its possibilities and surprises as an art form increase exponentially in the hands of two artists working collaboratively. Arizona artist couple Jennifer Caldwell and Jason Chakravarty, under the name JC Squared, combine their talents, ideas, and individual expertise to discover new and diverse ways of creating with glass.
Caldwell and Chakravarty, self-defined as "process junkies," utilize a full spectrum of both hot and cold working techniques to cast, torch, blow, print, grind, cut, and blend glass. Their shared personal observations, life experiences, and travel fuel the flame of their work. Narrative-driven sculptures that explore the parallel relationships between humans and bees and vessels that reveal hidden underwater worlds offer a point of departure for the viewer to imagine different realities.
This exhibition presents glass artworks that are both playful in their application and nostalgic in their subject matter. Holding memories unique to the artists, they provide a glimpse into their lives and the ways they view the world. From barnacle-covered buoys to busy bees, Caldwell and Chakravarty creatively push the boundaries of what glass can become.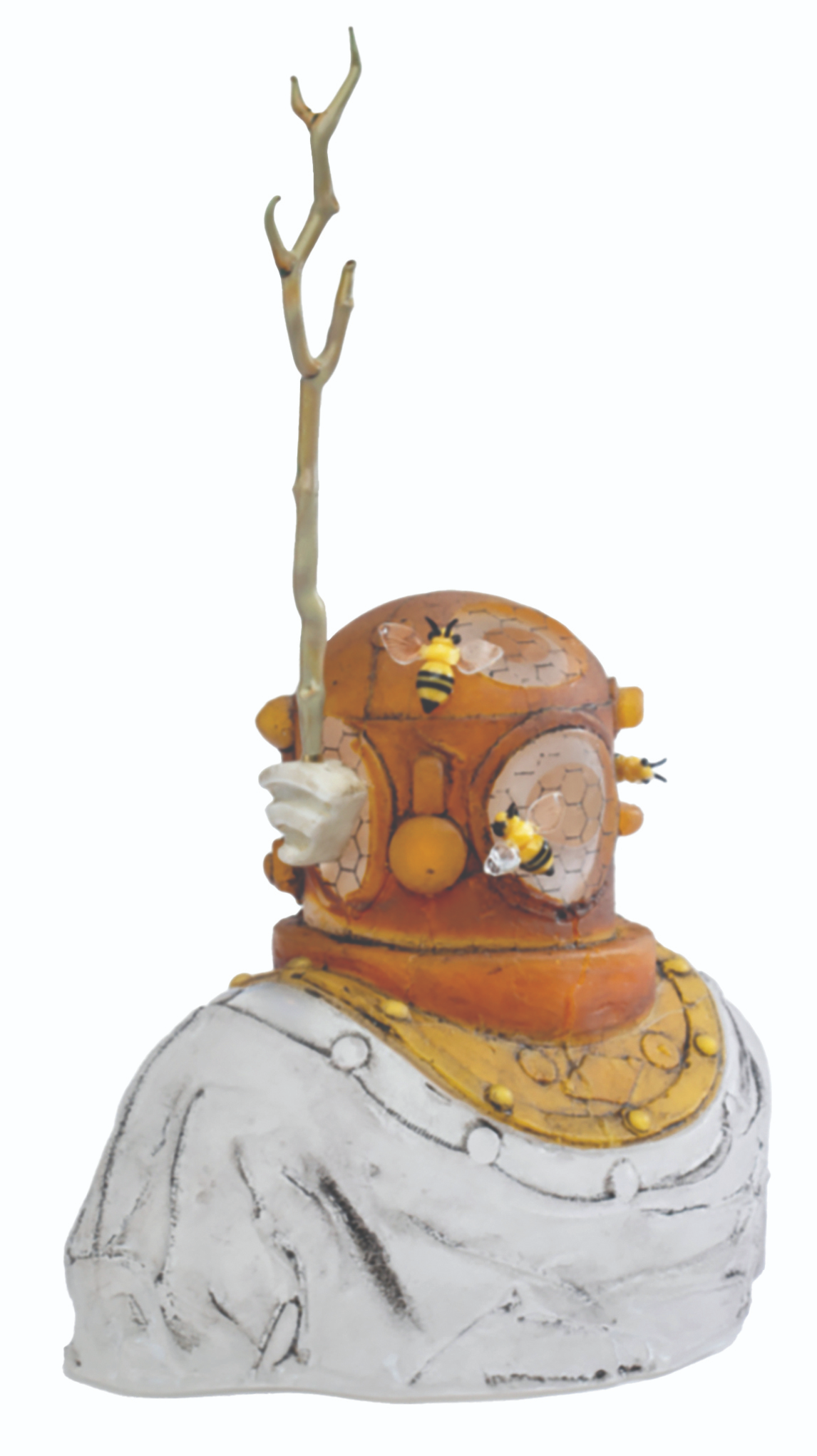 Stories from the Mother Road: Photography by Terrence Moore
Through November 2023
Location
Terminal 4, level 3, center near food court
Overview
Travel can be more about the journey than the destination, and hitting the road is a great way to have that experience. Road trips bring about opportunities for personal exploration, discovery and stories.
America's most famous highway, Route 66, the Mother Road, has lured travelers west since it first opened in 1926. At one time this iconic route, running from Chicago to Los Angeles, symbolized independence, optimism and new beginnings for many. With interstate and superhighways providing a more efficient way to travel, Route 66 gradually fell out of use. Today, all is not lost as there is still much to see and experience along this historic road.
Tucson photographer Terrence Moore has had an affinity with Route 66, since he first traveled on it at nine years old when his family moved from Minnesota to California. For more than 60 years he has had a personal connection with Route 66.
This exhibition presents Moore's images from his many travels along this classic highway as a professional photographer for more than 50 years. Sites along Route 66 may continually change through time, but they still hold much allure to the intrepid traveler. Curio shops, vintage motels, neon signs and quirky roadside attractions from a bygone era all come to represent Stories from the Mother Road.
"Much of my life was formed by the open road; that includes Route 66 as well as many other U.S. highways that all inspire adventure. The feeling of rolling down the highway brings excitement, curiosity and discovery that I am itching to share through my pictures."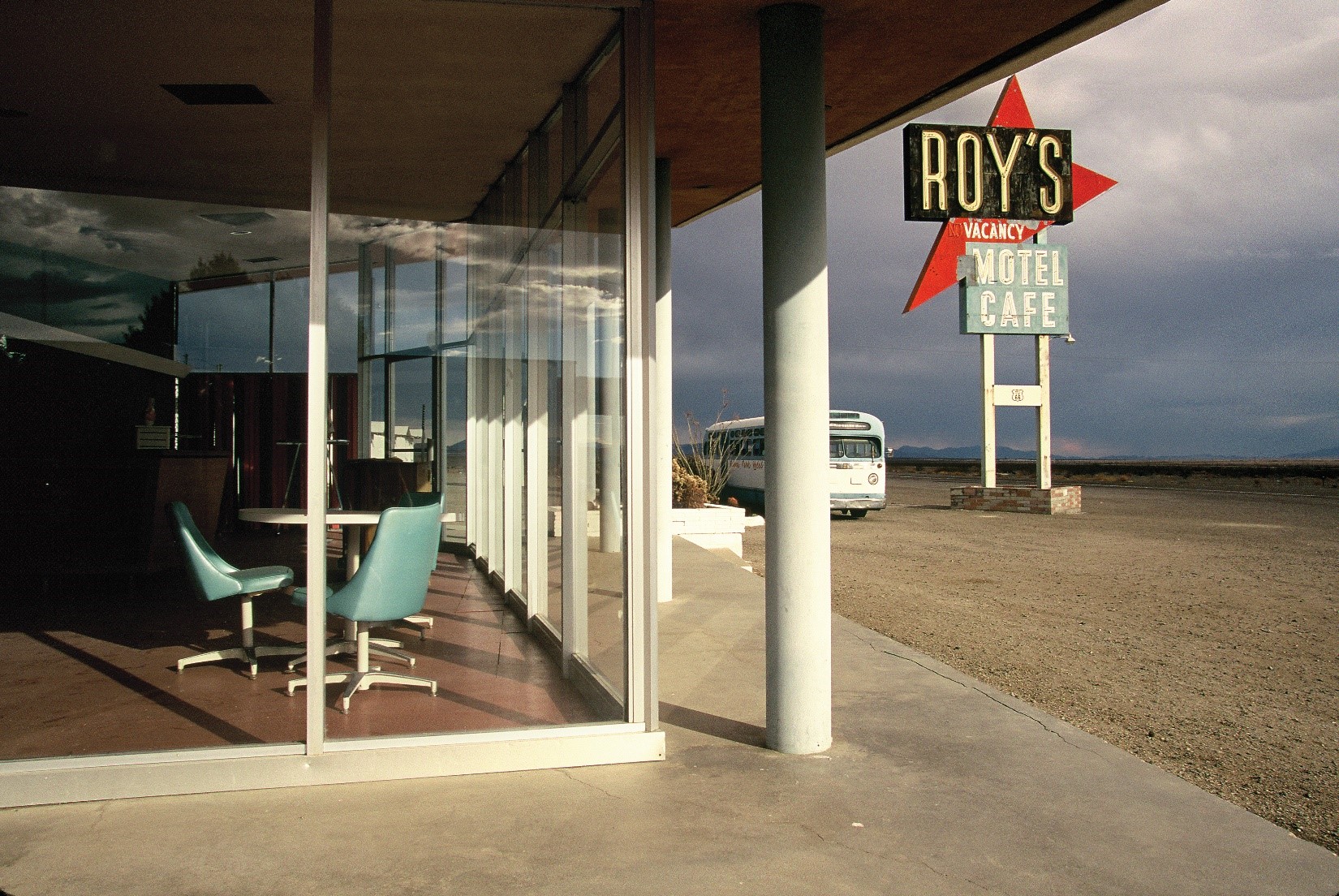 Beyond the Studio: Artists of the Sky Train
Through September 2023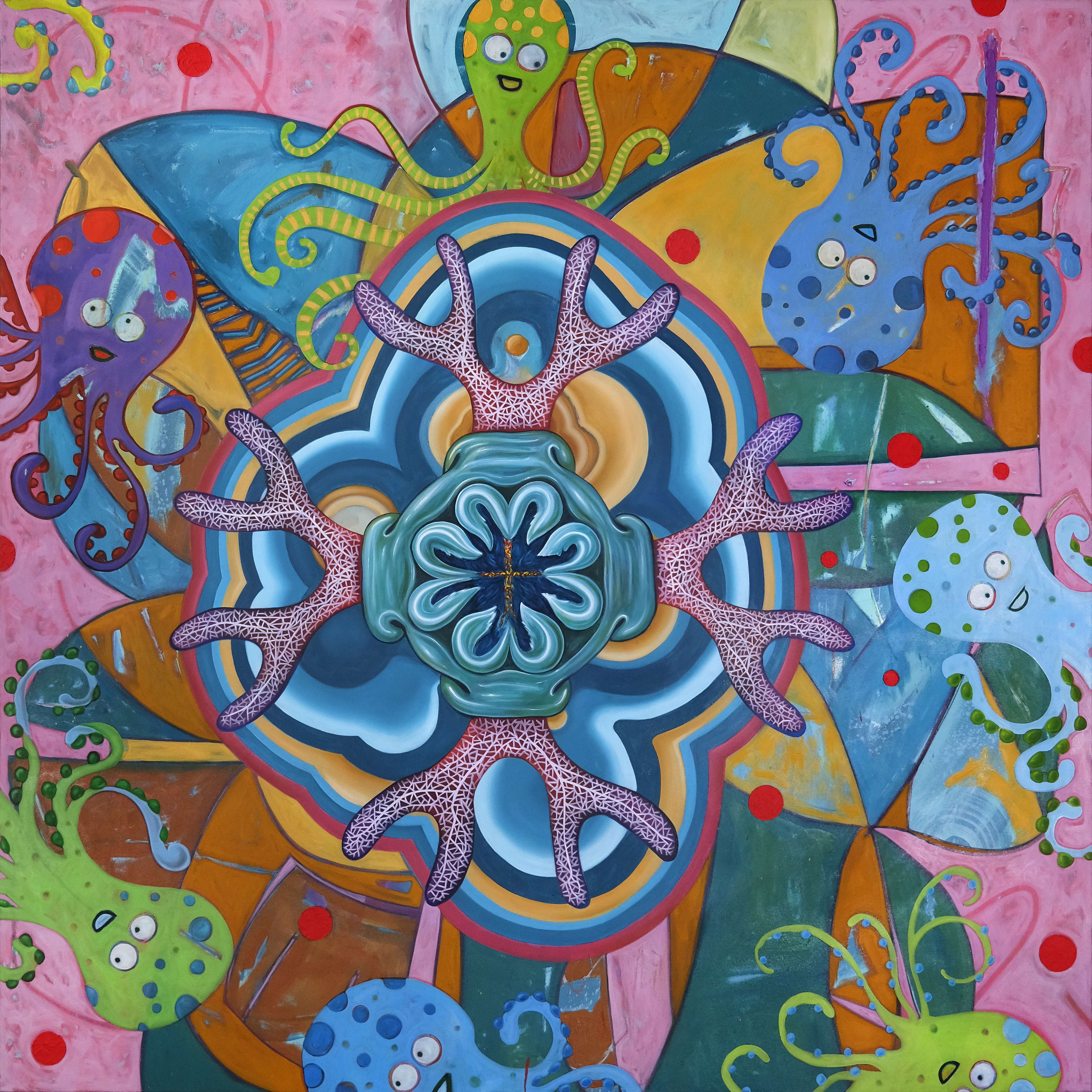 Location
Terminal 4, level 3, eight cases on the east and west ends
Overview
Art making is often thought of as a solitary activity with artists working by themselves in their studios. The art filling the public spaces of the airport's PHX Sky Train® is different. It was made by artists working in teams with hundreds of skilled thinkers, builders and installers.
This exhibition celebrates the art of the PHX Sky Train® by presenting artworks by artists who designed large-scale public art along the train route. These seven artists transitioned from their typical studio practices of painting, printmaking or weaving to work collaboratively with a large team of design and construction specialists to create intricate terrazzo floors or a luminous glass mural.  
Together, the art integrated into the Sky Train's buildings and structures remind us that beauty and pleasure are central to our experience of travel and Arizona. Take a ride on the PHX Sky Train® for memorable views and to immerse yourself in artworks that were created Beyond the Studio.
Featured Artists
Anne Coe
Bill Dambrova
Daniel Martin Diaz
Fausto Fernandez
Frank Gonzales
Daniel Mayer
Janelle L. Stanley

Image caption: Bill Dambrova, Annoyed by the Screaming of the Whales, 2021, oil on canvas, 7 x 7', courtesy of artist
Movimiento Artístico del Río Salado (M.A.R.S)
Ongoing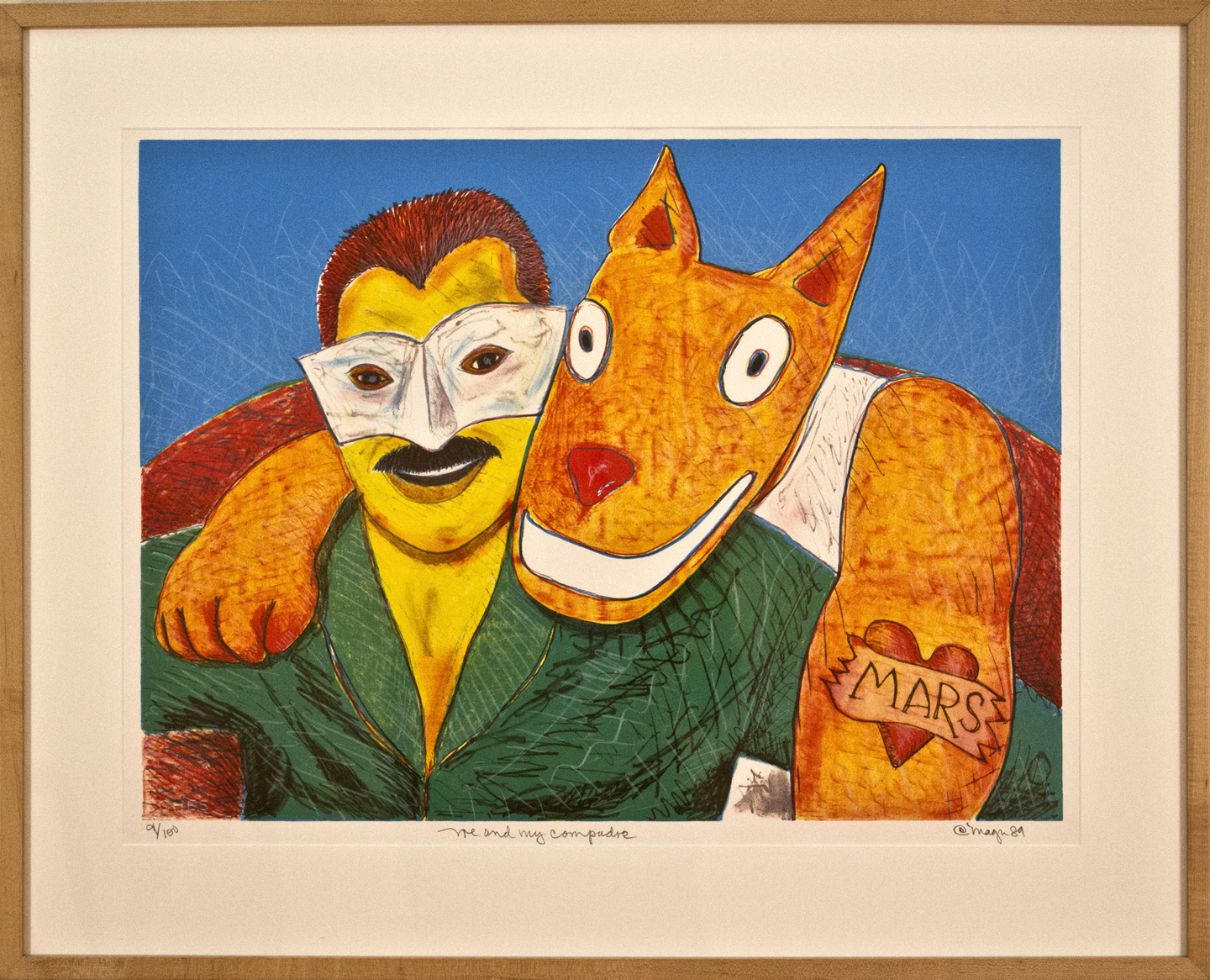 Location
Terminal 4, level 3, near the center
Overview:
Movimiento Artístico del Río Salado (Art Movement of the Salt River), or M.A.R.S., was a non-profit visual arts organization founded in 1978 by a group of artists and community leaders. Its mission was to promote and support Mexican American and Chicano artists who otherwise felt restricted by commercial galleries.
In 1981, the artist collective opened a gallery in central Phoenix called M.A.R.S Artspace. The gallery featured rotating art exhibitions, artist-in-residence programs, and workshops - bridging the gap between the barrios and the rest of the city's art community. During this time, M.A.R.S Artspace was the only Hispanic-operated gallery in Arizona. While the collective was dismantled in 2002, it paved the way for phICA (Phoenix Institute of Contemporary Art), which continues to help artists gain visibility and financial support.
This exhibition features artwork by four M.A.R.S. artists. These fine art prints were created in collaboration with Self Help Graphics of Los Angles, another community-based arts center serving Chicana/o and Latina/o communities. The resulting print series helped create a lasting legacy for M.A.R.S. and inspired the missions of numerous local art organizations today.
Featured Artists
Dolores Guerrero
César A. Martinez
Rudy Fernandez
Gilbert "Magú" Lujan
Form Over Function: Ceramics from the Phoenix Airport Museum's Collection
Ongoing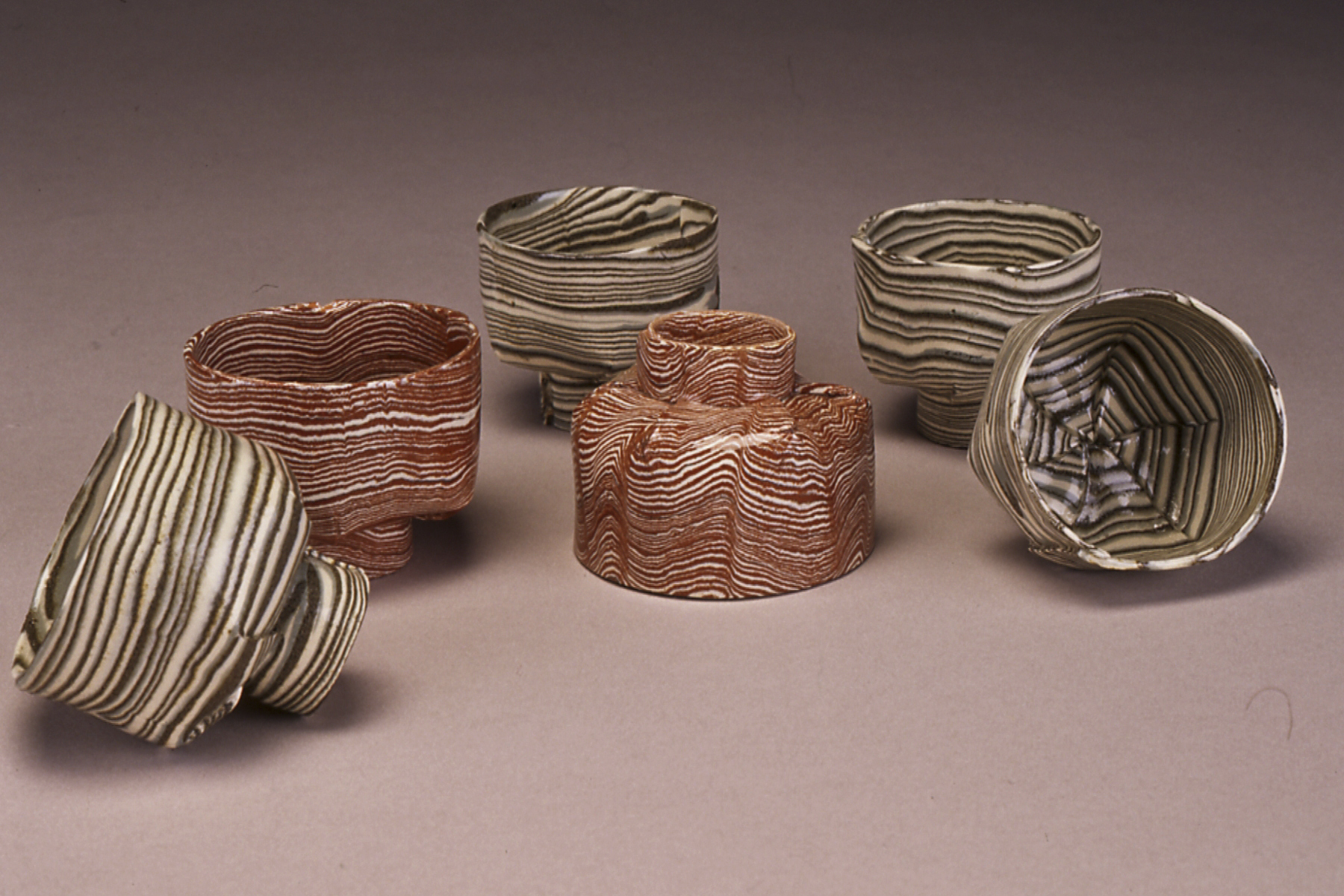 Location
Terminal 4, level 3 near center
Ceramic artists sometimes create containers that are more about aesthetics rather than their use. They may design pots, bowls, cups and vases that challenge conventional form, either by deviating from a traditional shape or defying utility altogether. As art objects, their vessels draw upon the expressive nature of sculpture.
This exhibition features ten artists who have taken a unique approach to functional objects. While some artists shape or carve clay to emphasize texture, others create cups with fractures and vases with small openings that would otherwise make an impractical object. These artists contribute to the enduring legacy of the vessel, but they are transcending tradition to favor Form Over Function.
Featured Artists
Anitra Watley Allen
Sharon Brush
Victor Curran
Anne Goldman
Maurice Grossman
Michael Prepsky
Don Reitz
Patricia Sannit
Junya Shao
Greg Wenz
Image caption: Anitra Watley Allen, Guinomi: Sake Cups, 1997, glazed earthenware and porcelain, Phoenix Airport Museum Collection
100 Years, 100 Ranchers
Photographs by Scott Baxter
Ongoing
Location
Terminal 4, level 1, international walkway (post-security)
Terminal 4, level 1, international walkway (post-security)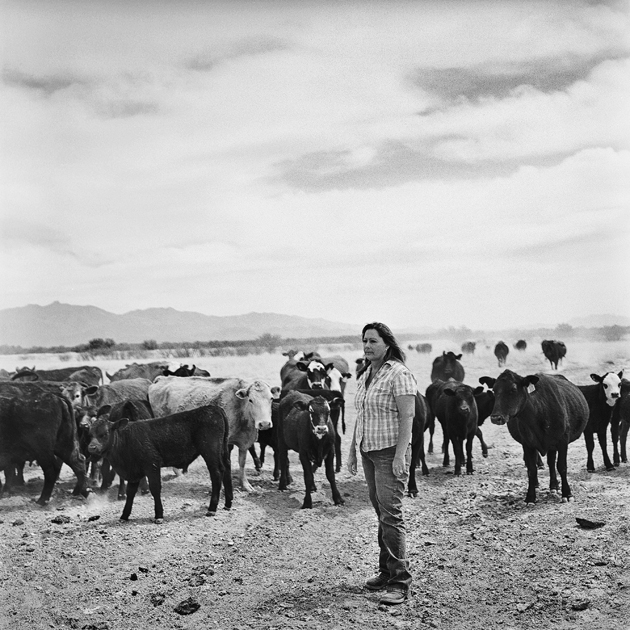 Wide open landscapes dotted with grazing cattle and sheep herded by the rancher on horseback have become an iconic symbol of our western culture. For more than 100 years the ranching tradition has been an integral part of Arizona's history and growth. In celebration of Arizona's Centennial in 2012, Scott Baxter photographed 100 Arizona ranchers whose families have been ranching for a century or more.
For more than ten years Baxter has been traveling to ranches across the state, getting to know the individual ranchers and their operations. He chose to use large-format cameras, a traditional process which takes time and allowed him to engage his subjects in a personal manner. Using black and white film Baxter captures a sense of timelessness and directs the viewer's full attention to the subject in the frame.
The strength and independent nature of this unique group of Arizonans is apparent in their portraits. Baxter's collection of photographs is a tribute to Arizona's ranching legacy by preserving an important piece of Arizona character and history.
Image caption: Scott Baxter, Shannon Marie Nicholson Bales, 2011, Corporal Stripe Ranch, Cochise County near Willcox, AZ ranching family since 1885, Phoenix Airport Museum Collection