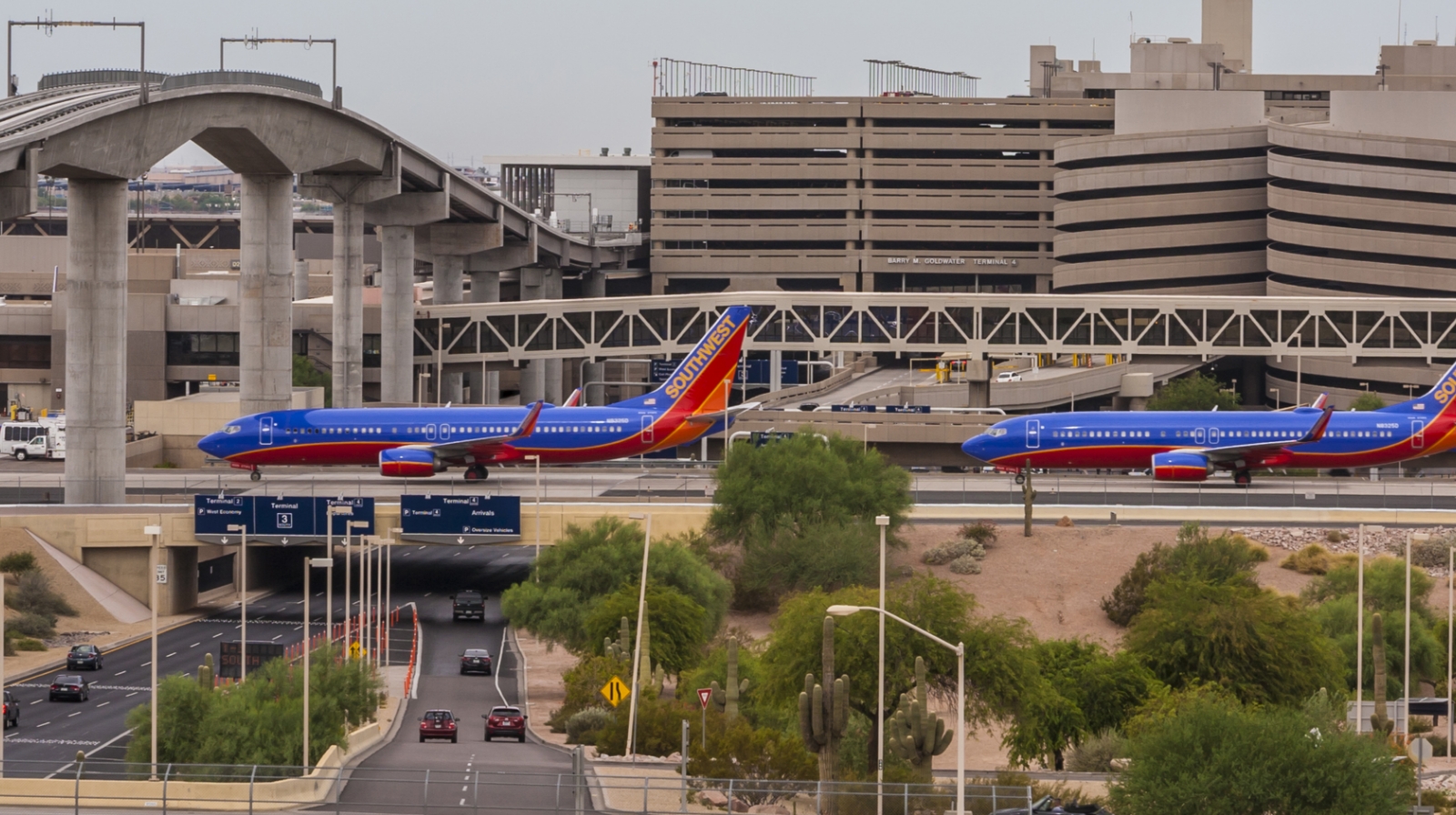 Air Service Marketing and Development
The goal of Air Service Marketing and Development is to strategically support and grow air service to meet the needs of our community now and in the future. Air Service works to support existing air service, grow the number of nonstop markets and increase options to promote economic and accessible air service for all.
Phoenix Sky Harbor has an annual economic impact of $38 billion with over $3 billion of that from international flights.
Phoenix Sky Harbor International Airport has a robust international air service incentive plan for airlines. Please contact Alexandria Van Haren at (602) 273-3450 for more information.
About Phoenix:
Phoenix is the 5th largest city and the fastest growing in the United States.
Located in Arizona, within hours of skiing to north, Mexico to the south and beaches to the west, Phoenix provides easy access to diverse scenery.
Air Service Highlights
Phoenix Sky Harbor International Airport is home to 24 airlines with nonstop flights to over 140 destinations, including 23 international.
In the past three years, airlines have added over 80 new routes from Phoenix.
2019 was the airport's busiest year ever with over 46 million passengers and is on track to break that record in 2023.
Airport Highlights
Phoenix Sky Harbor has consistently remained one of the lowest-cost airports in the U.S. (link to CPE chart).
Located in the heart of Phoenix, the airport is easily accessible and connects to the Metro Light Rail system. The airport is 10 minutes from bustling downtown Phoenix.
With over 300 days of sunshine, no snow to shovel, and no major natural disasters, Phoenix provides a consistent, reliable operational environment for airlines.
24 hour operations and no slot constraints.
Phoenix has some of the fastest security checkpoint and customs wait times in the world.
Economic Highlights
Phoenix's robust and diverse economy continues to grow in major business sectors including aerospace and defense, AV & EV, bioscience and healthcare, data centers and high tech manufacturing.
Over $60 billion USD of semiconductor investment is coming online starting in 2024 with hundreds of international businesses following to support the rapidly growing semiconductor supply chain.
Arizona is home to the largest international student population in the U.S.
Arizona State University has the largest engineering school in the U.S. with over 30,000 engineering students.
Tourism
The greater Phoenix region has the #1 largest luxury hotel construction pipeline in the U.S.
Arizona has the most national parks and monuments out of any state in the U.S.
Over 300 golf courses and 300 days of sunshine.
Four major league sports teams and spring training.
Home to WM Open, the Greatest Show on Grass and host to the Super Bowl four times.
Want to Hear More?
Contact Air Service Development Manager Alexandria Van Haren at 602-273-3450 or alexandria.van.haren@phoenix.gov.
Our Tourism Partners:
Visit Phoenix
Arizona Office of Tourism
Our Economic Partners
Greater Phoenix Economic Council
Community and Economic Development