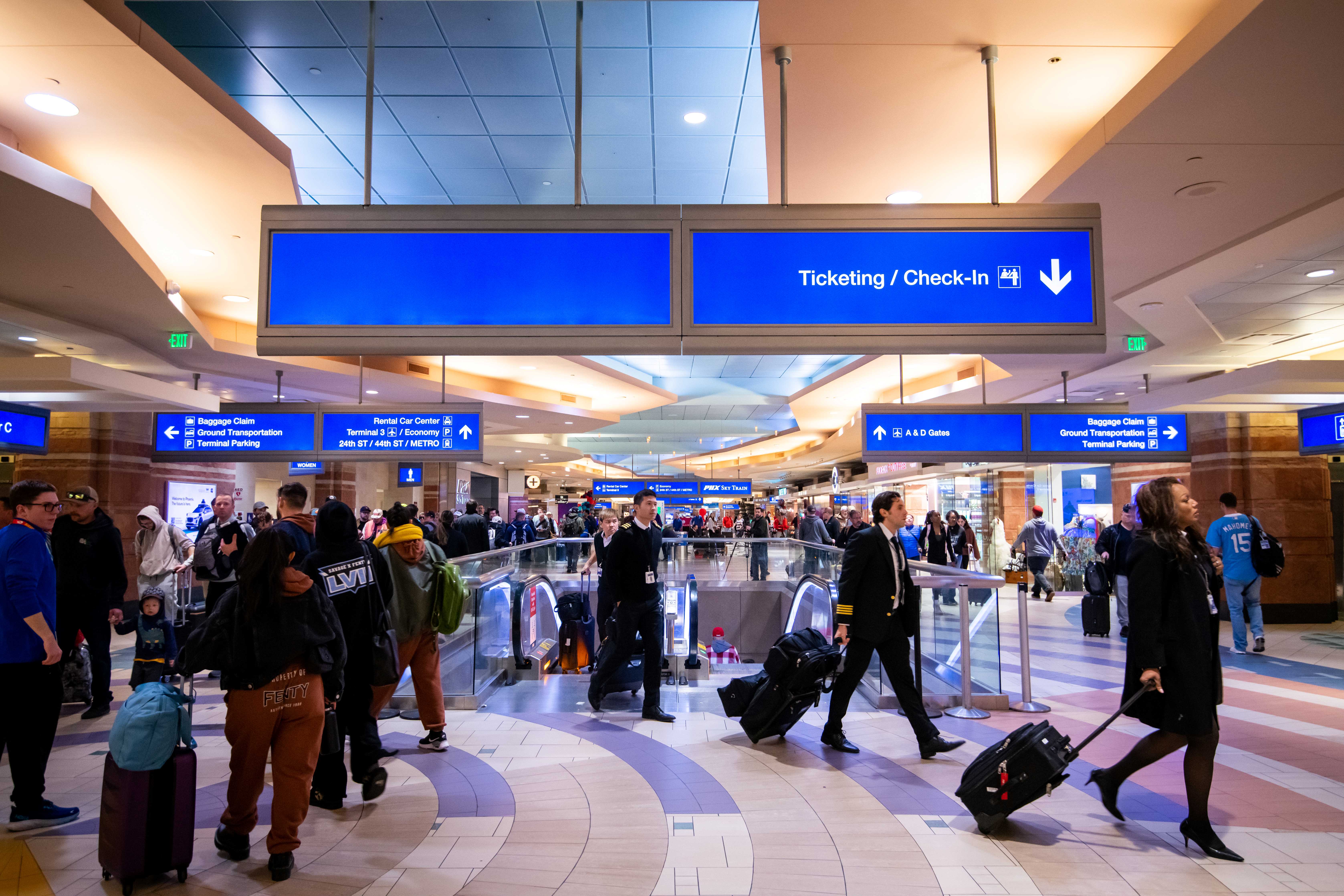 Nov. 7, 2023
PHOENIX – 'Tis the season for travel. With the fast-approaching Thanksgiving holiday, it's time to start planning now. America's Friendliest Airport® is offering the following tips to ensure that holiday travel doesn't gobble up your patience.
Thanksgiving is traditionally one of the busiest times of the year at Phoenix Sky Harbor International Airport - and not just in the skies but on roads around the airport. With the roadways being stuffed like the turkey on Thanksgiving, this can make even picking up or dropping off family and friends potentially stressful. To avoid the congestion on airport roadways and outside terminals, the following is recommended:
Take advantage of our 24th Street or 44th Street PHX Sky Train® Station for pick-up and drop-off. This will be the first holiday season that both stations are open for passenger pick up and drop off. The stations are located on each side of the airport at 44th Street on the eastside and 24th Street on the westside. Learn more about this easy way to avoid terminal curb congestion and roadway traffic.
Drivers should watch freeway signs for airport traffic updates and recommended alternate routes. They should also watch their speed and keep an eye out for officers directing traffic once at Phoenix Sky Harbor. Expect busy roadways. Avoid circling the terminals. Use the Cell Phone Lots. The lots are east of Terminal 4, west of the West Economy Garage and at the 44th Street PHX Sky Train®
Here are some additional travel tips for travelers:
Make parking a breeze. Parking in the terminal parking garages, East Economy, and the 24th Street Express Pay parking area can be booked in advanced at skyharbor.com/parking.  No change fees or cancellation fees up to one hour before you park. But remember, even with reservations, make sure to give yourself enough time to navigate the added passenger volumes and cars coming to the airport.
Remember to check your flight status with your airline before coming to the airport and make sure to give yourself plenty of time. If you are flying domestically, arrive at least two hours prior to your flight departure and three hours if you are traveling internationally.
Did you know you can reserve a time to go through the TSA Security Checkpoint screening area using the PHX RESERVE program? Schedule your time prior to arriving at the airport on our website. Reservations can be made up to six days in advance.
Double-check what's in your bags. Make sure to look through your bags and review the TSA Prohibited Items List the night before your flight.
Visit the interactive maps on skyharbor.com on your smartphone or tablet to find out which restaurants and shops are near your gate as well as other Airport information.
Look for our Navigators dressed in purple. Navigator volunteers serve all over the Airport by providing directions, information, and friendly assistance. They serve as a welcoming presence to more than 130,000 passengers each day, truly making it America's Friendliest Airport®.
Travelers with special needs are now able to arrange to pick up a Compassion Cacti™ lanyard prior to their trip, and even schedule a Navigator Guide to accompany them through the travel process. The Compassion Cacti™ lanyard signals to Airport employees that a customer may need extra assistance or time as they pass through Phoenix Sky Harbor.
And finally, explore some local art. Both terminals showcase art exhibitions created by talented Arizona painters, photographers, sculptors, and other artists. These beautiful Phoenix Airport Museum exhibitions can be seen both before and after security.
For more travel tips, visit www.skyharbor.com/flying-from-phx/travel-tips.
– 30 –
Phoenix Sky Harbor International Airport, America's Friendliest Airport®, has an annual economic impact of more than $38 billion. On an average day, approximately 1,200 aircraft and more than 130,000 passengers arrive at and depart from Phoenix Sky Harbor every day. PHX Sky Harbor is funded with Airport revenue. No tax dollars are used to support the Airport.