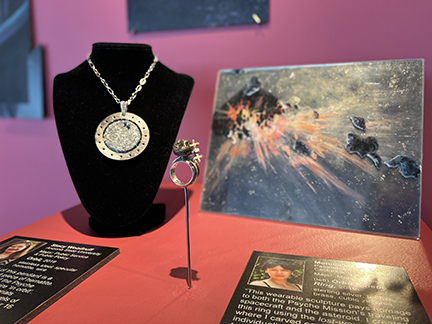 Oct. 2, 2023
Phoenix – A NASA space mission to a small, metallic "world" captured the imagination of university students around the country. The mission's destination, Psyche, is an asteroid located between Mars and Jupiter that may offer a unique window into Earth's core.
Psyche appears to consist of exposed nickel-iron core material of an early building block of a planet. The NASA mission to visit Psyche, led by Arizona State University (ASU), will explore the origin of planetary cores by orbiting the asteroid for more than two years, mapping and studying its properties.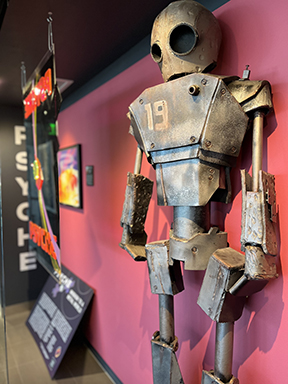 The Phoenix Airport Museum exhibition, Psyche: Mission to a Metal World, presents a diverse range of artwork by students involved in ASU's Psyche-Inspired internship program. Each year, the program accepts 16 undergraduate students from any university in the U.S. Through creative works, the students interpret the mission's data, predict outcomes and even develop science-fiction based scenarios.
Before you prepare for takeoff, check out these captivating paintings, sculptures, animations and more from the Psyche Inspired program. Highlights include an animated, stop-motion "interview" with the Psyche satellite, a 6-foot-tall personified "asteroid robot" and vivid illustrations anticipating the asteroid's surface. Visitors can also learn fun facts about Psyche and the NASA mission to visit it.
You don't need a ticket to view this out-of-this-world exhibition, on display in Terminal 3, level 2 near the security checkpoint through early 2024.
For more information about the Psyche mission, visit:
Psyche Mission | A Mission to a Metal World (asu.edu)
For more information about the Psyche Inspired internship program, visit:
Psyche Inspired Program | Psyche Mission (asu.edu)
For more information about the Phoenix Airport Museum, visit:
Terminal 3 Museum Exhibitions (skyharbor.com)
– 30 –
Phoenix Sky Harbor International Airport, America's Friendliest Airport®, has an annual economic impact of more than $38 billion. On an average day, approximately 1,200 aircraft and more than 120,000 passengers arrive at and depart from Phoenix Sky Harbor every day. PHX Sky Harbor is funded with airport revenue. No tax dollars are used to support the airport.