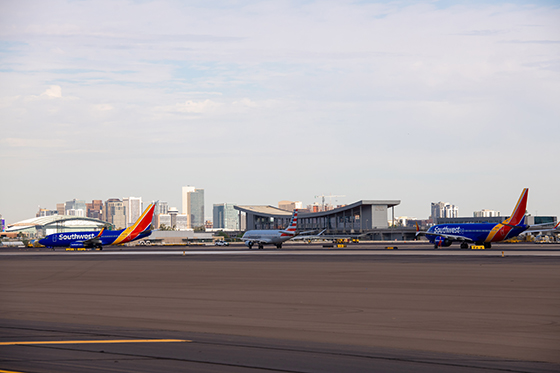 Aug. 25, 2023
Each year, as Labor Day approaches, many Arizonans celebrate the holiday with a timely trip away from the triple digits. If you are looking to escape over the Labor Day weekend to a cooler destination, we are offering some valuable tips. It is very important for passengers to plan ahead before they travel through Phoenix Sky Harbor International Airport.
Remember to check your flight status with your airline before coming to the airport and make sure to give yourself plenty of time. If you are flying domestically, arrive at least two hours prior to your flight departure and three hours if you are traveling internationally.
Make parking a breeze. Parking in the terminal parking garages, East Economy, and the 24th Street Express Pay parking area can be booked in advanced at skyharbor.com/parking. No change fees or cancellation fees up to one hour before you park. But remember, even with reservations, make sure to give yourself enough time to navigate the added passenger volumes.
View security checkpoint wait times on skyharbor.com or on one of the flight information display boards in each terminal. Did you know you can use any security checkpoint in Terminal 4 to access any gate? And make sure to take advantage of the PHX RESERVE program which allows guests to schedule a specific time for their TSA security screening. All you need to do is reserve your time and show up at your assigned checkpoint at your appointment time. See more at skyharbor.com/phxreserve.
Visit the interactive maps on skyharbor.com on your smartphone or tablet to find out which restaurants and shops are near your gate as well as other Airport information.
Finally, look for our Navigators dressed in purple. Navigator volunteers serve all over the Airport by providing directions, information, and friendly assistance. They serve as a welcoming presence to more than 120,000 passengers each day, truly making it America's Friendliest Airport®.
Travelers with special needs are now able to arrange to pick up a Compassion Cacti™ lanyard prior to their trip, and even schedule a Navigator Guide to accompany them through the travel process. The Compassion Cacti™ lanyard signals to Airport employees that a customer may need extra assistance or time as they pass through Sky Harbor.
And finally, explore some local art. Both terminals showcase art exhibitions created by talented Arizona painters, photographers, sculptors, and other artists. These beautiful Phoenix Airport Museum exhibitions can be seen both before and after security.
For more travel tips, visit www.skyharbor.com/flying-from-phx/travel-tips.
-30-
Phoenix Sky Harbor International Airport, America's Friendliest Airport®, has an annual economic impact of more than $38 billion. On an average day, approximately 1,200 aircraft and more than 120,000 passengers arrive at and depart from Phoenix Sky Harbor every day. PHX Sky Harbor is funded with airport revenue. No tax dollars are used to support the airport.