Due to the region's population, topography and meteorological conditions, dust and other air pollutants degrade air quality. Activities at an airport such as the use of fossil fuels in vehicles, can contribute to emissions.
Improving air quality is a priority for the Aviation Department as demonstrated in the long history of voluntary actions. Many of these initiatives also support the Aviation Department's focus to reduce carbon emissions.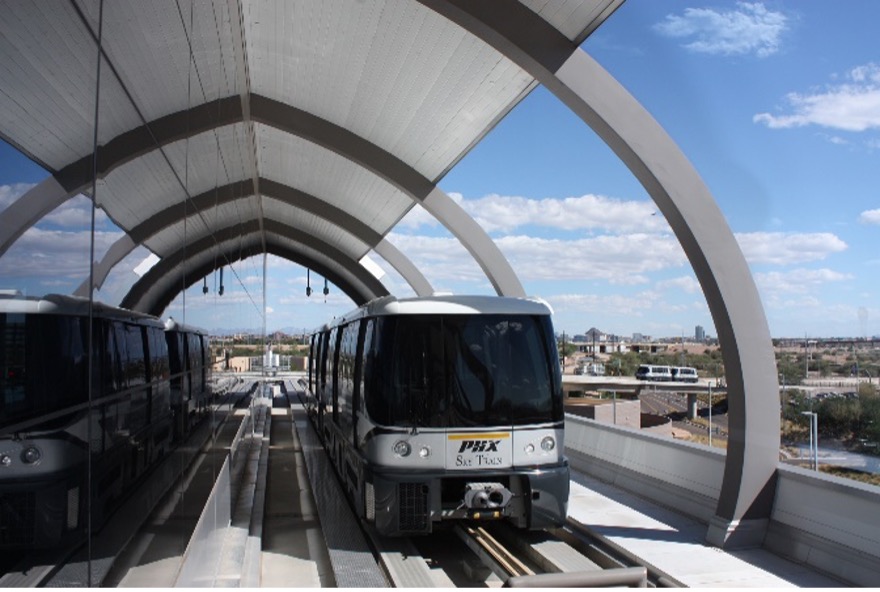 Emissions standards have been incorporated into ground transportation contracts since the 1990's. Other opportunities to incorporate standards in contracts or in the Aviation Department's vehicle or equipment upgrades are evaluated and implemented where feasible.


The PHX Sky Train® has been expanded to the full extent of its service, from the Valley Metro Light Rail to all terminals to the Rental Car Center, replacing the use of fossil-fuel powered vehicles.


Among City departments, the Aviation Department fleet uses the highest percentage of alternative fuels and is prepared to invest in electric vehicles as a next step.


Electric charging stations continue to be installed. The Aviation Department has partnered with airlines to replace diesel-powered equipment and plans to continue to do so.
The Trip Fee program imposes a charge on ground transportation providers accessing Sky Harbor, reducing airport roadway congestion and ground transportation vehicle "circling" while waiting for passenger pickups.


Other best practices that reduce air contaminants by limiting vehicles accessing the airport are the use of passenger pick-up cell phone lots, free bus passes for the Aviation Department employees and some tenant employees, and Express Pay options in garages.


To reduce aircraft emissions while on the ground, airline partners are encouraged to follow a single engine taxi practice. Sky Harbor also has ground power and air at passenger bridges in place of commonly used fuel-driven equipment.