PHX Sky Train Museum Exhibitions
PHX Sky Train® Exhibitions
The PHX Sky Train features six major works of public art. The Public Art projects were commissioned by the Phoenix Office of Arts and Cultural Public Art Program with Aviation percent for art funds. They are part of the Airport's Art Collection, managed by the Phoenix Airport Museum.
Created to enhance the traveling experience for the train's expected millions of riders, the large-scale works include terrazzo floors at each station, glass murals, and a sculptural ceiling installation. To fully integrate the art into the train stations, the artists worked closely for five years with the project design and consultation team of architects HOK, engineers Gannett Fleming, and the Hensel Phelps Construction Company. We often think of the art being made by one person alone in a studio. However, the art filling the PHX Sky Train public spaces is different. It was created by artists working in teams with hundreds of skilled thinkers, builders, and installers.
In April 2013, the PHX SkyTrain terrazzo floors were awarded "Job of the Year" by the National Terrazzo & Mosaic Association.
44th Street Station
Daniel Martin Diaz
Journey Through Nature, 2013
500 x 40' terrazzo floor - the pedestrian bridge
Fabricator: Advance Terrazzo
Location
terrazzo floor, pedestrian bridge
Daniel Martin Diaz combined natural and geometric patterns to create a ten-color terrazzo floor design. The patterns shift from richly-colored blossoms and winding ivory vines to crimson diamonds leading to a swirling geometric mandala at mid-bridge. The floor's 34,398 pounds of aggregate includes an abalone shell, native desert stones, and recycled glass. The terrazzo was poured in place between 36,740 linear feet of cut aluminum strips.
Journey Through Nature Fabrication Process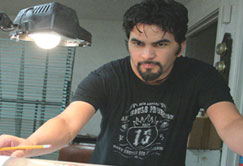 Fausto Fernandez
Tailplane Patterns, 2013
440 x 40' terrazzo floor-station platform

Fabricator: Advance Terrazzo

Painter Fausto Fernandez tapped his love of layered colors and mechanical shapes to design a floor inspired by the outline of an airplane's horizontal stabilizer, known as a tailplane. Fernandez used ten colors to create the platform's rhythmic geometric patterns and sweeping bands. He heightened the floor's reflective qualities by adding recycled, crushed glass and mirrors aggregates.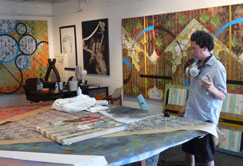 Mario Madayag, Michael Parekowhai, Paul Deeb
Blue Stratus, 2013
150 x 40' ceiling installation, aluminum, steel, LED lights - ground floor atrium
The international team of Mario Madayag (WA), Michael Parekowhai (NZ), and Paul Deeb (AZ) created a work inspired by the vivid blue of the Arizona sky and the ancient history and role of water in shaping the desert. The name Blue Stratus refers to a low-altitude cloud that forms a continuous horizontal layer. The ceiling was made with 6,610 uniquely shaped aluminum reflector panels. To heighten their atmospheric effects, they were painted six different colors of blue and made to move in the breeze. The team programmed lights above the ceiling to create a slowly changing tableau of color.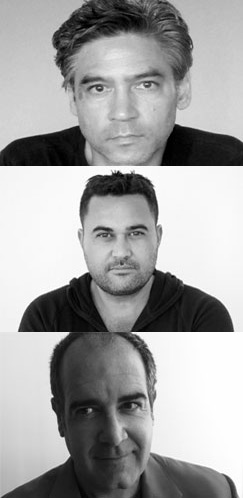 East Economy Station
Anne Coe
Topo Magic, 2013
450 x 36' terrazzo floor-station platform
Fabricator: Advance Terrazzo
Anne Coe drew inspiration for her terrazzo floor from the colorful topographic maps she uses in hikes through the Arizona desert. Topographic maps graphically depict natural and man-made features of the land using contour lines. Applying a palette of eleven colors, she adopted the graphic stylization of "topo" maps to depict rivers, canyons, farm fields, and mountains in a whimsical landscape of wiggling shapes and contours.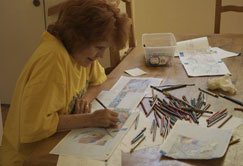 Terminal 3 Station
Janelle L. Stanley
Haak'u / Acoma Connection
315 x 30 terrazzo floor - station platform and pedestrian bridge
Fabricator: Corradini Corporation
Janelle L. Stanley, a Diné (Navajo) artist, drew inspiration for this floor design from traditional Haak'u (Acoma) pottery and a treasured family turquoise brooch. She acquired both items on trips to and from northern Arizona. The brooch continues to accompany her on her many travels. A ribbon of terracotta color reminiscent of the Arizona desert creates a pathway that is highlighted by geometric patterns taken from the pottery and representations of the brooch. The design serves as a reminder of the journeys she has made through life.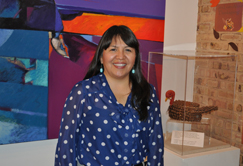 Terminal 4 Station
Daniel Mayer
Variable Order, 2013
480 x 40' terrazzo floor-station platform
Fabricator: Advance Terrazzo
Daniel Mayer's interest in letterpress printing inspired the design of his terrazzo floor, which includes more than 1,000 embedded metal letters. He chose Garamond's italic lower-case typeface for the letters because of its calligraphic elegance, and combined the letters with two, large-scale hand-written phrases: "timeless is the open" and "limitless is open." Recycled crushed mirrors and blue and clear glass were added to give the floor's eight colors vibrancy, depth, and detail.